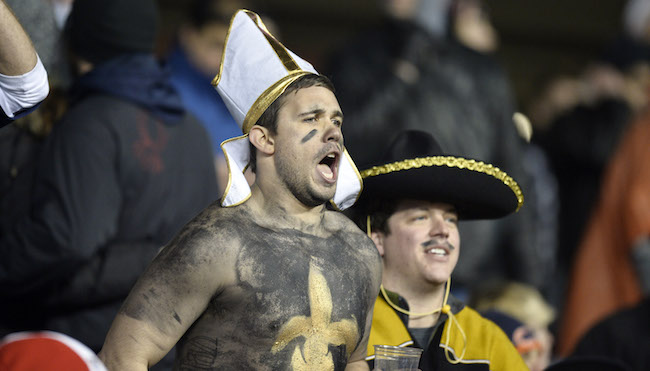 In case you somehow hadn't heard, the Atlanta Falcons blew a 28-3 lead in the Super Bowl. It was somehow worse to watch live than it sounds, and the cloud of disappointment and sadness still hangs over Atlanta sports fans nearly six months later. The NFL season is about to begin — preseason somehow starts on Thursday night — and the reigning NFC champions, led by MVP Matt Ryan, insist they're ready to turn the page.
That's exactly what they should say, but you can be sure that everywhere the Falcons go on the road this season, the 28-3 jokes will follow — just like the 3-1 jokes followed the Warriors in the NBA last year. The one place where they would expect to get a respite from the reminders of their epic collapse would be at home, where they'll break in the brand new Mercedes-Benz Stadium this year.
However, that won't be the case thanks to some very petty Saints fans. New Orleans and Atlanta have the biggest professional football rivalry south of the Mason-Dixon line, and the failures of the other team bring about as much joy to fans as their own teams' successes. So, it should come as no surprise that it would be a group of Saints fans plan on purchasing a billboard near the new Falcons stadium that will prominently display the 28-3 score that is so seared into Falcons fans' minds.

It's a simple billboard, as you can see from their rendering from Dirty Coast, a T-shirt company based out of New Orleans that is leading the effort to put up the billboard — and is selling t-shirts with the same 28-3 design. They have apparently managed to find a billboard company willing to sell it to them in Atlanta, at the cost of $1,000 a week, and they're taking $10 donations from Saints fans to keep it up for as long as they can to ensure that the pain doesn't go away any time soon.