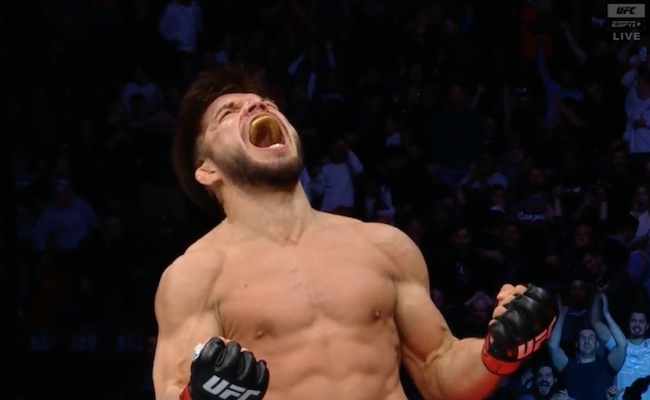 Henry Cejudo (14-2) stunned bantamweight champion TJ Dillashaw (16-4) with a TKO victory in the main event of the UFC's debut show on ESPN+ 1. Cejudo finished Dillashaw 32 seconds into their bout, landing the fifth-fastest end to a title fight in UFC history.
Cejudo was awarded the first-ever UFC "Legacy" belt in a fight that had plenty of implications. Ahead of the bout, there were questions over what could be of the flyweight division if the champ lost. Cejudo said that his bout with Dillashaw was "personal" as he tried to keep the division alive. Dillashaw, for his part, said he was fighting for himself and didn't care what happened to the division, per MMA Fighting.
It was a highly-anticipated bout, one that Cejudo ended in the blink of an eye.

After the win, Cejudo announced he'd be willing to move up to 135 pounds for a rematch against Dillashaw, almost certainly for the bantamweight crown. Dillashaw protested the stoppage after the bout, saying he felt he could continue the fight.
"I got clipped with the right hand behind the ear," Dillashaw said after the bout. "I could feel it, but I was there the whole time. It sucks when something was taken from you. Good job, but you didn't beat me."
Dillashaw has never been knocked out, losing just three times in his career, twice by decision and once by TKO. Cejudo is a on a four-fight win streak after beating the gatekeeper of the flyweight division, Demetrious Johnson, in August 2018.