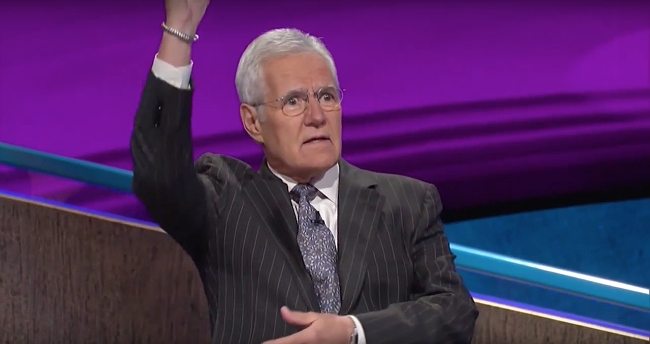 Jeopardy! is a great game show for a long list of reasons. It's a chance to test your knowledge, and an opportunity to learn something new in the process. It's also, sometimes, a chance to prove that you know something that ostensibly smart people do not.
For every amazing run through 18th century British literature that leaves you mute, there's sometimes a category about something you can absolutely crush while the contestants are left hapless by your knowledge of '90s cartoons or what have you.
If you're a sports fan, Thursday's first Jeopardy! round gave you one of those moments, as the three people on stage knew absolutely nothing about football. That's probably something that was made clear right away if you were watching live, but it became very apparent at the end of the first round.
Ryan, our champion, has control of the board with one category left. Do you think there's a certain category that he and the challengers, Sara and Justin, are not particularly knowledgable about?


Because there were no other options, the "Talkin' Football" category began to unspool its sporting horrors on the contestants. Sit back, relax, and watch them get their souls ripped out on television by a prolate spheroid.
This one, admittedly, is easy. But no one knows what an "option" play is on stage except the host, Alex Trebek, who is going to go full Trebek over the course of this category.
"I can tell you guys are big football fans," Trebek said as Ryan hesitantly asked for the $400 question.
Silence, again, as the crowd begins to laugh uncomfortably. The answer, of course, is the Dallas Cowboys.
"Do you think we should go to commercial?" Trebek asks, dragging his contestants once more. And yet the game must continue. These players were good enough at the other categories that there's enough time to go through every question in this category in total silence. They will be punished by their own efficiency, ruined publicly by their specialized knowledge of all things not football, so sit back and revel in it.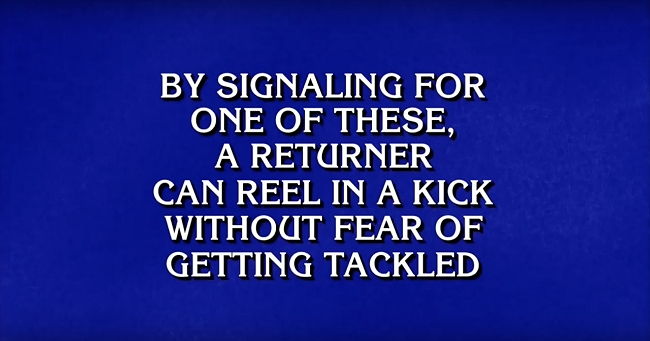 Of course the answer is "fair catch." You know this. They do not. They are wilting before your sporting presence. It's a Decemberists song brought to life. The crowd continues to laugh, and Alex continues to ask unanswerable questions.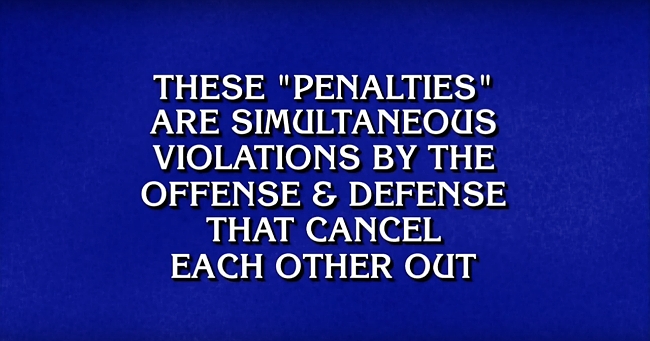 The answer to the $800 question is "offsetting." But nothing can offset the agony that these contestants will face. There is something to be said about not watching football. But hubris is found in not having approximate knowledge of many things. It's the cornerstone of Jeopardy! greatness. And none of these players were ready for a question about football.
Not even a video question can save them.
"Let's have a look at the last clue, just for the fun of it!" Trebek says, gleefully. In this moment, he is the exact opposite of Will Ferrell's portrayal of him as a man at the mercy of his celebrity contestants. Here, he is exacting revenge.
"If you guys ring and get this one, I will die," Trebek says.
And they do not ring in. It was a question about the Purple People Eaters, who to the trio of Ryan, Sara and Justin may as well be actual eggplant-colored cannibals.
With that the round, mercifully, ends. The game continues and a winner is crowned. But none of the contestants will ever forget the night football made them go through hell on a syndicated game show.
Someday, football will not exist in its current state and trivia about the National Football League will mean nothing. But those who remember the game and its greats, or even know a little about its simplest rules, will always have this moment. An absolute triumph over those who win cash prizes on sound stages.