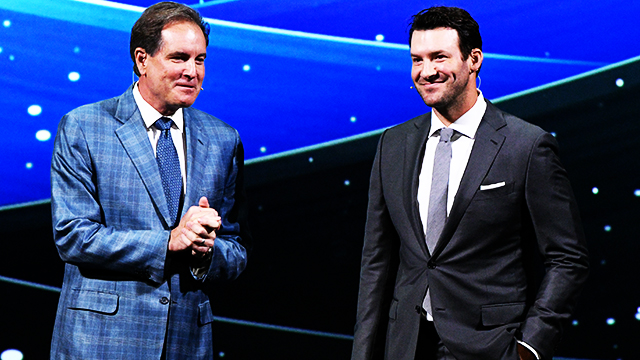 "People think Tony is a fortune-teller," Jim Nantz says. "But this isn't guesswork, and it isn't psychic ability."
When the lead play-by-play man for CBS says this to journalists huddled over their smartphones on CBS' pre Super Bowl press conference in late January, he's not throwing shade at his partner in the booth. Tony Romo, the former Dallas Cowboys quarterback turned television phenomenon, has made a cottage industry out of tipping plays seconds before they happen on live television.
Two days before Nantz complimented his coworker while standing on a jet bridge somewhere between Kansas City and Atlanta, Romo had correctly tipped a dozen plays in the AFC Championship Game between the New England Patriots and Kansas City Chiefs. The overtime thriller was unpredictable, with late lead changes and improbable third down conversions for the Patriots leading to the same old team from the AFC making yet another appearance in the Super Bowl.
Romo actually managed to call some key plays down the stretch for the Patriots during the game-winning drive. But Nantz knows that Romo isn't pulling plays out of thin air. He's just an NFL player seeing what one of the greatest quarterbacks of all time is seeing from the defense. It's just what good quarterbacks do. The trick to what makes Romo so compelling, and what will make millions of people turn the TV volume up a bit higher than usual this Super Bowl Sunday, is all the work that's been put in to make the lead CBS broadcast what it is.
"When we have these key moments late in the game and we're all dazzled at what he's doing, it's a testament to his years and years of work and preparation," Nantz says. "He's not guessing. He's not getting some sort of message from the gods. He's seeing what [Patriots quarterback Tom] Brady saw. He's sees a wrinkle, he sees an opening, and basically he's suggesting where this is where the play should go."
Romo is just a broadcaster still thinking like a quarterback in the booth, and it's made for some great television and drawn high praise for the former Cowboys quarterback over the last two seasons. Last week the New Yorker called Romo a "genius" football commentator, while Nantz has already swatted down words like "fortune-teller" and "psychic." But Romo, ever the athlete, says that it's a team effort. And everyone on that team agrees it wouldn't happen without CBS lead producer Jim Rikhoff.
Romo will gladly call Rikhoff the "biggest unsung hero" of CBS's top NFL broadcast.
"He's the behind the scenes guy," Romo says. "But he really does everything."
That includes flying out to Dallas at least eight times the summer between Romo's retirement and his first fall in the booth doing color with CBS. The two poured through game tape, did mock broadcasts together, and worked on the nuances of a broadcast for "months," according to Romo.
"For a while there my wife was, like, 'He just needs his own room in the house,'" Romo says. "Obviously it was important to him to get off to a good start."
Romo spoke of Rikhoff's vision for what the broadcast could be with he and Nantz in the booth, but the producer says all he wanted to do was make Romo comfortable with being himself. Everyone I talked to spoke of Romo's raw talent for television, but they also stressed the work he and Rikhoff put in to highlight his chemistry with Nantz and get ready for the nuances of calling a live football game.
"We had like a deer stand at the Hall of Fame Game," Rikhoff says of the annual preseason showcase in Canton, Ohio. "It was pretty funny, it was like grassroots TV."
Picture, if you will, the former quarterback of America's Team pretending to broadcast a football game CBS doesn't even have the rights to in a cherry picker somewhere between a glorified high school football stadium and a central Ohio highway. That's something graduate assistants get stuck doing at SEC schools during spring practice. But Rikhoff and Romo did it together, and all that work has paid off for CBS, as the network prepares to air its 20th Super Bowl on Sunday night.
For Rikhoff and the crew behind the scenes of the broadcast, actually broadcasting Super Bowl LIII will be the fun part of a process that started when the network lured Romo from the Cowboys to the broadcast booth. The network has spent hours on conference calls and tinkering with its top broadcast for months leading up to one of the biggest live productions in sports.
"People don't realize the work that the preparation work that goes in. For the Super Bowl, we've been working on this for two years," Rikhoff says. "We hired Tony Romo two years ago, and with that in mind, kind of the end line was the Super Bowl. We've kind of kept that out in front of us, like the big carrot in front of us."
Rikhoff's long career with CBS began in 1985 when he was hired as a researcher. His company bio says he's worked on "every major event" the network has broadcasted since, but things changed in 1998 when CBS regained rights to NFL broadcasts. Rikhoff later served as a producer of AFC matchups for a team that included Greg Gumbel, Trent Green, and Jamie Erdahl. Sunday will be his eighth Super Bowl with the network, but his first as lead producer.
It's not easy to explain what a lead producer does when broadcasting live sports on TV, other than Rikhoff saying that he's "accountable for everything." There's constant chatter in the ears of Romo and Nantz in the booth, to Tracy Wolfson on the sideline, to Gene Steratore, the former NFL official who is giving real time opinions about referee decisions in the game. Not to mention working with everyone else in the broadcast truck to make sure replays, commercials, and in-game analysis from everyone who's holding a microphone seamlessly makes its way into what the world is seeing and hearing. Oh, and there's a game to capture on film, too.
Rikhoff says he approaches a Super Bowl broadcast the same as any other game, even if it's his first as a lead producer. But Super Bowl LIII, and how the network broadcasts it to the hundreds of millions of fans who will tune in, will be slightly different. After all, this may be the first (and, as such, only) NFL game many people watch all year.
"There's a balance there as well I think you've got millions of viewers that don't normally watch football. So you have to keep that in mind somewhat," Rikhoff says. "But I would say at the end of the day the majority of the audience wants to watch a good, competitive football game that is well chronicled and covered the right way."
There's a sense of gatekeeping that comes with running a live sports broadcast, something that Rikhoff takes very seriously, and it shows in the broadcast as a whole.
"Being a producer of Super Bowl, you're the one who decides the narrative basically," Wolfson says. "Obviously it starts with Jim and Tony in the booth and what they want to talk about and what their storylines are, but (Rikhoff) helps craft it."
Wolfson stresses she more than any member of the broadcast relies on communication from Rikhoff to do her job, and there isn't anyone who handles the "minutiae" better than CBS's lead producer. Wolfson says a producer's job is to make people on-air not worry about the little things, but Rikhoff has also worked hard to make everyone feel like they're on the same team. Because much like on the NFL teams the broadcast covers, camaraderie on a broadcast is built well before game days. That means organizing group dinners on Friday night, finding time to get everyone's story ideas on air, and keeping communication flowing.
"He juggles all that and still makes each individual feel special, important, and makes it about them when, you know, he doesn't have to," Romo says. "He's in a position where he could make it difficult on everyone. But he makes it easier and it allows you to kind of just be at your best. I really think this crew wouldn't be where it's at if we didn't have Jim Rikhoff."
Things could, of course, go wrong. CBS had the broadcast when the power went out at the Superdome at Super Bowl XLVII in 2013. Rikhoff was working that game and calls it "a real kick in the gut," though he couldn't tell you anything about how the team handled that broadcasting disaster.
"I blocked that out of my mind. I can't recall that that happened," he recalls with a laugh. "It's like Men in Black, I've erased that from my memory."
If something wild does happen on Sunday, though, everyone on the broadcast feels like they're on the same page. At this point, Romo might even see it coming.