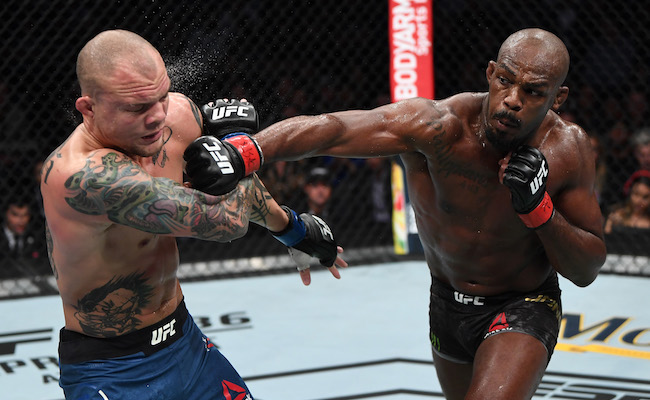 Jon Jones (24-1) successfully defended his light heavyweight championship with a decision victory over Anthony Smith (31-14) at UFC 235 from the T-Mobile Arena in Las Vegas, Nevada.
Jones and Smith used the first round as five minutes of finding their range, with the champ taking advantage of his length to land a few body kicks. Smith tried to snap jabs and hooks, but Jones was just out of striking distance.

In the second, Smith closed the distance, staying inside and opting to strike with Jones. The champ landed a beautiful spinning elbow, locking Smith up against the cage and controlling his movement. As Smith worked his way out of trouble, he started to connect on combinations, hitting Jones' body then head. Late in the round, Jones went back to what helped him work over Alexander Gustafsson in their title fight two months ago, chopping away at Smith's lead leg every time he switched stances.
Jones opened the third by rushing Smith and backing him into the Octagon cage, where he held him in place for most of the round. Jones earned a takedown, but Smith managed to move onto his knees and eventually find his way back to his feet before the end of the round.
Jones opened the fourth by toying with Smith, hitting him with pretty much everything, including a flying knee, elbows to the head and eventually blows to the face from a seated position on the ground. Jones continued to control the fight on the ground, but as Smith was still seated, Jones landed an illegal knee and referee Herb Dean took away two points from the champ. Smith had an opportunity to say he couldn't compete any longer, which would have awarded him the light heavyweight title by disqualification, but he offered to continue the bout into the final round.

Smith threw everything he had left to start the fifth, attacking Jones with a barrage of punches before fading in the late part of the frame. Jones saw out his victory from there en route to retaining his championship. After the win, Jones didn't hint at what's next, refusing to discuss if he'd move up to heavyweight against Daniel Cormier or fight another light heavyweight contender.
Jones returned to the Octagon after dispatching Gustafsson in the third round of his light heavyweight title fight UFC 232 in late December. There was plenty of controversy ahead of his showdown with Gustafsson, as Jones had "adverse findings" in a USADA drug test, which required moving the entire show from Nevada to California. Jones had just served a 15-month suspension stemming from a second failed drug test, which came from a sample collected the day before he knocked out Cormier at UFC 214 in July 2017. That fight was ruled a no contest and overturned by the California State Athletic Commission. Before his fight with Smith, Jones continued to have "adverse" findings in his drug test samples, but USADA, the UFC and the fighter himself have apparently moved on from any potential controversy.
Jones hasn't lost a fight in 16 bouts, with his last loss coming back in 2009 thanks to a disqualification against Matt Hamill. Smith headed into Saturday's tilt with Jones on a three-fight win streak, ending bouts with Rashad Evans (KO/TKO), Mauricio Rua (KO/TKO) and Volkan Oezdemir (submission) in impressive fashion.