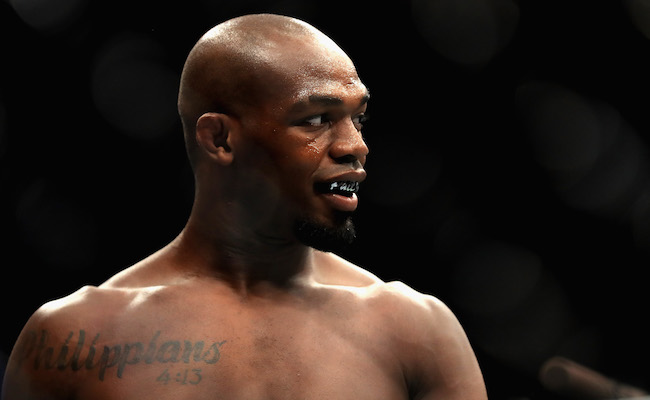 For most of his 15-month layoff from the UFC stemming from his second USADA failed drug test, Jon Jones did his best to stay out of the spotlight. Now that he's officially back as a member of the UFC roster, however, Jones isn't letting anyone drag his name through the mud.
And that certainly includes his light heavyweight rival, Daniel Cormier. Cormier recently addressed the controversy over Jones' positive drug tests on the Jim Rome Podcast, per MMA Fighting.
"My deal's this, I never once said he didn't win the fight. I've [never] said that. Even when people would tell me 'no you didn't get a fair shake, it's not cool, he cheated', I said the guy won the fights," Cormier said. "Because I've always said, I'm sure he's not the only guy I've ever fought who's on steroids. I've always said that. I've been very open about that. But when you say a pinch of salt — why was the pinch of salt there? Why was it there with no explanation of why it got there? That's my question. Why didn't I have a pinch of salt in the swimming pool? That's where my issue is. You win the fight, go ahead and win the fight but don't leave anything to question is my response. Don't have a pinch of salt. Don't have tainted sex pills. Just don't have that stuff and then we never have these discussions to discredit the things that you have done. That's my response."
Those words eventually made their way to Jones on Wednesday night, where he had no problem lashing out at Cormier with an offer to fight him for charity.

That continued on Thursday during a media teleconference promoting UFC 232:
"I stayed quiet for almost a whole year. And now I'm back, and I'm ready to reclaim my throne, and the sitting down and being quiet days are over. Daniel Cormier opened his mouth about me. He wants to sell to the people that steroids had something to do with my success. He would love it if, that's the dialogue he wants to get out there, that's the narrative he wants to get out there, and I want to nip it in the bud," Jones said, per MMA Fighting.

"I challenged Cormier to be my first title defense, and let's see what he does. I don't think he responded yet, and I think everybody knows he doesn't want to fight me a third time."
Cormier's (22-1-1) lone loss came at the hands of Jones, as well as his no contest in 2017 before Jones tested positive for a banned substance. The 31-year-old light heavyweight received a 15-month suspension by USADA for a steroid metabolite found in his system, but he's now returning for yet another redemption tour, finally matching up with Alexander Gustafsson at UFC 232.
Jones and Gustafsson will fight for the vacant light heavyweight title at UFC 232 while Cormier focuses on the heavyweight division. Dana White has pushed for Jones and Cormier to fight once more, but the latter has maintained his desire to retire from fighting when he turns 40 years old.