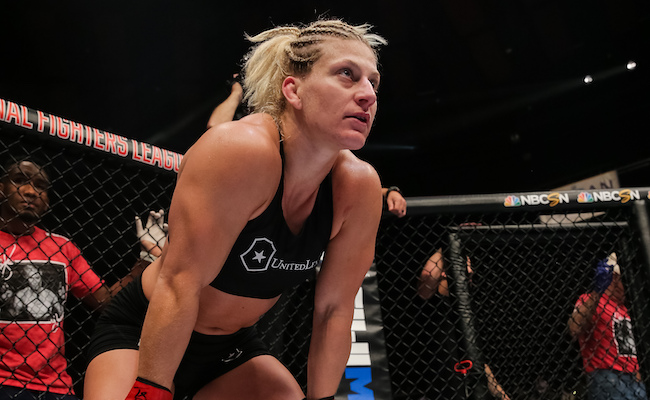 When the Professional Fighters League kicks off Thursday night on ESPN2 at 9 p.m. ET, it's only appropriate that Kayla Harrison will be prominently featured in the main event. Harrison heads up a talented roster embarking on just its second season, and appears primed to be the face of the organization.
"I plan to be so good, you can't ignore me. So yeah, I'm the next big star," Harrison told Uproxx Sports.
After leading a distinguished career in judo that concluded with not one, but two consecutive Olympic gold medals, Harrison joined the PFL and rumbled through her opponents to an unbeaten 3-0 start to her career in 2018. With Harrison's impressive transition to MMA, though, she knows the comparisons to UFC trailblazer Ronda Rousey are coming.
"Ronda paved the way for sure. We were training partners and roommates back in the day. Seeing her success made me believe I could do this too," Harrison said. "Besides the fact that we both did judo, though, there's not a lot we have in common. I'm a completely different person, and I'm going to prove I'm not just a judoka. I'm an MMA fighter."


For Harrison, it's all about chasing greatness, as she leads MMA's first 155-pound weight class.
"I want to go down as the most dominant and retire undefeated. I want to go down as one of the best to ever do it, but in a way that's true to who I am. I don't want to do it by cutting corners or trying to portray this personality that isn't me," Harrison said. "I want to be a role model for young girls and boys all over the world. I'm chasing greatness and I'm not going to lose myself along the way."
Harrison won't have to worry about necessarily playing a character or politicking her way into a title shot. The PFL is the only MMA organization where fighters have full control over their ranking and title shot opportunities.
"We're the only ones using this traditional sports league format in MMA," PFL commentator and UFC legend Randy Couture told Uproxx Sports. "The regular season includes six weight classes, and each fighter will fight twice. The fighters have to go out there and score enough points to make it to the postseason. They're not reliant on anything other than their performance."
The top eight in each division earn a spot in the playoffs, where the quarterfinals and semifinals take place on the same night. The entire season builds to its conclusion in New York City on New Year's Eve, where each division winner will earn $1 million and the 2019 world championship.
Harrison's journey to that $1 million prize begins Thursday night at PFL 1, when she steps inside the cage against Larissa Pacheco (11-2), a talented MMA fighter in her own right with her only losses coming at the hands of UFC contenders Germaine de Randamie and Jessica Andrade.
"I love the pressure, and I love the hype," Harrison said. "But it's only hype if it's not real. And I'm as real as it gets."