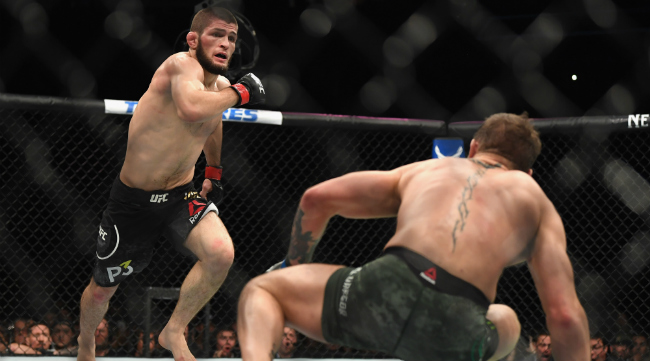 Light heavyweight champion Khabib Nurmagomedov and MMA star Conor McGregor have both been fined and suspended by the Nevada State Athletic Commission for their respective roles in the melee that took place after their UFC 229 main event fight, according to ESPN.
McGregor was suspended for six months and fined $50,000. Nurmagomedov received a $500,000 fine to go along with his nine-month suspension, and his manager has vowed to ESPN not to fight in Nevada again due to the harsh punishment his cousin and teammate received for their roles in the brawl. Each suspension was handed down retroactively, meaning McGregor is eligible for a return to the Octagon on April 6.
Nurmagomedov's cousin, Abubakar Nurmagomedov and teammate Zubaira Tukhugov, were each hit with a one-year suspension and $25,000 fine. In a show of unity, Nurmagomedov is paying all three of their fines and won't fight until his two teammates are eligible to compete again.
The champion's manager told ESPN he's currently eyeing a return to Madison Square Garden in New York in November.
Nurmagomedov and McGregor engaged in a war of words over the last few years leading up to the highly-anticipated fight. The situation escalated past simply building up a fight when McGregor attacked a bus in Brooklyn, injuring several fighters, and called Nurmagomedov's father a "quivering coward."
Nurmagomedov bested McGregor with a rear-naked choke in their October 6 showdown, then continued to berate the former champion as he was restrained by referee Herb Dean. Nurmagomedov eventually targeted McGregor's camp before he jumped out of the Octagon to attack McGregor's jiu-jitsu coach, leading to both camps fighting inside and outside of the cage. Three members of Nurmagomedov's camp were arrested and later released.
McGregor originally demanded a rematch with Nurmagomedov, but recently welcomed the idea of a Donald Cerrone fight.