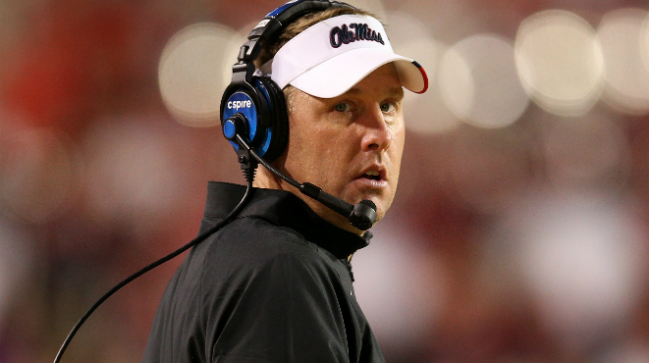 Despite the season only being a few weeks away, college football has a new coaching vacancy at a Power 5 program. Ole Miss coach Hugh Freeze resigned on Thursday night, minutes after Pat Forde of Yahoo Sports tweeted that his job was in "immediate jeopardy."
Freeze, who wears his Christian faith proudly on his sleeve, and Ole Miss have been in the news lately as former head coach Houston Nutt is suing the school in a defamation suit. Based on reporting by Dan Wolken of USA Today Sports this resignation occurred because of a one-minute call Freeze allegedly made to an escort service on a phone that was given to him by the university.
A one-minute call made from the University-issued phone of Ole Miss football coach Hugh Freeze to a number associated with a female escort service was raised as a potential issue in the back-and-forth between the university's legal counsel and the attorney for former Rebels football coach Houston Nutt, according to records and correspondence obtained by USA TODAY Sports.
As Wolken noted, this came to light because of the lawsuit, which is happening because Nutt alleged the university tried pinning the NCAA's current investigation into the program on him. Additionally, Nutt claims that Freeze tried to use journalists as part of a smear campaign against him.
Nutt's attorney reportedly emailed the school's general counsel and said that Freeze made a phone call "that would be highly embarrassing for all of you and extremely difficult to explain." Or, as Wolken said more succinctly in a tweet…
According to Steven Godfrey of SB Nation, Freeze was asked to step down by the university.
As for Freeze, he told Forde that the call happened accidentally, saying "I was in an 813 area code and that was a 313 number, I think that might have been a misdial. I don't think there was even a conversation. There's nothing to it." Um, sure, yeah that's got to be what happened.