The New England Patriots suffered their first loss of the season on Sunday Night Football this weekend, falling to the Denver Broncos in a snowy mile-high showdown on national television. The Pats ultimately fell to the Broncos 30-24 in an overtime thriller that saw Peyton Manning's replacement — Denver QB Brock Osweiler — do what Peyton always seemed to have trouble doing: out-gun and take down Tom Brady's Patriots.
The Patriots certainly didn't play their best game, and — even then — they did have plenty of chances to put the game away after taking a 14-point lead into the fourth quarter. Their high-powered offense — missing injured key pieces such as Julian Edelman, Danny Amendola, Dion Lewis and, later, Rob Gronkowski — seemed to be thwarted by Denver's heralded defense late in the game when it mattered.
But, in addition to the inclement weather and key injuries, New England also had to battle some very questionable officiating as they tried desperately to hold onto their lead late in the game. Now, let's be honest…officiating has been pretty rough around the NFL all season this year, and usually every team has to overcome some poor officiating if they want to win in today's NFL. More often than not, it seems like the Patriots tend to find themselves on the beneficial side of shaky officiating.
For whatever reason, that was far from the case on Sunday night. Seemingly all of the game's big controversial calls went against New England, and a lot of them seemed to come at pivotal points in the game.

The first notable missed call came on a Patriots punt around midfield late in the third quarter. Punter Ryan Allen took contact from a Broncos special-teamer, who ran into his kicking leg immediately after the boot downfield.
The play seemed to be a pretty blatant "running into the kicker" infraction.
No flag was thrown on the play and, to be honest, we're really not sure how much of a difference it would have made if there was one. The punt came on a 4th & 8 and running into the kicker is only a five-yard penalty. Would the Pats have gone for it on 4th & 3 while up a touchdown near midfield? Probably not, but the missed call seemed to open the floodgates for several more questionable rulings in the fourth quarter.
Up by seven with more than 11 minutes left to go in the fourth quarter, a frustrated Patriots offense seemed to finally find a big play when Brady connected with wideout Keshawn Martin on a third-down deep ball that would have put the Pats in a prime spot to tack onto their lead.
However, the play was negated thanks to a holding call that seemingly could have went either way.
Right guard Tre' Jackson was called for the hold on a rushing Von Miller and, like I said, it could have went either way. Would Brady have even got off the pass if Jackson didn't slide the hands a bit outside on Miller? Who knows, but NBC's broadcast team of Al Michaels and Cris Collinsworth didn't seem to particularly agree with the call, as it wasn't exactly an egregious hold.

Maybe the game's most controversial call came with the Patriots up 21-17 with just over five minutes to go. Facing an important third down, Rob Gronkowski was called for his league-leading fifth offensive pass interference penalty this season (he had four in his previous five seasons combined), and one that negated what would have been a first down.
The call came thanks to Gronk's extended left arm as he cut to to the sideline, but it was a pretty routine play that doesn't often get flagged in today's NFL, and even less so at such a time in the game. Instead of a new set of downs that would have allowed them to kill more clock and possibly add to their lead heading into the game's final minutes, New England was handed a 3rd & 15 that wasn't converted. Gronkowski would end up suffering a knee injury on a passing play during the Patriots next drive.
Then, with just over a minute left in the game and Denver still down by four, Osweiler and the Broncos were knocking on the doorstep after a few huge completions that swiftly moved them downfield. Facing a 2nd & goal, Osweiler took a big sack from Alan Branch that would have set up a 3rd & goal from the 19-yard line.
Instead, that play was negated by a defensive hold on Patrick Chung in the end zone.
The Patriots safety did give a bit of a tug to the right shoulder of Demaryius Thomas, but it came as Thomas shoved Chung as he attempted to create space on a break towards the middle of the end zone. Thomas also grabbed Chung's facemask. That was apparently missed by the official and the Broncos were set up with a 1st & goal on the four-yard line. They scored on the very next play.
And even that go-ahead touchdown for Denver wasn't without a bit of controversy.

As Osweiler completed his big touchdown pass to Andre Caldwell in the corner of the end zone, Broncos left guard Evan Mathis made some brief (but blatant) contact to the face of Chandler Jones as he rushed the quarterback. That could (and likely should) have been an illegal hands to the face penalty that would have negated the touchdown and forced the Broncos back to the 14-yard line with a 1st & goal.
Instead, the Broncos went ahead 24-21 and — although the Patriots would drive for a game-tying field goal as regulation expired — ultimately came out on top in overtime thanks to a big touchdown run from C.J. Anderson.
Patriots personnel and fans were understandably upset about the officiating.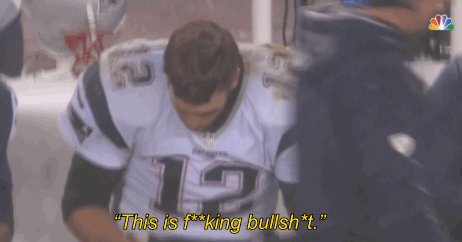 But, again, it's not fair to place the full weight of blame on the officiating crew. The Patriots sputtered, made some very costly mistakes, and managed to let a quarterback making his second career start drive on their defense (twice!) late in the game to take a lead. But, despite those mistakes, it's also not crazy to think that the officiating changed the course (and possibly the outcome) of the game.
Either way, the Patriots' hopes at an undefeated season are now dashed, but, in all likelihood, they're going to be just fine regardless.
Now Watch: What's The Worst Ref Screw-Up In NFL History?