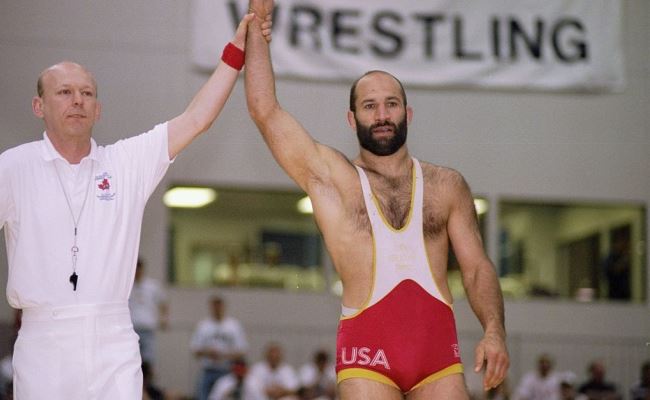 Dave Schultz was one of the most respected American wrestlers in the history of the Olympics. His life was tragically cut short 20 years ago today. These are the events that led to his untimely death, all of which were documented in the film Foxcatcher.
Dave and Mark Schultz won gold medals at the 1984 Olympics in Los Angeles, becoming the first American brothers to win gold medals in wrestling. To anyone unfamiliar, that may sound like a guaranteed lifetime of wealth and stardom for the Schultz brothers — that couldn't be any further from the truth, though.
Wrestlers were seen much differently in the United States than in Russia, where they were treated as full-time employees. That would be a pipe dream in America until eccentric multi-millionaire John du Pont reached out to Dave Schultz. Du Pont had a borderline unhealthy infatuation with athletics. Wanting to be an Olympic gold medalist himself, but never having the physical potential, du Pont took it upon himself to breed his own stable of athletes, possibly to live through vicariously.
In 1986, du Pont offered Mark Schultz a job as his assistant wrestling coach at Villanova, after being recommended by his brother Dave. Receiving no money from USA Wrestling, and having been fired from his job at Stanford, there was plenty of incentive for Mark to take du Pont up on his offer. Being in du Pont's grasp, and later being brought into his family's estate in Newtown Square, Pa., it wasn't long before he turned Mark into the so-called face of Team Foxcatcher.
Mark left Team Foxcatcher in 1988 after finishing in sixth place at the Olympics in Seoul, but it was the amount of pressure du Pont put on Mark and the hectic atmosphere he created that primarily drove him away. If du Pont could no longer have Mark, however, he was determined to land his equally-accomplished brother on Team Foxcatcher. Being that du Pont's money was too much to turn down, Dave Schultz moved his family, his wife Nancy and their two children, to Foxcatcher Farm in 1989.
With Dave Schultz as a mentor, along with John du Pont's money and a top-of-the-line training facility, it wasn't hard for Team Foxcatcher to convince the best wrestlers in America to join. They were given opportunities they were never accustomed to. Be that as it may, the quality of American wrestling as the athletes prepared for the '96 Olympics was the only thing on the rise, as John du Pont's sanity, or what was left of it, was vastly waning.
On Foxcatcher Farm, du Pont would have hours of video taken of surrounding trees and bushes, believing they had eyes and were watching him, to the point where he'd demand to have them cut down, in addition to having his crew hunt down ghosts on his property, and even Nazis, as he believed were present. On a much more disturbing note, du Pont began to carry with him a gun at all times. It was inevitable that something dangerous would happen, but the athletes had grown comfortable enough with their new lifestyle that they were willing to ignore the signs of a lunatic.
Although Mark was the ostensible face of Team Foxcatcher at one point, du Pont grew closer to Dave than he'd ever been with Mark. Not only was Dave setting himself up for a gold medal come time for the Olympics in Atlanta, but he was building a circle of wrestling pupils to do the same, all under Team Foxcatcher. While this pleased the ever-growing deranged du Pont, it greatly upset him to learn that Schultz was planning to leave Team Foxcatcher after the Olympics for a job a Stanford. Needless to say, du Pont took his frightening demeanor to another level.
Schultz wasn't just the leader du Pont wanted on Team Foxcatcher, he wanted to be his best friend, and possibly even be Schultz. He was the athlete and man who du Pont tried his entire life to be. The wrestlers gravitated toward Schultz because he was a pleasant person and a great wrestling trainer. Valentin Yordanov, a Bulgarian wrestler who du Pont had recruited in the early '90s, had become a particular object of desire for du Pont as he trained on Foxcatcher Farm. To make matters worse for du Pont, Yordanov became close friends with Schultz, adding a new level of jealously and anger to du Pont's madness.
It all came to a head on January 26, 1996. Dave Schultz was outside his family's home on Foxcatcher Farm, when du Pont arrived and drove alongside him. Unaware of what was about to occur, Schultz approached du Pont's car. "Do you have a problem with me?" du Pont said, as he pulled out a gun and pointed it at Schultz. Having said nothing more, du Pont shot him at point-blank range three times. Nancy witnessed her husband being shot from the doorway of their home, but the damage was done and there was unfortunately no saving him. Dave Schultz died in his wife's arms at the scene. He was 36.