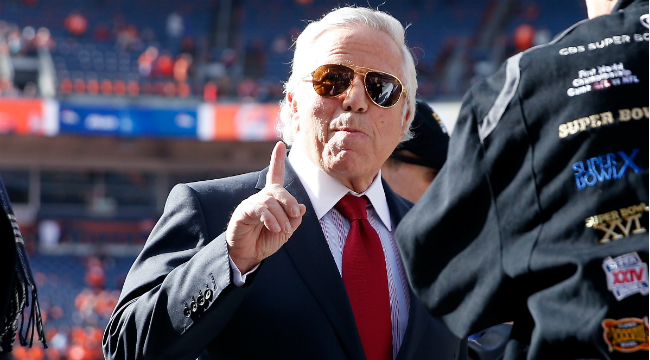 Less than one month after the New England Patriots won their sixth Super Bowl in franchise history, longtime owner Robert Kraft has been charged with misdemeanor crimes stemming from his alleged involvement in a human trafficking ring. According to police in Jupiter, Fla., Kraft is one of several people who were charged, and has been charged with two counts of soliciting prostitution.
Kraft, who has a residence about half an hour away in Palm Beach, has reportedly not yet been arrested, although there is a warrant out for his arrest that will go to his home in Massachusetts, per Deadspin.

The charges stem from Kraft's visitation of Orchids of Asia Day Spa in Jupiter, one of 10 spas in the area that were shut down as part of the operation. According to investigators, Kraft went to the spa twice and is on video inside.
Local investigators announced the investigation and that they began making arrests on Thursday night, according to Mary Helen Moore of Treasure Coast Newspapers, with Kraft's involvement in the ring getting announced one day later. In all, 173 arrest warrants were issued, with Martin County Sheriff Will Snyder describing the conditions under which the women were held.
Snyder said Chinese women held in the spas were involved in "graphic sexual activity, very risky behavior." They had no access to transportation and were moved from location to location.
"It was clear that multiple women were working and living inside the spas. They were cooking on the back steps of the business," Snyder said. "They were sleeping in the massage parlor on the massage tables."

Snyder said what has been revealed so far is "the tip of the tip of the iceberg."
In a statement, Kraft's representatives told TMZ Sports "We categorically deny that Mr. Kraft engaged in any illegal activity. Because it is a judicial matter, we will not be commenting further."