Before we get to the inevitable ascent of Tom Herman, let's be real: Charlie Strong never stood a chance at Texas. Almost from the moment he set foot in Austin his tenure felt embattled, like a man pushing against a boulder while bystanders shook their heads in disappointment at its failure to budge.
Sure, we kept hearing, Texas fans like Charlie. Everyone so badly wanted him to succeed — just look at the outpouring of goodwill on the few occasions that he did, all of which were greeted as the beginning of a potential breakthrough. Strong's players were with him to the bitter end. It's just that… well… It was clear very early on that this particular marriage was not working.
For one thing, Strong always seemed like an awkward fit with the luxury-box set, less for who he was than for who he wasn't. In 2012, a year before Strong was hired, a clique of deep-pocketed boosters impatient with the direction of the program under Mack Brown made a quixotic run at Nick Saban to replace him, and still had high hopes of landing Saban or a similarly proven, high-profile successor after they finally succeeded in forcing Brown into the talking-head business in December 2013. Instead they got Strong, whose hiring was perceived as an anticlimactic affront to the notion of Texan Exceptionalism. Billionaire donor Red McCombs, a former NFL and NBA owner whose name is on both the football stadium and the business school, became the accidental spokesman for the skeptics when he publicly described Strong's hiring as "a kick in the face."
"I don't have any doubt that Charlie is a fine coach," said McCombs, who claimed he'd personally lobbied Jon Gruden to take the job. "I think he would make a great position coach, maybe a coordinator. But I don't believe [he belongs at] what should be one of the three most powerful university programs in the world right now at UT-Austin. I don't think it adds up." McCombs promptly apologized for those remarks, not least because they carried more than a faint whiff of racism. But with that kind of reception from the donor base, and with administrative turnover that claimed both the university president and the athletic director who hired Strong in the span of just a few months, it was never going to add up.
Strong bet on a long-term, tough-love approach when he kicked eight veteran players off the team prior to the 2014 campaign; instead, the subsequent 2-4 start put him on a hot seat barely halfway through his first season that, with institutional leadership divided and in flux, only kept getting hotter.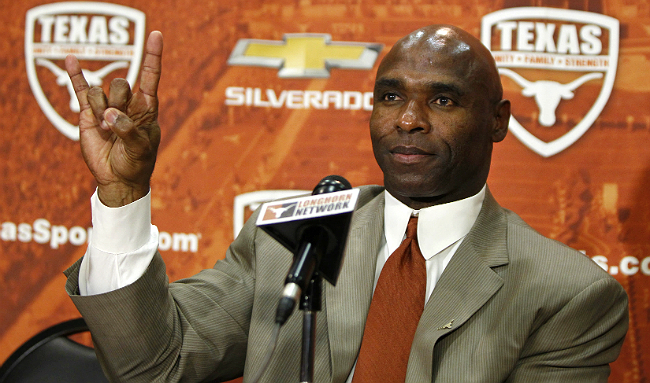 It also didn't help that Strong had no apparent ties in Texas, or readymade connections with Texas high school coaches, the gatekeepers to the nation's most reliable pipeline of incoming talent, especially at a moment when historical bit players within a few hours' drive — namely Texas A&M, Baylor, and (to a lesser extent) TCU — were beginning to look like ascendant threats to the Longhorns' grip on the best local players. The SEC was expanding its territory, as well: By the end of Strong's second season Texas, and the Big 12 as a whole, was losing more of the state's top prospects than it kept. The Longhorns' roster was almost totally devoid of star power, even of the up-and-coming variety.