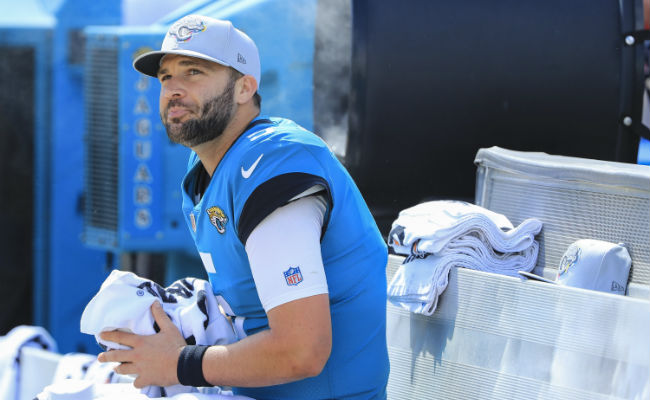 Blake Bortles hasn't had the best week of his NFL career. The fifth year NFL quarterback was benched on Sunday after struggling against Houston Texans, getting benched for Cody Kessler in a 20-7 loss.
Just months after leading the Jaguars to the AFC Championship game, Bortles has regressed back to the middling quarterback he's been much of his career. Still, Bortles was essentially given a vote of confidence by head coach Doug Marrone on Monday, putting him back in as starting quarterback of the Jaguars.
But all this talk online about Blake Bortles, real life human quarterback, got some fans of The Good Place confused. One of them, comedian and The Big Sick creator Kumail Nanjiani, made his confusion clear on Twitter on Monday evening: he didn't know Bortles was actually a real NFL quarterback.

Nanjiani is not alone in this thinking, either! To many non-sports fans, Blake Bortles is merely the favorite football player of Jacksonville resident Jason. And Bortles has become a consistent joke in the Mike Schur show, mostly because of how bad he and the Jaguars have been. Jason thinks he's the best, and he is not. Jason is often wrong, so this makes sense.
This joke tailored specifically for sports fans became far less funny when Bortles had an improbably strong second half of last season and got the Jaguars to the playoffs. Actor Manny Jacinto, who plays Jason on The Good Place, even showed up to the Jaguars playoff game against the Buffalo Bills in January.
All of that seemed like an eternity ago for both the Bills and Jaguars, two teams with good defense who are atrocious at football otherwise. And The Good Place fans who might not be all that into sports have completely missed the absurd quarterback controversy Doug Marrone has manufactured.
In everyone's defense, Blake Bortles is a ridiculous create-a-player name. So it's completely understandable, especially coming from a show that's invented dozens of fake frozen yogurt franchises, to assume that too was fake. Schur has put in plenty of ridiculous sports references in his shows, too, so it wouldn't be a big surprise if The Good Place fans simply chalked up the name to some inside joke sports fans would chuckle at.

And it's important to note that this realization isn't anything new, by the way. Fans of the show have slowly learned of Bortles real-life existence for months now.
For some it wasn't until Jason had to play against the Jaguars in Madden until they realized he was a real person.
As usual, the correct response to all this is "poor Blake Bortles." It's also important to note that Jake Jortles is, however, just on the show. We think.