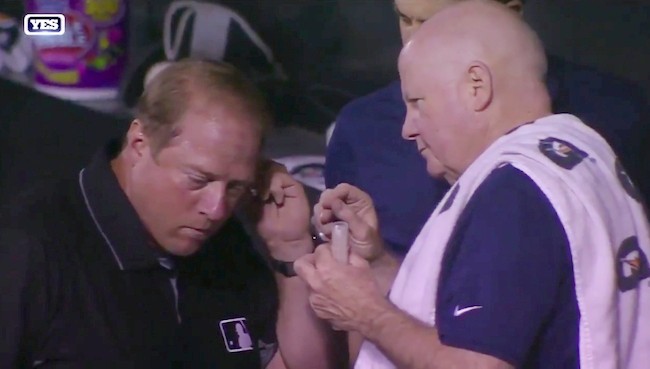 The New York Yankees picked up a 7-3 win over the Chicago White Sox on Wednesday night courtesy of a Giancarlo Stanton grand slam.
That win moves the Yankees to 71-42, nine games behind the Red Sox for the top spot in the AL East, but 4.5 games clear of the Athletics in the Wild Card race. That is all fine and good, but it is the secondary story on the night in the southside of Chicago.
During the game an umpire made a visit to the Yankees dugout to see the trainer because he had an issue with his ear. Or, more specifically, he had a live bug in his ear that he needed tweezers to remove. Yeah. The video below is pretty disgusting!

It's some kind of moth, as it appears to be flapping its wings while between the tweezers, but what is most astounding about this video is how calmly the umpire removes the moth and walks away back to the field. I would be in a full on panic if there were a bug so far inside my ear that I needed tweezers to remove it. Luckily he was able to remove it with no problems, and hopefully this is the last bug extraction we have to witness on camera this baseball season.