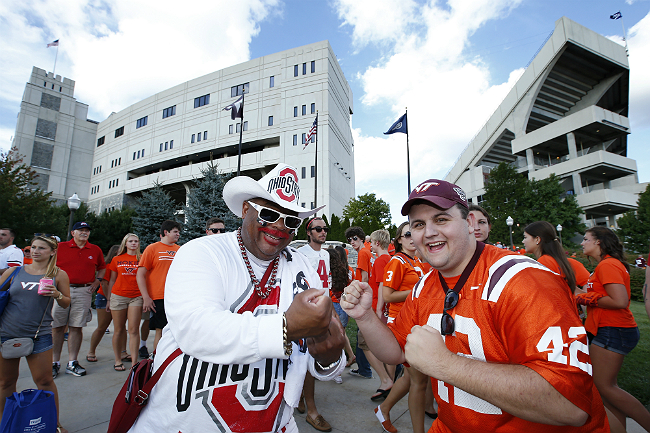 BLACKSBURG, VA – The first time I ever went to Virginia Tech, I was incredibly sick. I hadn't eaten in a couple days, and I was trying to get my energy up for a wedding in Richmond. The way the person I was with talked about Blacksburg, it sounded like she was telling stories about a member of her family. I didn't understand it, during any of the times she'd reminisce, or even on the drive up when she started rattling off all the places she wanted me to see.
We only had a few hours, but we stopped at Rivermill to eat (okay, she ate, I stared at a plate of fries like they had suddenly grown limbs), grabbed coffee at Bollo's and made our way to the Drillfield and the War Memorial. It was obviously as impressive as I expected it to be, and it was hard not to be struck by the contrast of the stone buildings against a backdrop of mountains. All college towns are unique snowflakes. It's just easier to see how special some of them are than others. And there's no doubting how beautiful Blacksburg – and Virginia Tech – really is.
Still in a stupor and haze from not enough food and too much cold medicine, we got back in the car. I was ready to close my eyes and steal an hour or so of sleep, when she turned to me and put her hand on my shoulder.
"I've got to make one more stop," she said.
She took us to the Kroger down the street and told me to stay in the car. A few minutes later, she walked out with a small bouquet of flowers. I held them in my lap, and she didn't talk much as we drove back toward campus.
We went back to the Drillfield, and she held my hand as she made her way to a group of stones not far from Burruss Hall. She set the flowers down next to one of the stones and we stood in silence for what could have been 30 seconds or three minutes. Time doesn't matter. Time doesn't exist. Moments do. And this was one of those moments I'd never forget.
She never talked much about April 16, even though she was a student there in 2007. We told each other everything. Everything except this. I used to wish she'd share that with me. But it took until that moment for me to understand that everyone has their own way. And this was her way.
I hadn't thought about this memory in years. But minutes before kickoff in the biggest game at Lane Stadium in recent memory, it rushed to the surface like a frozen pipe bursting. The video board showed Frank Beamer holding a Virginia Tech helmet with the decal both teams would be wearing to honor Alison Parker and Adam Ward, and a short video accompanied it.
The crowd gave a polite ovation that sent the sort of goosebumps through your body you have no control over. And I started crying. I'd never cried at a football game before. But there's a first time for everything – although Monday wouldn't eventually be the first time Virginia Tech would topple a top-ranked foe.
To so many people, Blacksburg truly is a member of their family. And this year's Labor Day weekend finally proved it to me.
—
On Thursday, I wasn't sure if I was still going to make the short drive from Charlotte up to Virginia for the game. The school wasn't able to accommodate my credential request, and I didn't have a ticket. I had made plans months ago to make the trip, and now I was doubting myself.
My Hokie friends weren't having it. One told me I could stay in his hotel room. The other promised me I'd have fun and told me he didn't doubt I could find a ticket. After some hemming and hawing, I decided to board my dog and go. If they wanted me there, I wanted me to be there too.
College football fans are an unbelievably rare breed. There's honest, true hate here for slights, perceived or otherwise, things that happened decades ago, and gestures made by individuals who can't even legally rent a car. Which is to say, it's wonderful and good and it all makes perfect sense the second you're in it.
The one thing I didn't see from Sunday to Tuesday was any hate between Ohio State and Virginia Tech. I don't know if it's because there's not a lot of history there. Or it's a matter of mutual respect. Or if these two fanbases somehow vibrate at the same frequency, one only animals can hear. But I've never seen so many tailgates with fans from both sides passing moonshine around.
In a crowded bar on Sunday night, they played "Hang On Sloopy" and "Enter Sandman" and everyone somehow seemed to enjoy both songs equally. Nobody got punched in the face. It was great. At one point on Monday, a group of co-eds started walking down a line of tailgates handing Jell-O shots to everyone, indiscriminate of rooting interest or age.
I resolved to find a ticket on my own, and had a feeling I could get one from a Hokie. They are one of the most hospitable fanbases in football, and I was convinced I wouldn't have to buy one from a scalper – and this was one of those games where scalpers asked you how much you would pay and if you said an amount that wasn't in their range, they'd laugh and walk away. I put out a blast on Twitter, dubbing it "Operation Find A Ticket" (the name needed work), and held my breath.
—
Within minutes of the call to action, I had a direct message from someone named Tyler who told me to hit up the lot his parents were tailgating in.
Just after 2:30 p.m., I was there in Lot 8, and although Tyler was mistaken (his folks didn't have an extra ticket), that didn't stop his mother from walking to the next tailgate over and asking them. Someone spoke up – his dad couldn't make the game, and he just wanted to get his dad his money back – and I emptied my wallet. Moments later, ticket in my pocket, Tyler's parents asked my friend and I if we wanted to stick around the tailgate for a bit. They handed us beers, and asked us about ourselves. It turns out Tyler was a former equipment manager, and his parents still go to every game. His mother Carol told me she can "still walk into the football office and the staff recognizes me" even though her son graduated years ago.
On their tailgate table were snacks, mini sandwiches, dip, a tiki torch with a hand-etched HokieBird logo, and a jersey from the 2007 season with the Remembrance Ribbon patch prominently featured on the chest. The jersey was signed by members of the coaching staff, and former players like Michael Vick and Tyrod Taylor. Carol still has coaches and players sign it when she gets the chance, and they're running out of space on the jersey at this point.
As we got ready to leave, Carol told us we were more than welcome to come back later on. This was something that happened at every tailgate I stopped by over the course of the day, whether it was a former MLB pitcher and World Series champion like Brad Clontz, a student group, or the one held by The Key Play, an independent Virginia Tech site that was raising money for a women's organization during the afternoon's festivities.
I spent some time with Ramzy from the Ohio State site Eleven Warriors, and we got to talking about the nature of home. I recently bought a house, and Ramzy travels a lot for work. Home tends to take on different meanings at different stages in life, and it's something I've struggled a lot with understanding recently. I still haven't gotten there, but it's good to know other people – especially those I respect and admire – grapple with that concept too.
On the video board right after halftime, Virginia Tech ran a montage with Vick. The clip was titled, appropriately, "This Is Home."
—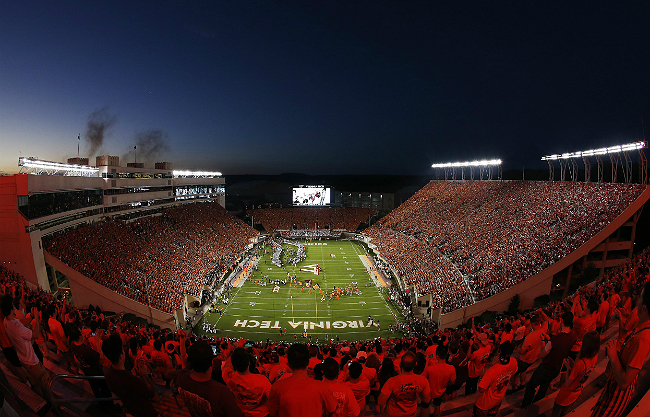 If the day leading up to the game was as close to perfect as the Hokies could ask for, the game itself certainly wasn't. After a terrific second quarter that saw Virginia Tech take the lead into the break, Ohio State's explosive offense answered right back. Not long after, quarterback Michael Brewer injured his arm and was taken to the locker room. The Buckeyes went bonkers after that and showed why their offense is essentially taken straight from the imagined dreams of a kid shaking a Madden snowglobe.
Fans left en masse quietly out of Lane Stadium, and even the Ohio State fans were more polite than usual. Maybe the cats' mouths were full of canary, and there was no room to speak. Maybe everyone was just exhausted from the all-day tailgate. Maybe the Buckeyes were just returning the hospitality. In the lobby of my hotel just after 2 a.m., Ohio State fans and Virginia Tech fans ate pizza together. The communion went on for so long, another pizza eventually had to be ordered.
It most likely isn't going to be a trip to the College Football Playoff for the Hokies, although Ohio State looks like the team to beat well into the season. So we unfortunately won't see these two teams hanging out together any time soon. But that needs to change, and fast.
Heading into the game on Monday, one older Virginia Tech fan with a white hat and a single crutch hobbled up a hill. He slowed down, then stopped completely, peering at an Ohio State tailgate with tables strewn in front of a gigantic RV. He stared at one table in particular before his eyes lit up. He recognized someone, and waved to get her attention. It was Urban Meyer's wife, Shelley.
"Mrs. Meyer, Mrs. Meyer," he shouted. "I just wanted to wish your husband good luck tonight."
She responded, "Thank you! You have a beautiful town." But he didn't hear her. He was already off, presumably to go buy someone he's never met before a beer and ask them where they were from.