Last week the first trailer dropped for Quentin Tarantino's ninth film, Once Upon A Time In Hollywood, and we've watched it daily ever since. After a trilogy of epic revenge movies — the last of which took place during a freezing winter in Wyoming — Tarantino's latest looks to be a lot more light-hearted (besides that whole Charlie Manson/ Sharon Tate thing). It follows the adventures of actor Rick Dalton and his longtime stuntman Cliff Booth in the hippie-haven that was Los Angeles in the late 1960s.
Like everything Tarantino makes, the film is sure to feature surprising moments of levity, dialogue that invites its stars to act their hearts out, and, eventually, buckets of blood. But it's the costume design that's really caught our eye and filled us with some springtime fashion inspiration as temperatures heat up and we ready a new wardrobe of looks. Tarantino has always worked with great costume designers, it's why Uma Thurman's Mia Wallace remains a popular Halloween costume since the release of Pulp Fiction 25 years ago. Though his newest movie takes place in '69, it's coming out in what just might turn out to be the second Summer of Love — with a look and mood that's primed to shape culture the same way that Mad Men did a decade ago.
Here's your spring style-guide to the Once Upon A Time In Hollywood trailer.
Earth Tones on Earth Tones
One thing you'll notice when watching the trailer for Once Upon A Time In Hollywood is the abundance of earth tones, particularly on Leonardo DiCaprio's Rick Dalton — who is almost always dressed in browns, yellows, and other muted colors. While springtime fashion typically favors bright pastels, this look seems torn from the mood board of your coolest friend on Instagram.
Brown on brown with a pendant necklace? That's some straight movie star shit from a Hollywood era that Tarantino is deeply fond of. And for good reason.
Where To Find A Jacket Like Leo's: What makes Leo's leather jacket distinct, beside the rich brown color, is the cut. In order to get those wide lapels you'll need to buy yourself a fitted safari-style leather jacket. This one looks just about identical.
BUY IT HERE — $239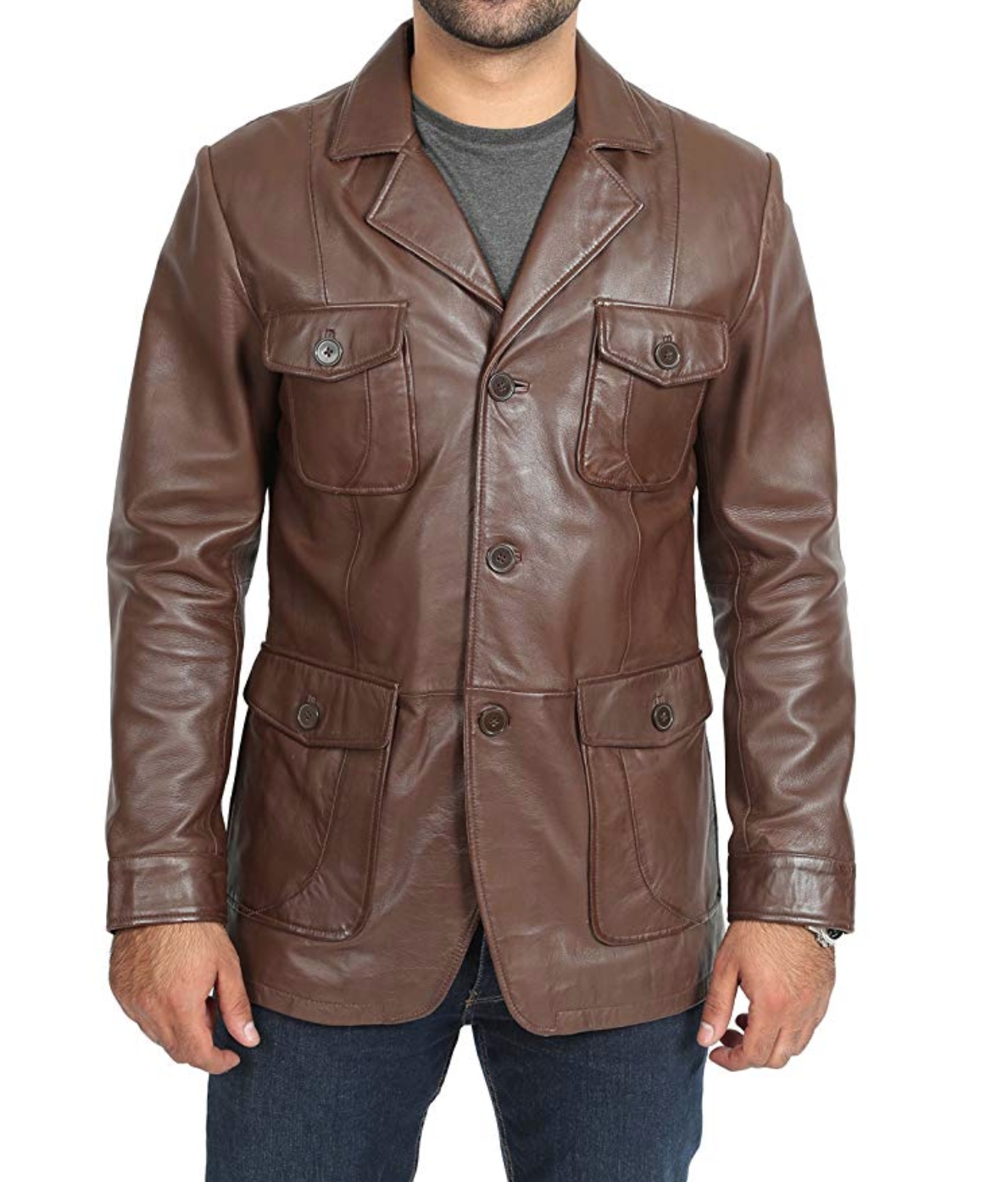 Denim Cut-Offs and Striped Tees Never Age
There isn't much that separates spring from summer in Los Angeles, so if you live in a state that can match the warmer temperatures of Southern California it might not be a bad idea to break out a pair of jean shorts early, well before summer hits. We didn't get a full look at this particular Margot Robbie ensemble in the trailer, but early promotional photos show the actress rocking a vibe that never gets old — cut off jeans and a striped t-shirt.
While the gogo-boots and the half-down bouffant hairstyles that Sharon Tate might make a semi-comeback among bolder sorts, this simple, casual look is sure to be repopularized. Do yourself a favor though, in keeping with the spirit of the 60s don't go buying a pair of pre-distressed cut off jean shorts. Instead, head over to your nearest thrift store, pick up a pair of denim jeans (they will have more denim than you can handle) and cut them yourself.
Where To Find A Robbie's ensemble: In the event the thrift stores in your neighborhood lack options, Levi's high-rise 501 cut-offs are a great choice.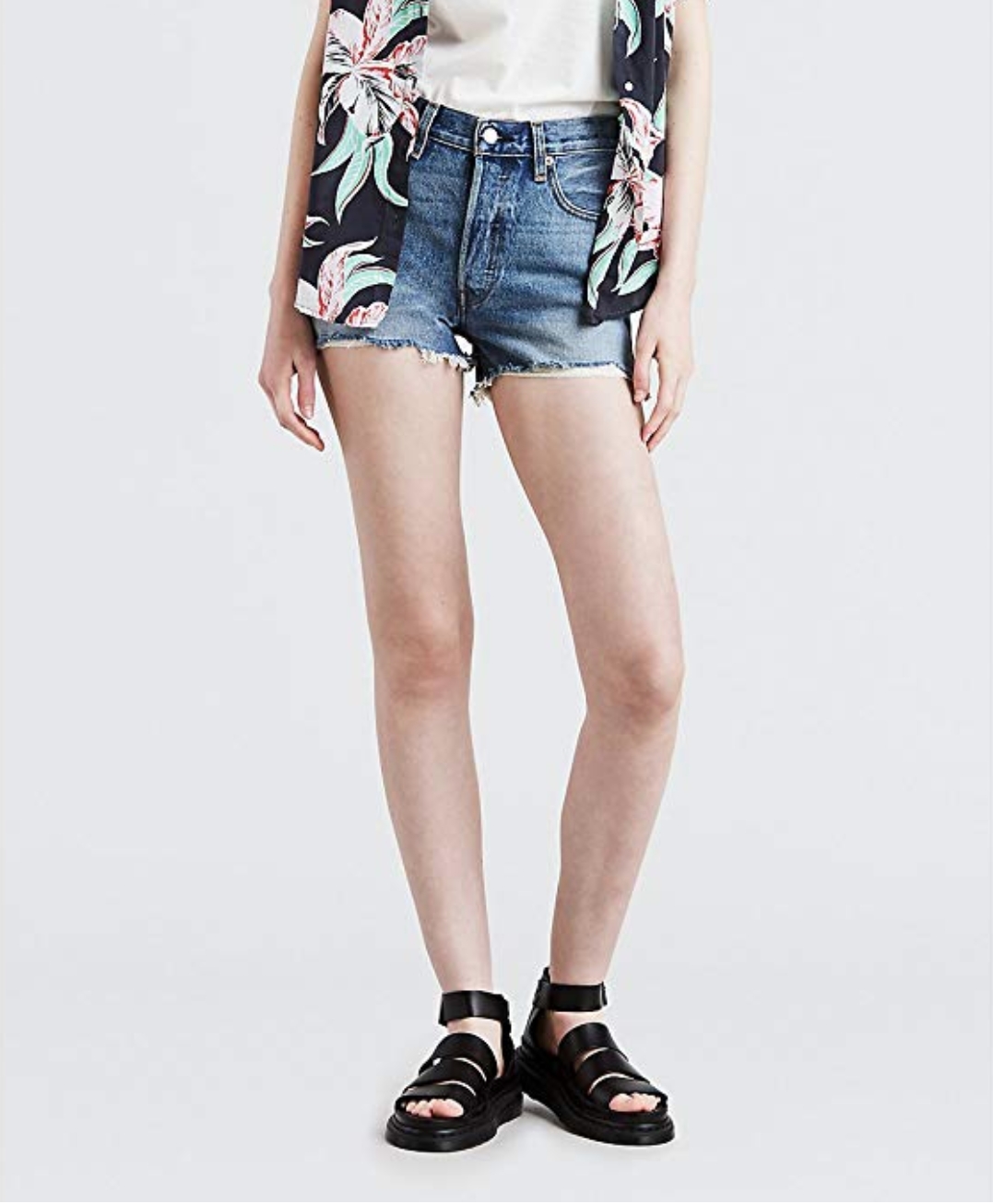 The striped shirt will be a little harder to track down, especially one with a neckline that high. This shirt by Shein is pretty close.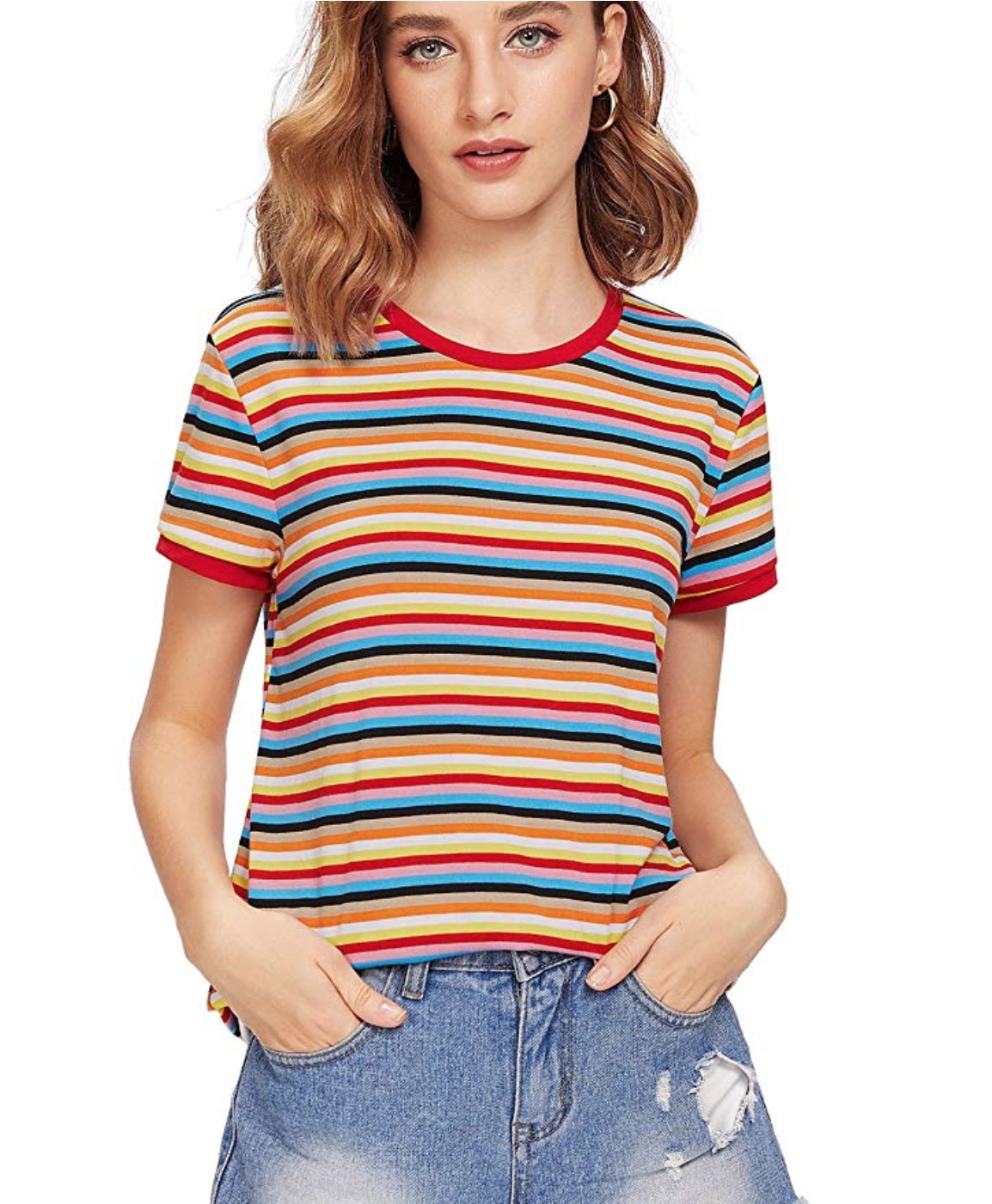 Hawaiian Shirts Deserve Their Comeback Moment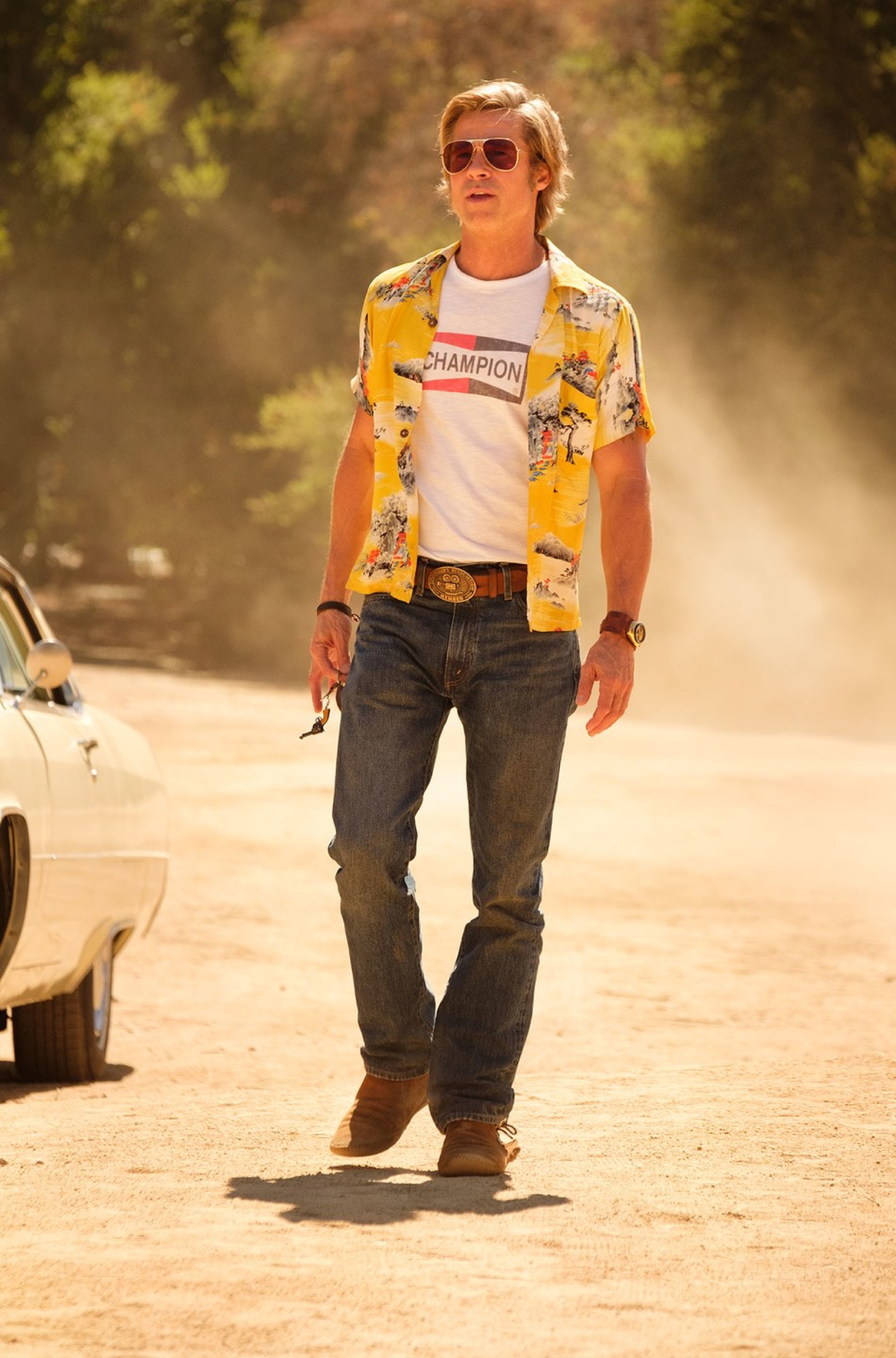 We given glimpses of Brad Pitt's Hawaiian style shirt in multiple scenes throughout the trailer, none of which match this early promotional shot from the film, leading us to believe this particular article of clothing may be the iconic piece that defines the character of Cliff Booth — like the Bride's iconic yellow suit from Kill Bill.
So much about this outfit works — from the tattered and worn bootcut jeans to the vintage Champion t-shirt, but no single piece stands out like that yellow open short-sleeve Hawaiian. Again, this is an easy wardrobe to pick up at virtually any thrift store. The vintage Champion shirt will be the hardest item to track down, which is good, considering you don't want to lift an entire outfit from a movie and look like a damn copycat. But Hawaiian shirts and denim? They're singlehandedly keeping thrift stores in business.
We're going to go ahead and reiterate that you do not need to buy pre-distressed clothing if you're enjoying this worn look. Go visit some wildflowers and roll around in the dirt. Sure you'll get a little dirty but it'll save you some cash that you can spend on more clothes!
Where To Find Pitt's Shirt: Hawaiian shirts aren't just cheap at thrift stores, they're cheap online as well. This shirt by Palm Wave is a very close match to the shirt worn by Brad Pitt in the early stills.
BUY THE SHIRT HERE — $19.00

Get Yourself A Denim Jacket Like A Goddamn Stuntman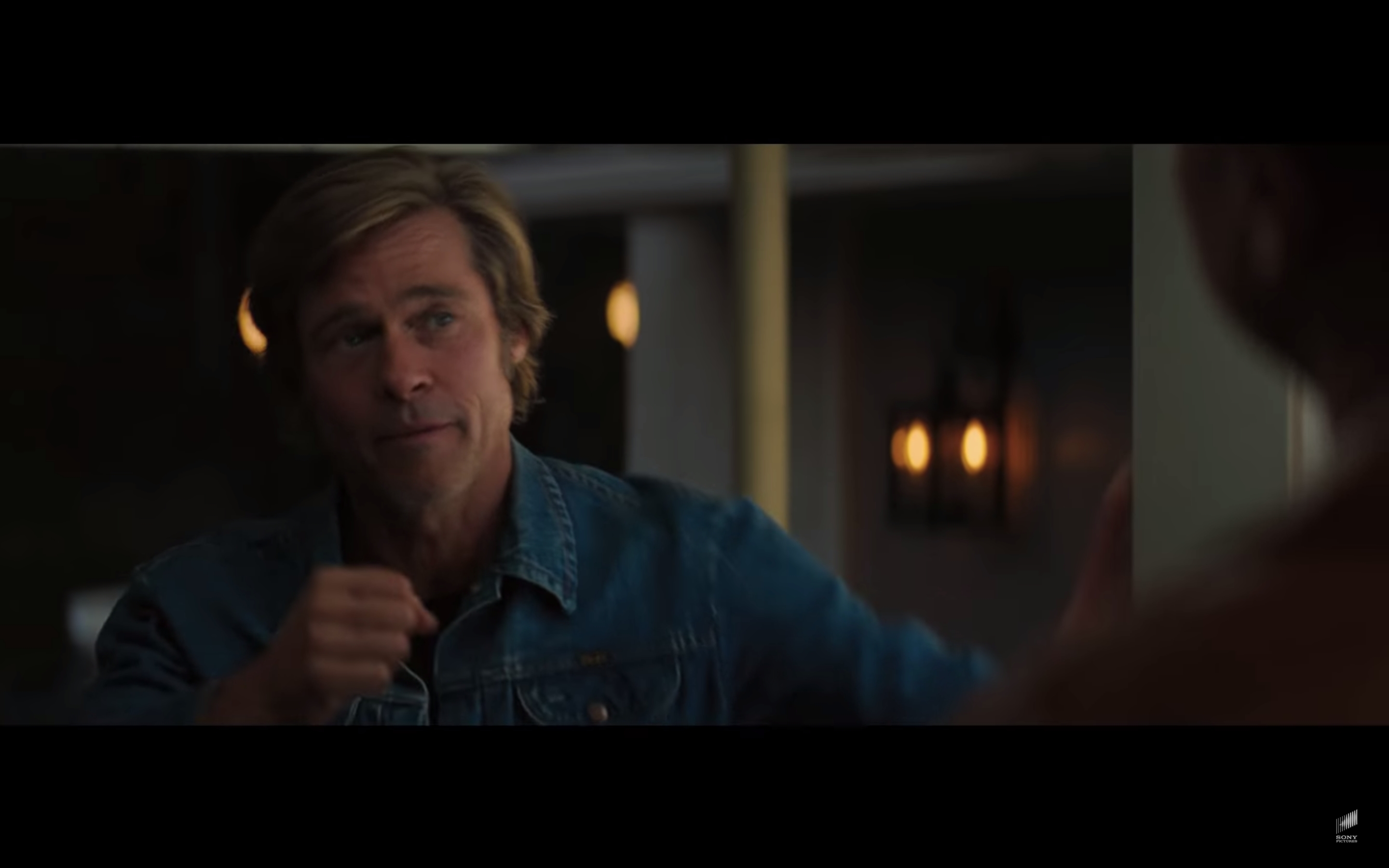 Spring is the last season we have before our jackets end up in the back of our closets, patiently waiting to reemerge in late fall and winter. If wearing a jacket is your favorite fashion move, we feel that pain, so kiss off the jacket season in style by opting for a light jacket to combat those cool spring nights. You could opt for a windbreaker, but the way Brad Pitt is pulling off that denim jacket in the trailer has us leaning more on the denim side this spring.
If you don't already own a denim jacket, what is wrong with you? This is a classic clothing item that should be in everybody's closet. Thankfully this look has never really gone out of style (though we can't say the same for the denim on denim look) so finding a quality jacket should be fairly easy.
Looking For A Denim Jacket? When it comes to denim jackets the Men's Trucker jacket by Levi's is always a solid choice. A unisex denim jacket with a slim cut that looks great on everyone.
PICK UP A LEVI'S TRUCKER HERE — $70

Forget The Resurgence Of Small Lenses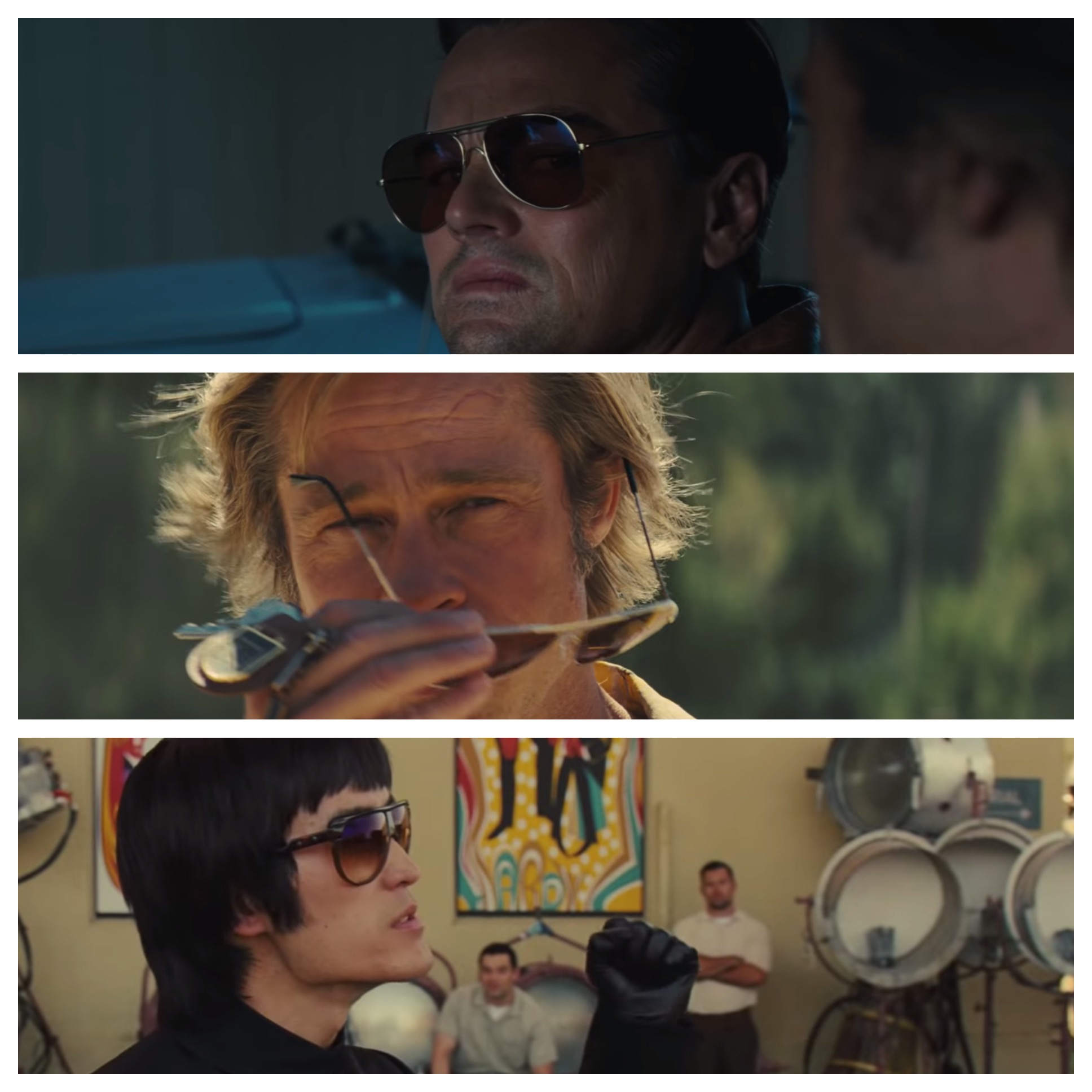 Look, we don't care what Kanye West and the big fashion blogs are saying, we don't like small sunglass lenses and no amount of 1999 nostalgia is going to change our minds.
The trailer for Once Upon A Time In Hollywood is a great reminder as to why big-lense sunglasses, like the aviators worn by Leo, Brad, and Mike Moh (playing a very convincing Bruce Lee), are a timeless addition to any wardrobe. So don't jump on the small lens bandwagon just yet, the power is in our hands to fight against this fashion trend that will only fill us with regret when we look back into the prime of our lives and wonder why we made the same mistakes that Gen-Xers made when they foolishly thought small lenses ever looked good.
Need Help Picking Out A Pair? Go vintage by opting for the era-appropriate brown Randolph Sportsman Aviators.
BUY THE RANDOLPH SPORTSMAN AVIATORS HERE — $299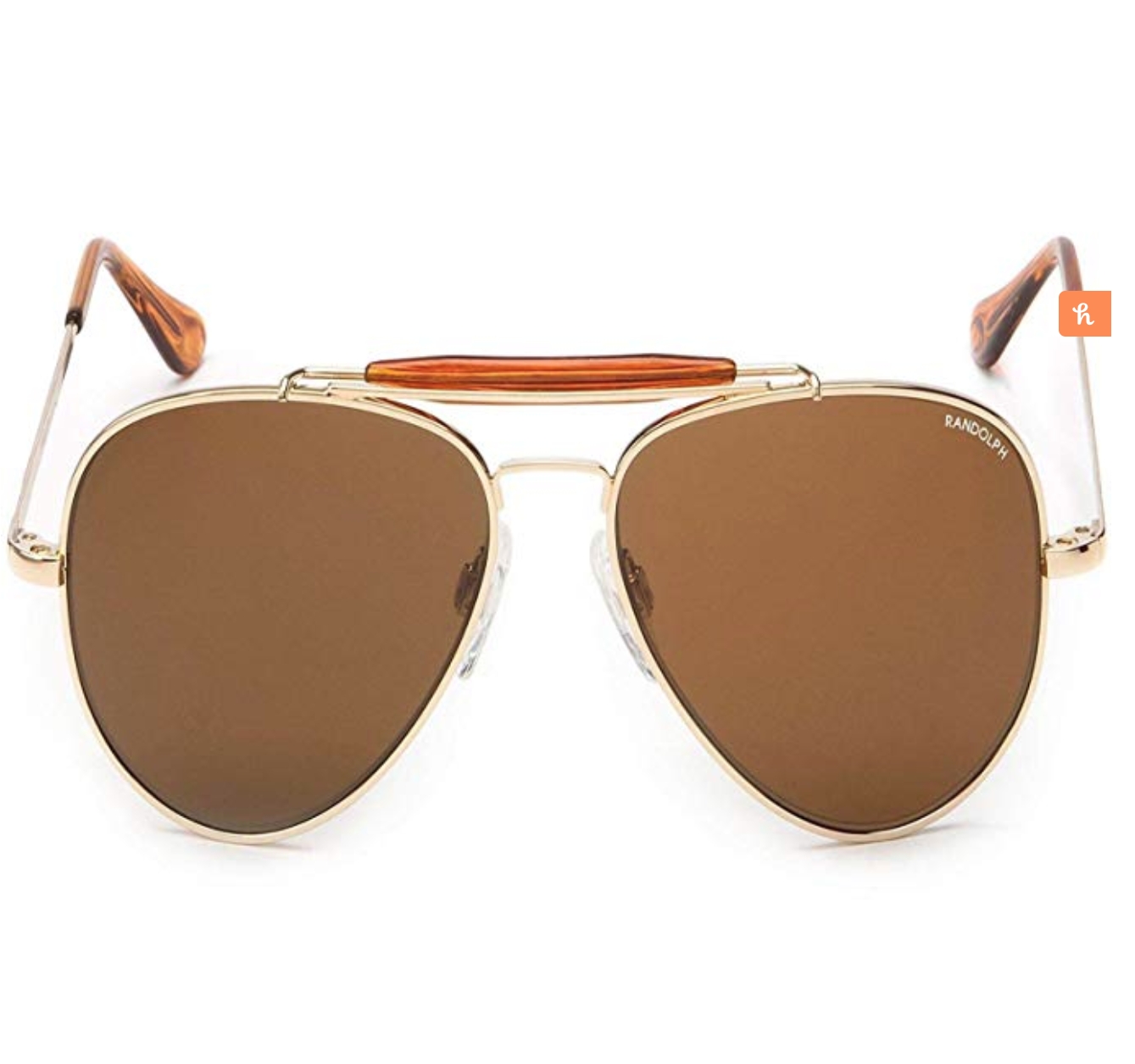 As an Amazon Associate Uproxx may earn commission on qualifying purchases.