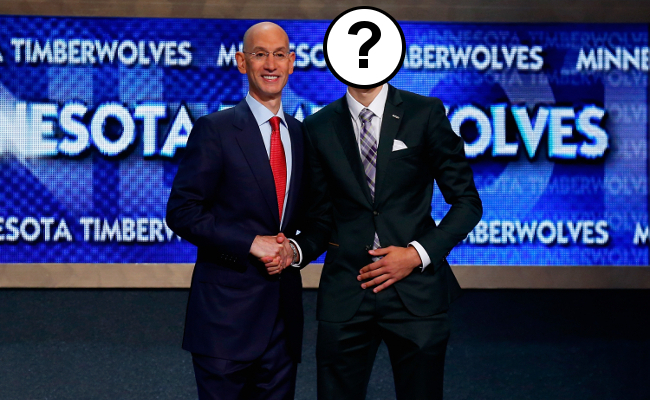 It's finally here. The NBA Draft is arguably more fun than the first three quarters of any NBA game, as every team will leave the Barclays Center with a different roster than the one with which they arrived (except probably the Clippers, who don't have any picks in this draft as of now). At the top, it's a big man draft, with Karl-Anthony Towns the presumptive top overall pick, and Jahlil Okafor likely to follow. Fellow tall people Kristaps Porzingis, Trey Lyles, Myles Turner, Frank Kaminsky and Willie Cauley-Stein are all likely to be among the first 15 names called.
We tried to predict how the draft will shake out, but we will be overwhelmingly wrong, as most mock drafts are. But that's what's so fun! (The secret rule — if you get all 60 picks right, you're appointed as the new NBA Commissioner — is still in effect.) So meet us down in the comments to poke fun at our missed predictions, pick the best dressed (is Frank Kaminsky the dark-horse candidate here, or just the frontrunner?), et cetera.
The Picks
1. Minnesota Timberwolves — C Karl-Anthony Towns, Kentucky
2. Los Angeles Lakers — PG D'Angelo Russell, Ohio State
3. Philadelphia 76ers — C Jahlil Okafor, Duke
4. New York Knicks — PF Kristaps Porzingis, Latvia
5. Orlando Magic — SG/SF Mario Hezonja, Croatia
6. Sacramento Kings — C Willie Cauley-Stein, Kentucky
7. Denver Nuggets — PG Emmanuel Mudiay, Prime Prep
8. Detroit Pistons — SF Stanley Johnson, Arizona
9. Charlotte Hornets — PF Frank Kaminsky, Wisconsin
10. Miami Heat — SF Justise Winslow, Duke
11. Indiana Pacers — PF/C Myles Turner, Texas
12. Utah Jazz — PF Trey Lyles, Kentucky
13. Phoenix Suns — SG Devin Booker, Kentucky
14. Oklahoma City Thunder — PG Cameron Payne, Murray State
15. Washington Wizards (from Atlanta via Brooklyn) — SF Kelly Oubre, Kansas
16. Boston Celtics — PG Terry Rozier, Louisville
17. Milwaukee Bucks — SG Rashad Vaughn, UNLV
18. Houston Rockets — SF Sam Dekker, Wisconsin
ESPN's 2015 NBA Draft coverage begins at 7 p.m. ET.