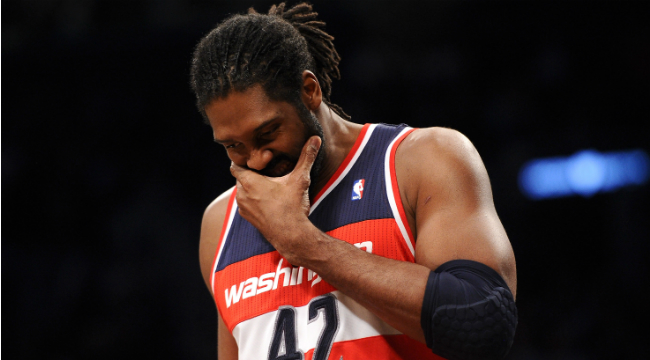 For those who watched the Washington Wizards in the playoffs, it was clear that their big-man duo of Nene and Marcin Gortat was limited and ill-suited to matching up against the smaller, switch-heavy lineups that defined the NBA Finals and became the talk of the league. So it stands to reason Washington would look for ways to become more versatile, including trading part of that front line. Since the Wizards just signed Gortat to a long-term contract in 2014 and Nene's deal is set to expire after next season, the Brazilian big man is clearly the more likely of the two to be traded.
The only problem is that nobody seems to want him, as J. Michael of CSN Washington reports. Nene's 32 years old, and while he often flashes levels of talent and skill that few power forwards can match on either end of the floor, those flashes don't come often enough to trust, and they almost entirely vanished near the end of last season. Even though he has the ability to knock down mid-range jumpers and the strength to both defend at a high level and finish well at the rim, his inconsistency can be maddening to fans. Whatever the cause, it's unlikely he'll be able to suddenly put it all together after 13 years in the NBA. But he remains a solid starter, even if the 2015-16 campaign will be the 14th of his career.
J. Michael notes in his article that Wizards coach Randy Wittman brought up the possibility of using Nene as a small-ball center next season (if he remains on the team), which sounds like it could work, depending on the development of Washington's young wings Otto Porter and Kelly Oubre, their newest first-round pick. They might have to test it out if no market develops for Nene, whose expiring contract isn't the asset it used to be with the coming increases to the salary cap. At least they've recognized one of the things that wasn't working last year.
(Via CSN Washington)