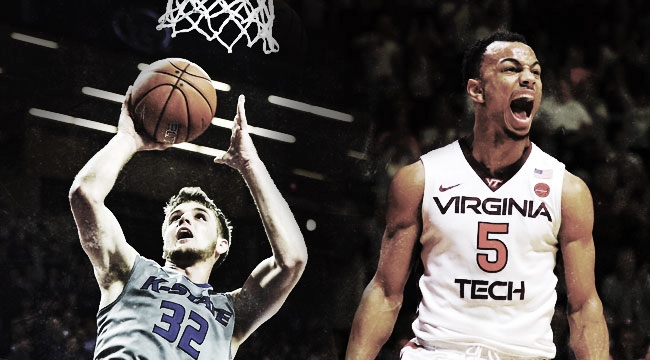 The scouting process for the 2019 NBA Draft, at least for those whose livelihoods are not dependent on their ability to build a professional basketball team's roster, more or less came to an end after the draft combine. NBA teams will continue on unabated by working out and meeting prospects, but from the fan's perspective, we've more or less gotten all the info we can use. So what, then, do we focus on?
There's always buzz around finding the next second round gem. This time of year is frequently about the players identified as "fast risers" — in 2019, think KZ Okpala or Darius Bazley — but I wanted to look up and down the draft and try to identify the players getting ignored. The most effective way to scout is still watching basketball players play basketball games, and these eight players were all good enough at it to make me wonder why they aren't getting more love.
Dean Wade, Kansas State (F/C)
He's had his fair share of injury problems, which is what I imagine has hurt his stock more than anything, but Wade is a good basketball player. A bit of a tweener at 6'9 and 230 pounds, Wade's defensive instincts are as good as any non-Zion Williamson, non-Brandon Clarke big man in this draft, and he's a very good shooter for his size — he connected on more than 40 percent of his threes over the last three years in Manhattan, and as a senior, Wade shot just under 79 percent from the charity stripe.
His steal numbers are pretty low for a switchy big, but that might be more a product of his teammates: Barry Brown, Mike McGuirl, Cartier Diarra, Xavier Sneed, and Kamau Stokes all finished with STL% of 2.2 or higher. I get why Wade could be better served going undrafted, but the fact that he doesn't even seem to exist in draft circles is strange to me, given how consistently good he was as a true two-way big.
DaQuan Jeffries, Tulsa (F)
Another senior (most of these guys are), but on the complete opposite path athletically. Jeffries is among most purely athletic players in this entire draft class, and while he has plenty of flaws — namely with regards to creating his own shot — he's the type of super-athletic small ball forward who can get minutes in a playoff setting where a lot of players can't.
If he shoots and defends the way someone with his size, strength and power should, it's very easy to see him being in the NBA for 8-10 years and contributing to winning basketball. Drafting for potential is one thing, but it's perhaps just as important to know what kind of potential you're looking for, and oftentimes, the shortest path to contributing is the easiest.

Terance Mann, Florida State (F)
Philosophically, Mann is the same kind of player as Jeffries, a small-ish power forward who will bring toughness, two-way playmaking, and experience to whatever team acquires his services. His best attribute might just be availability: Mann left Florida State as the school's all-time leader in games played and finished in the top-20 in games started, rebounds, points scored, and free throws. He's another guy who likely won't ever be a star or even a consistent starter, but his path to contributing for an NBA team is really short. He'll play hard, run in transition, attack closeouts, make the passes he needs to make, rebound out of his area, and play stout defense.
Cody Martin, Nevada (G/F)
A very different kind of wing from Jeffries and Mann, Martin was essentially a true point forward for Eric Musselman and the Wolfpack the last two seasons. He was one of only five players in this draft class with at least 1,000 minutes played and an assist rate of 25 or higher, a STL% of 2 percent or higher, and a BLK% of 2 percent or higher. Martin joins top-5 picks Ja Morant and Jarrett Culver, weirdo point centers Ethan Happ and Matt Rafferty, and fellow do-it-all wing John Konchar to reach that plateaus. He had, by far, the fewest turnovers of anyone in that group. Athletically, there are some limitations, and his shooting is merely just fine, but Martin's skillset is not one you're generally likely to find in a second rounder.
Justin Robinson, Virginia Tech (G)
Hey, do you want a backup point guard? Robinson is one of those! He shoots threes, runs an offense, and gets steals. Anything other than that might be out of his depth, but given those are the three things you generally want a good backup guard to do — looking at you, Monte Morris — it's hard to get very picky.
Robinson's on the older side, and he's had his share of injuries, but as far as second rounders go, it's hard to think of anyone much safer than him. At 6'2 and nearly 200 pounds, he doesn't have the size concerns that ended up hurting players like Tyler Ulis or Isaiah Canaan. He's also not a T.J. McConnell type in that he doesn't lack of strength at the point of attack to stop him from getting major minutes in crunch time. It's hard to really find a reason not to have faith in Robinson as, at worst, a stopgap guard for a team with depth issues. He's not the sexiest or most interesting prospect in the world, but he's something more important than that: a very good basketball player.
Terence Davis, Ole Miss (G/F)
There's a legitimate argument to made that after Williamson and Clarke, Davis is the best athlete in the 2019 NBA Draft. Of course, athleticism alone a good NBA player does not make. So it's very heartening to see that, over the course of his four years battling it out in the SEC, Davis really progressed, not just as a shooter, but as a decision maker and a leader.
Davis was one of the best players in the entire conference last season, and arguably the biggest reason Ole Miss was in the hunt in the SEC regular season crown for as long as it was. He also tested out to have enormous hands and long arms for a 6'4 player, something reflected in his absurdly good STL% last season. Like most of these players, age is a concern for any team looking to really commit to him, but unlike most drafts in which a clear hierarchy exists between upper and lower classmen, 2019 is the wild west. I could absolutely see a team in desperate need of immediate bench help picking him up.

John Konchar, IPFW (G/F)
While a poor showing at the Portsmouth Invitational certainly hurt his stock, there's still so much to like about Konchar from an NBA perspective. In fact, I have a hard time not seeing him carve out some kind of role. He's an immensely unselfish player, possibly to a fault, and shifted himself into whatever role the Mastodons needed him to be in during his three years as a major contributor in Fort Wayne. Konchar was a spot up shooter and defender as a sophomore, an off-ball hustle player and rebounder as a junior, and a do-it-all lead scorer this year en route to becoming the only player in recorded NCAA history to amass 2,000 points, 1,000 rebounds, 500 assists, and 200 steals for their career.
He's a tremendous rebounder for his size, leveraging his good athleticism and dramatically improved strength and frame to bully guys six or seven inches taller than him for contested balls. He's a solid shooter, a good passer, and shot pretty well on cuts. I don't see how he's any kind of real on-ball player at the next level, but he does so many little things that I'm willing to bet on him figuring it out. At the very least, he could be a superstar in Europe.
Alen Smailagić, Santa Cruz Warriors (C)
Inarguably the hardest guy to scout on this list, the Serbian big man elected to play his 2018-19 season in the G League, where he was the league's youngest player. Unlike Darius Bazley, who only stood to be hurt by such a decision, Smailagić was a relative unknown coming into the season, but proceeded to play pretty terrific basketball as an 18-year-old in the third-best basketball league on the Earth.
The reason he was hard to scout wasn't due to footage being hard to find, but more due to the Warriors' decision to scarcely play him. Unfortunately for them, he was too young to legally play in the NBA, but when he saw the floor in the G League, Smailagić looked like a complete steal as a true two-way big, especially thanks to his ability to defend at an exceptionally high level. He looks and moves like he's 45, but Smailagić's closeouts and rotations on the perimeter were as impressive as any non-Zion big in the NCAA last year. He's still so young and familiar with the G League that he is one of the most stashable and malleable players in this year's second round.