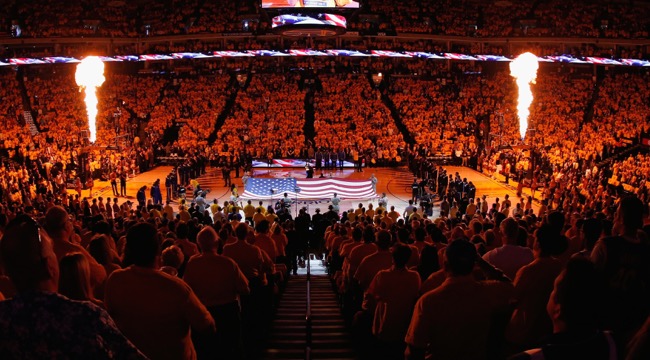 Lois Stewart, 94, attended her first NBA game Wednesday night at Oracle Arena, which was sold out for the 159th consecutive time. According to the San Francisco Chronicle, she's already pretty caught up on the phenomenon happening in the Bay, specifically Steph Curry.
"I got turned onto basketball, watching Michael Jordan," Stewart said. "Now, we've been watching Steph Curry, who's getting close."
The game itself featured the Warriors versus the Hawks, but Steph wasn't in uniform. The Baby-Faced Assassin was resting after injuring his ankle earlier in the week, but Lois still got treated to an overtime thriller. The home team managed to keep their winning streak at Oracle alive after Draymond Green hit a crazy three-pointer in the last minute. That's a pretty auspices Oracle debut for the 94-year-old basketball fan. How Lois actually ended up at her first game at Oracle is pretty great, too.
Stewart tunes into every game at her retirement home in Berkeley. A friend of her grandson thought to call the Warriors' public relations department, and they set her up with tickets to the game.
"I've never been in this big of a stadium to watch a game," Stewart said. "This is kind of overwhelming."
Stewart arrived to the game with her daughter Gail, where they also received an autographed photo of Andre Iguodala. Stewart was "admiring" his muscles and didn't stop smiling. She also fell in love with Stephen's Curry's oldest daughter, Riley, like the rest of America has over the last year. But her favorite player on the squad is Draymond Green, who's t-shirt she sported at the game.
Seems like Lois is a good luck charm.
(Via San Francisco Chronicle)