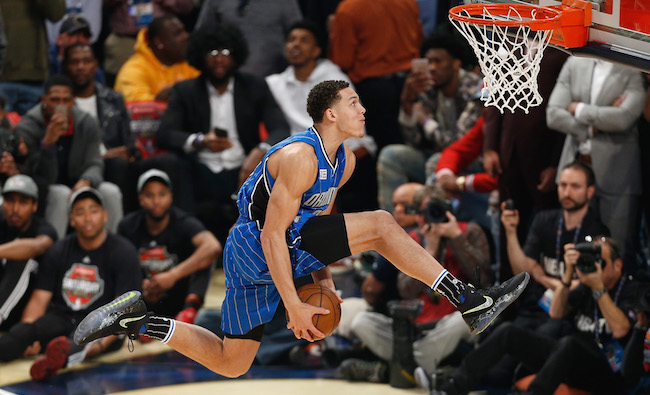 The 2018 NBA Slam Dunk Contest had some nice buzz because of a stacked field that was set to compete in Los Angeles on All-Star Saturday Night. Aaron Gordon, Dennis Smith Jr., Victor Oladipo and Larry Nance Jr. made for an intriguing roster of young stars with lots of bounce and there was optimism in the air that the dunk contest would produce fireworks.
Unfortunately, the headliner of that list will have to pull out of this year's contest due to a hip flexor injury. Gordon will miss his fourth consecutive game on Monday night in Miami due to the injury and the Magic announced that it would also keep him out of the dunk contest in two weeks.

It's unfortunate for Gordon and the Magic, obviously, as he has had a strong season and is one of the few bright spots for an Orlando team that has seen its season go off the rails after a surprisingly good start. Gordon also hoped to redeem himself after a dud of a dunk contest performance last year, when he had incredibly high expectations following one of the best showings ever in a losing effort in 2016.
Gordon will have to wait at least one more year for that sweet redemption, but it does create an opportunity for someone else as sources tell our Oliver Maroney his replacement will be Utah Jazz rookie Donovan Mitchell. Mitchell, who's already participating in the Rising Stars game and Skills Challenge, has been very vocal about being in the dunk contest and has shown off tons of dunk contest potential in games this season.
ESPN's Adrian Wojnarowski also reported Mitchell as the NBA's choice on Monday afternoon.