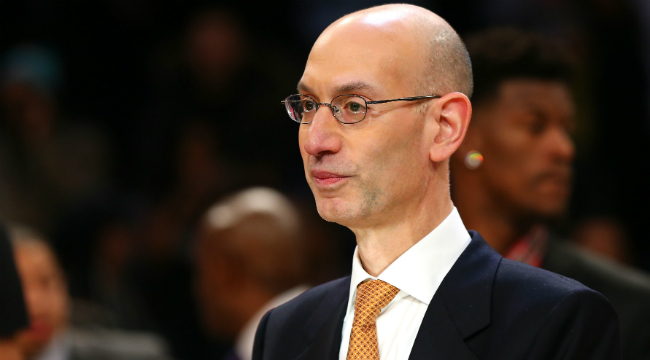 The NBA's domestic broadcast rights are locked up through 2025 thanks to a monstrous deal with ESPN and Turner that led to skyrocketing salary caps, contracts, and franchise valuations. However, despite the NBA being set financially thanks to that deal and with no changes coming for nearly a decade, commissioner Adam Silver is still thinking about what's next and how to enhance the product being presented to consumers.
One of the things the league is continuing to look into is streaming games and how to format those broadcasts and try to adapt to the modern consumer. Silver, as much as any commissioner in pro sports, understands that the status quo can't simply be maintained and expect the same success and growth. The NBA has done a fantastic job in recent years adapting to the social media age, but that is only the beginning.
At a recent talk with Recode, along with Fanatics executive Michael Rubin, Silver was asked about Amazon and Facebook streaming and whether the NBA had plans on tapping into that market. While noting that broadcast rights in the U.S. are locked up, Silver spoke at length and with excitement about what he thinks the possibilities are in the near future — he said three to five years — for how NBA broadcasts can look dramatically different and pointed to Twitch streams as a model (20:55 mark of the below video).

What I think will happen over the next several years, and these discussions are going on now, when you think about the way games are produced on ESPN for example, it's the same way it looked 30 years ago. I mean, high definition's made a huge difference, but if you look at the basic way games are broadcast, there's a mid-level play-by-play camera that follows back and forth and two end zone cameras that can follow the action and others. But it looks pretty much the same way it always has.

Now if you think about, if anyone here is a gamer, if you go on Twitch for example and see what it's like to follow those competitions, it's sort of constant chatter of fans there's all kinds of other information appearing on the screen. I think to older consumers used to looking at sports it might look incredibly cluttered, but as Facebook and other services experiment with live sports rights, and I'm sure Amazon's going to be doing the same thing, I think they don't have the same limitations cable and satellite historically have had.

Really, it's not for a lack of creativity from the great cable and satellite companies, its the limitation of technology of the cable box. And what they do over the top is you can have unlimited fields on your screen. You can have information popping on, coming off. You can have descriptions of plays and information about players, and what's most interesting to me, and I've seen a lot of the R&D work that's being done by these over the top services, is I think our game, not next year, but three, four, five years from now it's going to start looking very different.

…

Think about it, you can have unlimited audio feeds, for example. You may not want to listen to the same standard play-by-play you always get, instead it could be your friend doing play-by-play, it could be a comedian doing play-by-play, it could be a celebrity doing play-by-play sitting courtside. You could be getting all kinds of information about those players. Where they're from, biometrics — wearables is a hot area in sports right now. It may be fascinating to see how much, try to measure stress on players when they're going to the line. Unlimited information. Then there's daily fantasy, moving likely towards legalized gaming or gambling and sports betting in this country. There's going to be all these new fields of information, and I think, in a way, when you look at games now it's like a silent movie.

Silver's comments are quite interesting and eye-opening for fans of the NBA game. It's clear that Silver and the NBA, who are in the process of launching an eSports league, have looked seriously at how the gaming community provides so much information and fan interaction in their streams, and how the NBA can find ways to take some of those tricks and apply them to their own productions.
It was clear that Silver thinks the current broadcast is outdated, noting that he thinks it's like a "silent movie" without providing more on-screen information. As for what we can expect to change, Silver has a lot of thoughts from providing alternative audio commentary to having on-screen stats for daily fantasy, and when sports betting is eventually legalized, potentially adding live-betting and other information to broadcasts.
However, what may be the most interesting bit that he brought up was the possibility of having players wearing biometric devices that could potentially offer viewers real-time information about how much stress they're under or their physical output while on the court. While all of these things are simply ideas right now, it's clear that Silver wants to apply pressure to those broadcasting games now and in the future to keep pushing boundaries or he'll find someone that will when the rights agreement runs up.