Hello, sun seekers! The All-Star break has officially come and gone, and while some find that as a relief, others, like myself and the true time off connoisseurs out there, find the relief itself (a.k.a. the vacations the break enables) to be the true highlight of this part of the NBA season. To completely revel in this shortest of sabbaticals, this very snappy R and R, I thought it necessary to offer up a mini NBA Summer Vacation Watch in the form of an NBA All-Star Break Vacation Watch.
So, grab a cold bev of choice and some sun tan lotion to put on in solidarity, sit back and dive in – your vitamin D depleted body will thank you.
Jimmy Butler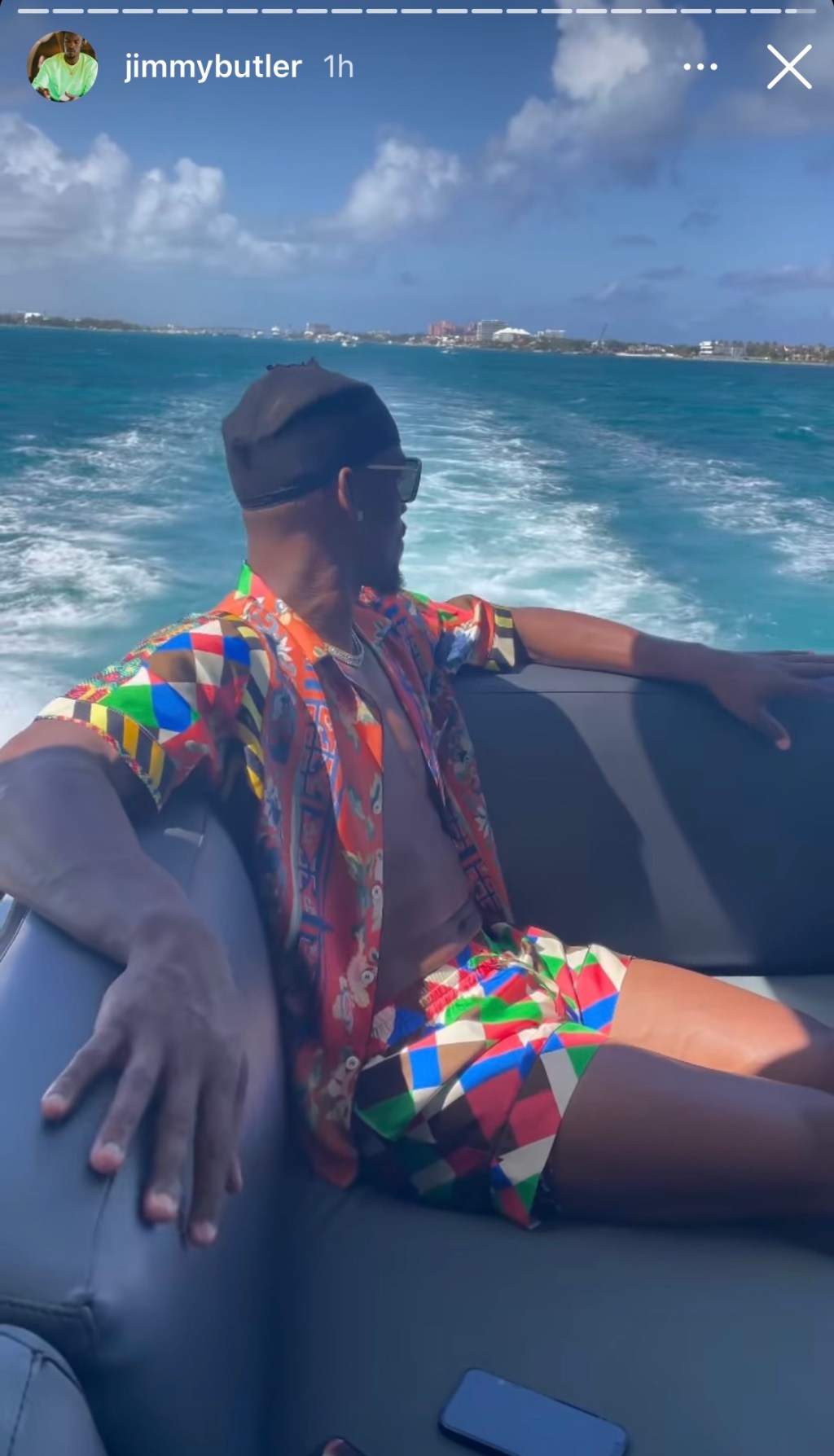 Though Butler living in Miami may lead some to think he leads a summer vacation lifestyle all year round, well, you'd be a little bit right. But this is also a man who goes for weighted beach runs on vacation and gets 500 (probably) pushups in between strolling the trellised grapes at his favorite Italian vineyard. Anyway, I believe Butler took a vacation during All-Star break because these outfits are even more breezy, the palms look even more exotic, and he shared the kind of quietly reflective "video out of the window of a plane" when it was all over, typical to those coming home from a good vacation. Also, when you've been doing this as long as I have, you just get a feeling about these things.
As a digestif, may I humbly present to you Jimmy Butler preparing a s'more in two parts.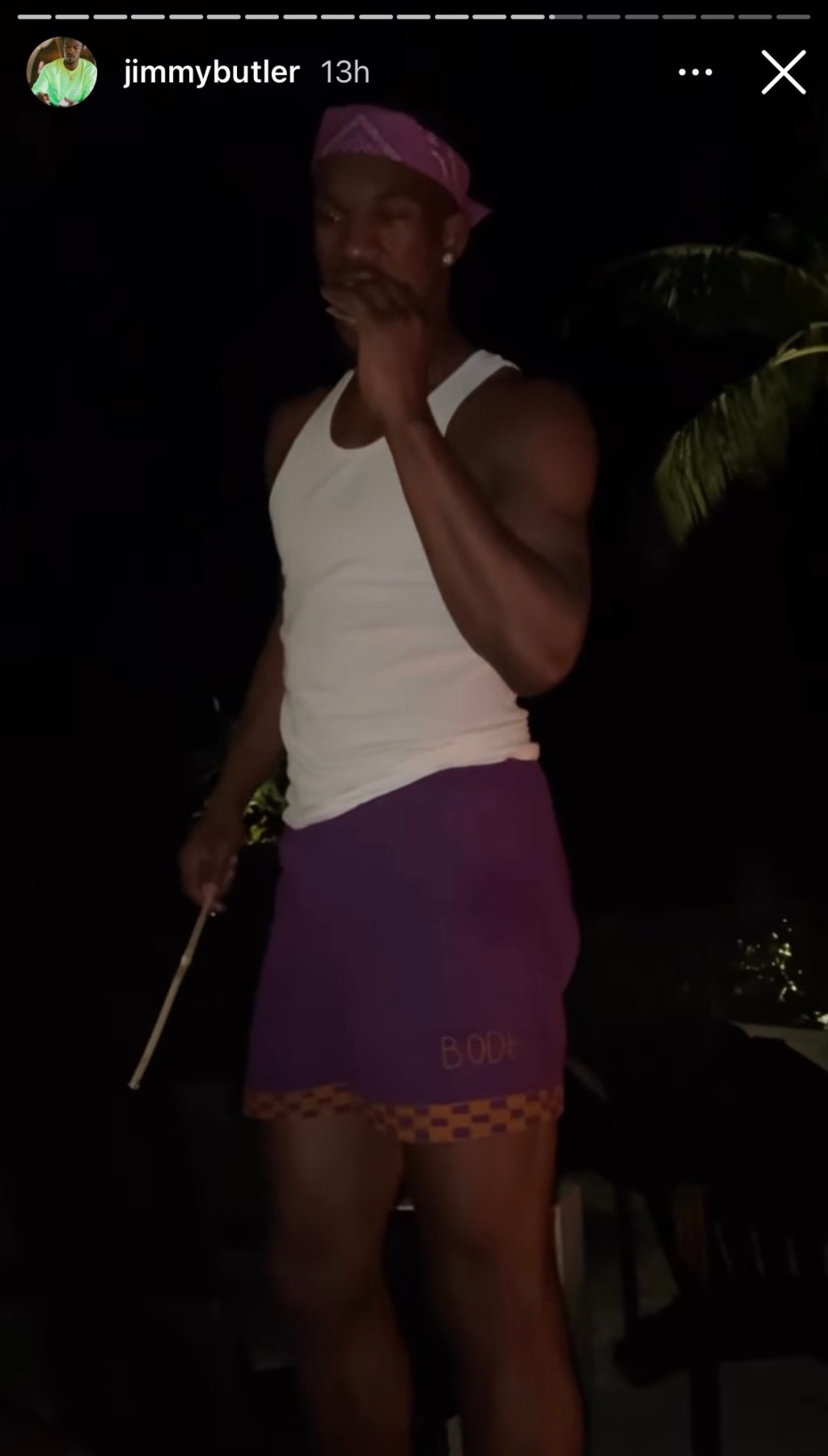 Rating: While some might interpret this as "no days off" in the traditional workaholic sense, I'm choosing to look at it as no days off … from vacation.
Pascal Siakam
Siakam is historically excellent at vacations, no matter the brevity of the window. He's also excellent at accompanying outfits, typically matching sets. There is about a two month window in Toronto where it's possible to get fits like this off, so his dedication to beachwear means he picked these up fresh in anticipation of vacation, which is something we can all relate to.
Rating: All-Star snub? How about holding a starfish on an ATV on a beach instead?
Klay Thompson
Forever the man of mystery when it comes to where he's chilling, Thompson did some training, some golf cart driving, and some diving, and knowing him it was probably all in the same day. I'd like to note to any skeptics who are like, "Does golfing really count as a vacation?" It does when you're doing it barefoot!
Rating: May we all strive to chill as hard and in as many ways as he.
Jayson Tatum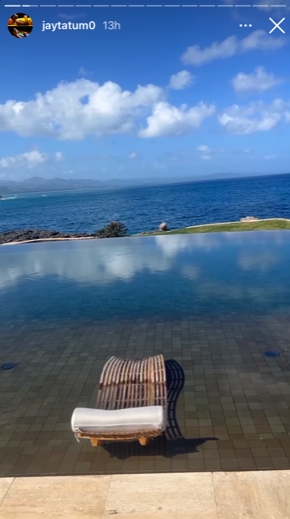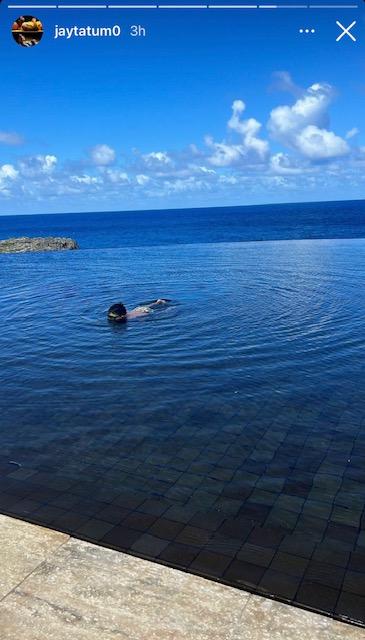 Tatum, Deuce, and the family got away for a quick break where the focal point was this infinity pool. Namely, the suggestion of sitting for long stretches in the infinity pool in this chair, snorkeling around in it like lil Deuce, and taking long, uninterrupted moments to stare at it.
Rating: Or perhaps, as the name of the pool suggests, stare beyond it.
LeBron James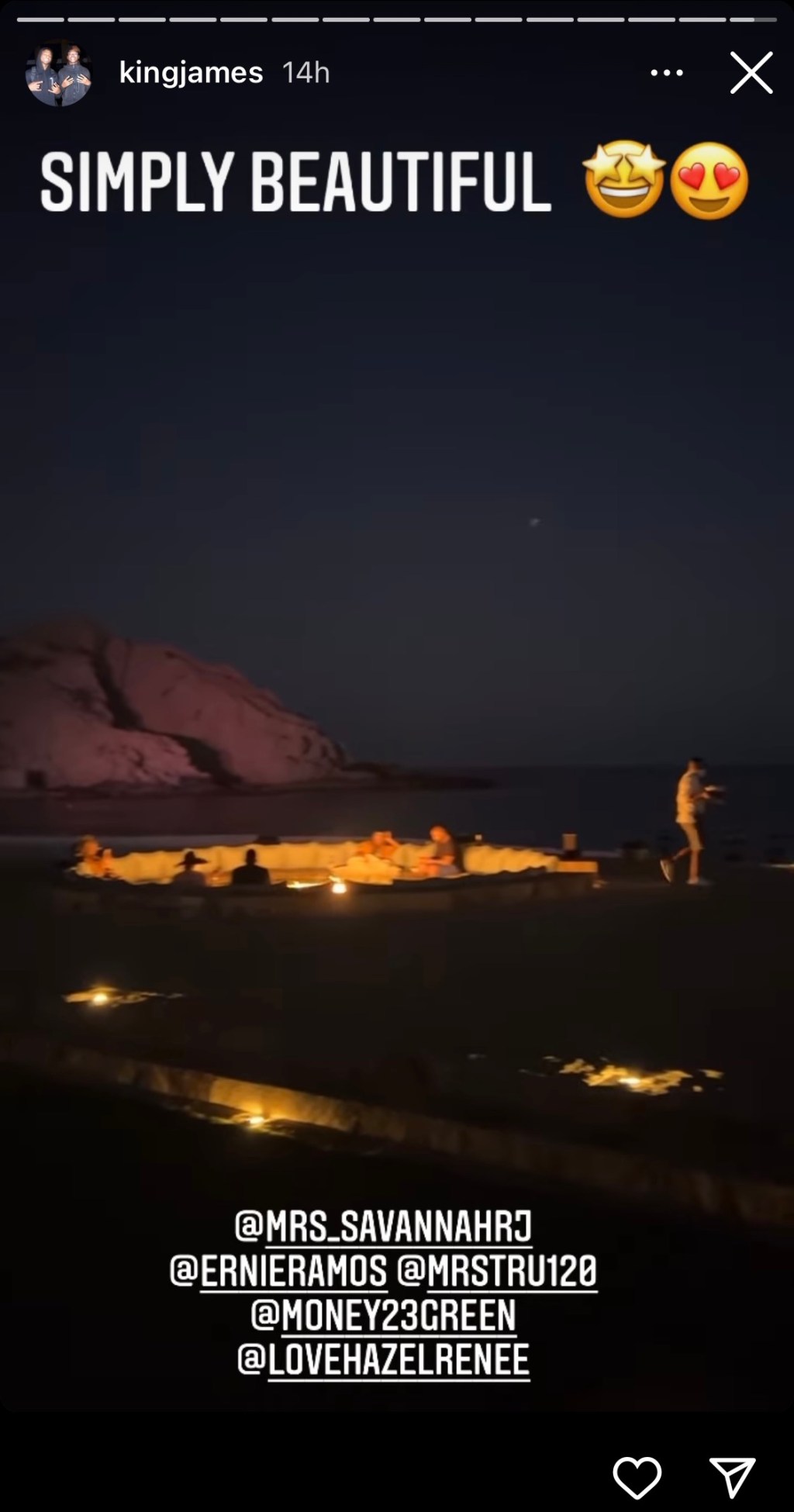 Always a decadent vacation-taker, whether bringing personal inflatables or all of his friends along, James kept it pretty low-key this week. He celebrated national margarita day beside an outdoor fire pit by an ocean — assuming Pacific and farther south than L.A. — and seemed to stay there enjoying the view until dusk, when he shared a pano that revealed Draymond Green was one of his guests.
Rating: Do I wish this was James singing alone at a beach bar in Mexico? Yes. But sometimes you have to take the vacations that are given.
Kyle Kuzma
Nice of Kuzma's longtime partner, Winnie Harlow, to offer him some of her expertise when it comes to being in front of the camera for a living. Not too sure where the pair went but I am sure I'll be thinking about that sea hammock (???) for the rest of my days.
Rating: Like, you just lie there and the ocean gently tickles your body? You're on it but in it?
Serge Ibaka
Frankly, with another season of his show, "How Hungry Are You?," launching and being signed to the Bucks, I was worried Ibaka wouldn't have a chance to get away in the blink-and-you'll-miss-it All-Star break but, serves me right for ever doubting a professional. Ibaka brought either his own massage table or a very 007 looking suitcase, plus a pair of very short and tight trunks, to a tropical location and enjoyed the hell out of it for a couple days. The man has had a conflicting relationship with the sea, so I'm also happy to see him facing those fears.
Rating: Imagine the ocean is Robin Lopez, Serge!
Rudy Gobert
Well if there was ever a man you expected to see standing ominously atop a vacation villa in fluorescent green trunks and potentially a generation 2 iPod, it's Rudy Gobert. Gobert also treated us to an art film, entitled "Fire in slow motion." and set to the Gladiator theme.
Rating: Though some in the comments are clamoring for Gobert to "please get off the top of a building and under a basket," think about how great the gift of that specific sequence of words is, a gift granted by this vacation.
Jordan Clarkson
It was Jordan Clarkson time … to chill on the back of a boat, wear a crocheted top to a romantic dinner, and watch the Kanye West documentary on a beach with a candy buffet.
Rating: Truth is we've yet to find a timezone where it isn't Jordan Clarkson time.
Myles Turner
Turner went full-on Sedona retiree getting into mysticism for his mini-break and you know what? It's great. All your chakras should be open to matching shorts and breezy shirt sets like this one.
Rating: You know there were probably one or two crystals involved.
JaVale McGee
JaVale McGee took his family to Playa del Carmen, Mexico, to jump in some cenotes and chill very deeply — including on what looks like the largest hammock known to mankind.
Rating: Move over, Machu Picchu, because this giant hammock is the foremost man made wonder of this world now.
Norman Powell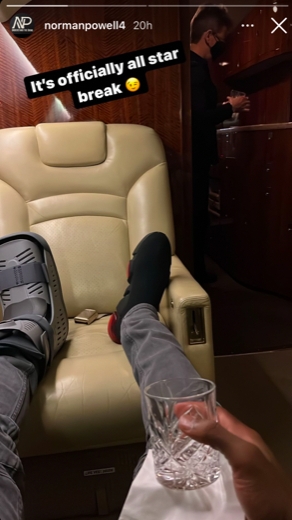 Mr. Understand The Grind understood it was a good week to put his foot up, and thank goodness, because it's broken. Powell had a whirlwind trade deadline so frankly wherever he ended up taking himself and his boot is entirely his business.
Rating: But I hope he got home and had to pour some leftover sand out of it.
Lonnie Walker
Lonnie Walker went to the San Antonio Stock Show and Rodeo and identified very deeply with this rodeo clown.
Rating: I think it's fair to say, "Same."
Tyler Herro
Herro got out on the water and in case you were wondering, YES, he did pack a bucket hat.
Rating: He wants to make sure you see it.
Paul Millsap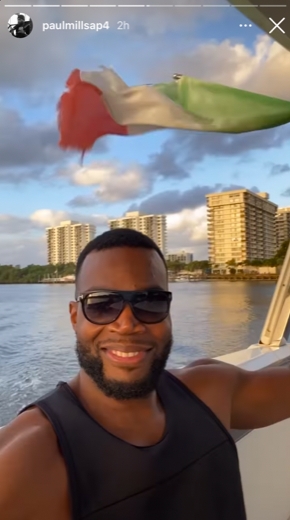 While I don't think Paul Millsap got over to Italy for his break, I do thank the proud Italian owners of this well-worn flag and boat who took him for what looked like a wonderful afternoon.
Rating: Trying to think if there's anything better than Paul Millsap smiling and coming up empty.
Udonis Haslem
The hardest working man in the NBA took a well-earned vacation!
Rating: I'm not kidding!
D'Angelo Russell
It was D'Angelo Russell's birthday this past week and he was whisked away by his friends and loved ones to more sun soaked parts than Minneapolis, Minnesota. Russell — and by extension us — learned a lot about himself on this trip.
One, that he has a beautiful singing voice.
Two, that he is deeply respectful (we won't say afraid) of the noble giant sea turtle.
And three, that he loves to dance to steel drums.
Rating: To the point where, in a video after the last video, Russell danced his way down to the beach and the ocean, sort of just gently swaying in the sunset by himself, maybe for hours.
Spencer Dinwiddie
What I know is that Mark Cuban would kill to endorse this beverage on Shark Tank.
Rating: Who said you can't drink out of fruits and vegetables in the comfort of your own home? No one, so grab that pineapple or acorn squash or whatever you've got and have yourself a weekend.
Justin Holiday
It's very nice when guys forfeit their brief, mid-season vacations for their families. In this case, Justin Holiday took his kids to Disney World, where they had the time of their lives tearing it up under fireworks.
Rating: Honestly extra kudos to Holiday for going back to Disney after the Bubble!
Lou Williams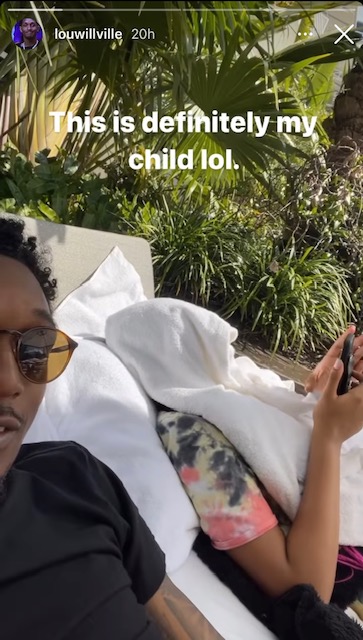 On the same family vacation theme, Lou Williams spent a lot of his week off trolling his kids and having more fun watching them have fun than if he was on an exotic yacht solo (no offense to exotic yacht solos).
Rating: Sweet Lou, indeed.
Jae Crowder
Yes, Jae Crowder, love is love, or in this case, love is you getting a deep tissue massage in an open-air gazebo adjacent to the beach.
Rating: It takes all kinds.
Nassir Little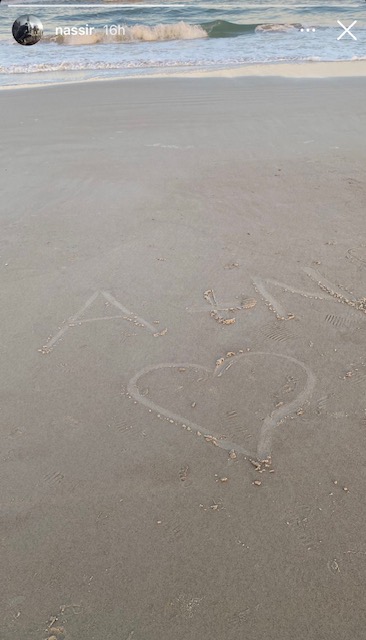 I'm of the personal opinion that doing initials on the beach is a lost mode of expression, and I thank Nassir Little for doing his part that this form of communication does not go the way of hieroglyphics.
Rating: What's nice is if you dig out a wonky looking heart with your toe the ocean will be there to wipe the beach clean so you can try again. The eternal canvas.
Rui Hachimura
Haters will say why does Rui Hachimura need a vacation and real ones will know haters have probably not read this far, also that everybody deserves a vacation.
Rating: Haters especially need a vacation.