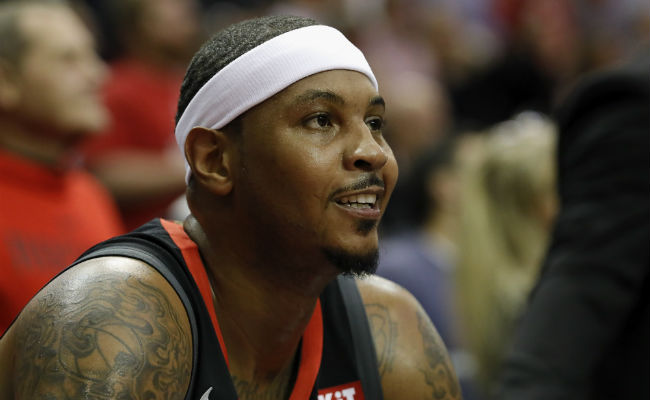 Carmelo Anthony is at a decision point in his career. Though he's still on the Houston Rockets right now, his time with them on the floor is over.
He's already played on three teams in three seasons at this point, and a buyout after the Thunder traded him to the Hawks was already his first chance at a fresh start. Now, just a month into the current NBA season and his latest fresh start hasn't worked out, either. There seem to be two trains of thought about Melo now: He could resolve in himself that he needs to just be a role player and find a team that will accept him as such, or he could go overseas and play the way he's always played his entire career.
Or, you know, he could take his ball — and his money — and call it a career. One friend and former teammate who has gone through a similar situation is Allen Iverson. According to The Athletic, he's not sold on Melo retiring anytime soon.
"It hurts because I love Melo and care about him as a person before all this basketball hoopla," Iverson said. "I know he's a great person. But the situation has to be right."
Iverson himself struggled to find a place in the NBA as his age hampered his game — including a stint as Anthony's teammate with the Denver Nuggets — and he said Anthony is in a fight that "he has to overcome."
It's a good bit of advice about finding the right fit and figuring out what's next, but it's more of a pep talk more than anything here. Iverson doesn't have the answer for Anthony, and maybe no NBA team will.