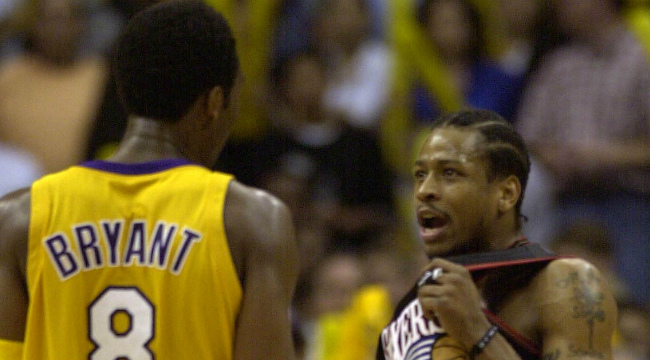 With each passing day, debates pitting LeBron James against Michael Jordan get a little more intense. These arguments usually exist to try and determine which player is the best of all time, and while guys like Wilt Chamberlain and Kareem Abdul-Jabbar get plenty of praise, the discussion usually involves James and Jordan.
Allen Iverson isn't really a fan of the argument being framed this way. It's not because he doesn't think they're two of the best to ever play, but rather, Iverson thinks that debating Jordan vs. James means Kobe Bryant isn't getting the respect he deserves.
Iverson, in a video for UNGUARDED, explained that it straight up bothers him that Bryant's name doesn't pop up in these conversations.

"What bothers me is when they do talk about it, LeBron is great, first of all," Iverson said. "When they talk about comparing him to Mike, I don't understand how they don't have the debate when it comes to Kobe. I don't get it. What, you forgot or something?
"I really think they forgot," Iverson continued. "I really think they forgot the Mamba, man. Certified serial killer, man."
Iverson and Bryant had some tremendous battles back in the day — the pair were fantastic against one another in the 2001 NBA Finals, both guys were faces of the league during the years after Jordan retired, and Bryant has admitted that he studied Iverson's game back in the day. There's plenty of respect between the two, and Iverson put it on display with his insistence that Bryant gets included when discussing the best to ever take the floor.