When Amen and Ausar Thompson step foot inside Barclays Center for Thursday evening's NBA Draft, they'll be on the verge of fulfilling a longstanding, life-altering dream, preparing to enter the league as a pair of top-10 picks for franchises entranced by their immense intrigue. Both Amen and Ausar are widely expected to be selected in the upper half of the lottery and have been rumored as high as the top five.
They're 6'6 wings who each averaged better than 16 points, six boards, six dimes and two steals at Overtime Elite last season, and brandish a 7-foot wingspan, ethereal explosiveness and passing ingenuity. Amen is regarded as the best athlete in the class and projects as an unceasing pick-and-roll explorer who complements his scoring with sagacious, highlight-reel playmaking. Ausar also loves to pile-drive to the rim and set the table for his peers, and is lauded for his malleable defensive exploits.
When they walk across that stage to actualize their dreams and begin a new journey showcasing these multifaceted skill-sets, they'll be clad in suits catered specifically for them by renowned fashion designer Waraire Boswell. And after Amen and Ausar don their Draft-day attire, American Express will release 500 varsity jackets in navy, cream, and blue inspired by their suits, available exclusively to Amex card members.
In the lead-up to Thursday, Dime caught up with Amen and Ausar to talk about the collaborative process with Boswell, their background in fashion, and the skill-sets they'll bring to the NBA, among other topics.
What excites you about this opportunity with Amex and what appeals to you about the creative process behind it all?
Amen: What's really exciting to me about the whole thing is just being able to work with Bos on the suit because he's worked with a lot of important people and made a lot of nice suits. And just seeing the creative process, that we could put input, he could put input and then we made something that's going to be there on the special day. That's really what excites me about it, seeing it come to life.
Amen, you mentioned that you're giving input, Bos is giving input. What's that connection been like for the two of you?
Amen: He's trying to see what I like, I'm trying to see what he's used to doing. And he's very open to whatever I have to say and I'm open to see what he has to say, too, so it's been a team effort, I'll say, for sure.
Did you have any sort of vision going into this for the suits? What was it like getting the ground running with this?
Amen: Nah, I went into it not really knowing what I wanted, just looking at options really. I didn't know what I wanted, but we had options and that's how we came up with what we really wanted.
What kind of things do you like when it comes to the style, aspects and design of the suit? What have you tried to offer from your perspective during this process?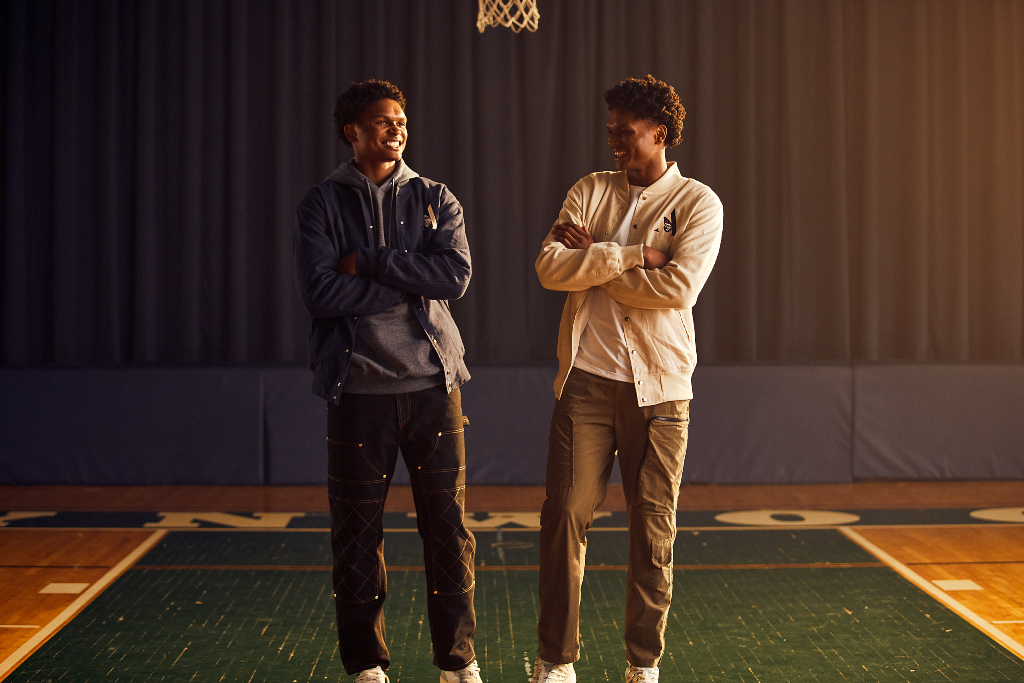 Ausar: I like how the suits Bos designs are simple, but at the same time, they look really nice, too. They kind of have a simple pop to it. I don't know how to describe it, but I really like what he did with the suits. I'm excited to wear them, happy for the opportunity.
I imagine it's a pretty intriguing and cool process. Is this your first dive into high-end fashion?
Ausar: This is of my first times in high-end fashion, I guess. I didn't know it was high-end fashion until now [laughs].
I don't know if it is either! I don't wanna mislabel it.
Ausar: This is my first time definitely being involved in this, but I'm definitely interested to up my fashion later on – but casual, though, at the same time.
Amen, you seem to do such a good job out of pick-and-rolls attacking for yourself downhill and creating for others as a playmaker. What are you looking for when you're running ball screens? What are the reads you're trying to execute and establish that scoring vs. passing balance? What's that process like for you?
Amen: It's really just having a feel for the game. I know when to get my teammates involved and I know when it's time to go score myself. Sometimes, you got a set idea of what you want to do. But if that gets taken away, you gotta have counters. So, I feel like that's really what comes into pick-and-roll, getting to the cups and being able to facilitate or score.
Was there a time for you throughout your basketball upbringing when you felt like things kind of clicked for you as a pick-and-roll creator?
Amen: I feel like it's always been pretty inherent for me. Since I was younger, I always was able to get my teammates involved and also go score.
Ausar, just watching some of your tape – and this isn't to say otherwise for you, Amen – your offensive versatility pops. Is there a role or a scheme you prefer?
Ausar: I would say you could play me on or off the ball. I feel comfortable in either role, whether I have to facilitate, come off screens, facilitate, or get a bucket or catch on the wing, shoot, catch, rip, cut backdoor to get a bucket. I feel like I have a lot of dimensions.
Defensively, for both of you, is there a way you think is best for your usage, maybe playing on the ball at the point of attack versus being a helper at the nail or playing inside as the low man, etc.? Where do you feel most comfortable defensively?
Ausar: I would say I feel most comfortable on the on the ball, point of attack. I feel like on the ball, I'm a really good defender. Off the ball, I feel like I'm a really good defender, but I enjoy being able to shut someone down on the ball. So, I would say on the ball, point of attack.
What about you, Amen?
Amen: I would say the same thing. I would probably rather guard on the ball, guard the best player, shut them down.
I know during the pre-draft process, there's been a lot of talk around both of you fixated on your outside jumper. What are you focusing on to refine it and get ready for the league as you prep for the next stage of your career?
Ausar: With my jumper, I've just been taking everything a day at a time, getting better every day. People think of it as a weakness. I've never thought of it as a weakness, just something that I can get better at, something I'm getting better, and I've shown I've gotten better at. Just taking everything a day at a time and just never getting too high, never get too low, just being confident and shooting the ball when I'm open.
And Amen, what's that been like with your jumper and continuing to refine it and get it to the place you want long-term?
Amen: It's a process. It's a process. I put the work in. I just stay very optimistic knowing my shot's gonna be good.
The jumper has so many different components, right? The legs, the gather, the release, etc. Are there areas where you feel like you've really had breakthroughs as you've had time during this pre-draft process?
Amen: Just getting my timing right, my sequencing right, rhythm. Yeah, my rhythm, my rhythm, getting my rhythm right. When my rhythm's right, I know. I see the potential to become a good shooter – a great shooter.
Ausar, same question for you, would love your perspective as well.
Ausar: I feel like when my rhythm is on, that's when I'm making multiple, multiple, multiple [shots] in a row. I would say when I find my rhythm, when I focus on one shot at a time and don't focus on the miss, don't overthink it, just shoot it.
You mention finding a rhythm. Are there indicators when you know that you're in rhythm and when that shot's gonna fall for you?
Ausar: When I get my legs into it, quicker footwork rather than slow footwork, and then quicker footwork, get into the shot. Not necessarily using my momentum, but kinda, at the same time, using momentum. I feel like as a shooter you kinda have to do that.
Amen, same same question for you. Are there any specific indicators when you feel like you're really on point with your jumper?
Amen: Yeah, like I said earlier, when the rhythm feels good, when everything is just feeling how it should feel, that's when my jumper goes in the most.
This interview has been lightly edited for clarity.