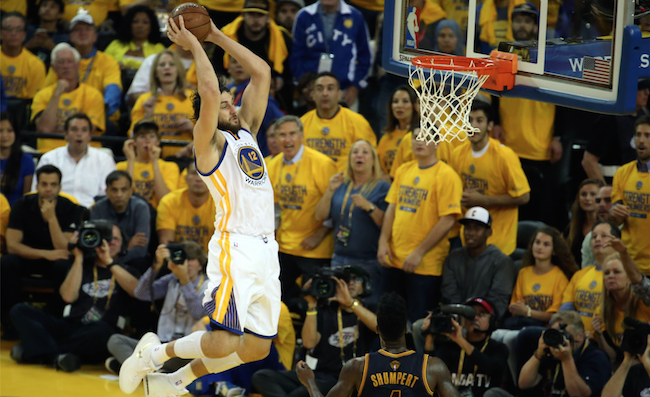 Golden State Warriors coach Steve Kerr says much of his team's success is owed to individual sacrifice for the greater good. It's not hard to see why, either.
Andre Iguodala came off the bench for the first time in his career this season, and David Lee fell out of Golden State's rotation entirely. It would have been easy for either former All-Star to publicly pout about their demotions, compromising team chemistry in the process. But both veterans, consummate professionals, took the high road and watched the Warriors win 67 games en route to the NBA Finals. And in the Warriors' most important game of the season, Iguodala and Lee were suddenly where they weren't for the past six and-a-half months: in the starting lineup and on the court.
Andrew Bogut, Golden State's normal starting center and defensive anchor, played just three minutes in his team's Game 5 win as a result of Kerr's lineup adjustment. Given the Warriors' success utilizing small-ball full-stop, the writing is on the wall for the Aussie's playing time for the series' remainder, too.
Like Iguodala and Lee before him, though, Bogut isn't about to let personal matters get in the way of the ultimate goal. Here's the 10-year veteran at practice on Saturday via Rusty Simmons of SFGate.com:
"Look, we're not in a position to sit here and pout over things. We're all professionals," said Bogut, who mentioned Iguodala's preseason acceptance of coming off the bench for the first time and David Lee's professionalism in dealing with losing his rotation spot. "I'm not bitter about it, at all. We got the win, and hopefully, we'll get a ring doing it."
Just as impressive, Bogut's chat with reporters came despite the fact that he wasn't allotted time at the press conference podium. He even said he "expects to sit" for the majority of the series' best-of-three due to the proficiency of Golden State's altered style.
The 30-year-old Bogut started 65 of the 67 games he played in 2014-2015, and was awarded a spot on the All-Defense Second-Team for his efforts helping the Warriors to the league's best defensive rating. His unique passing skills for a big man became a crucial aspect of his team's high-octane offense, too.