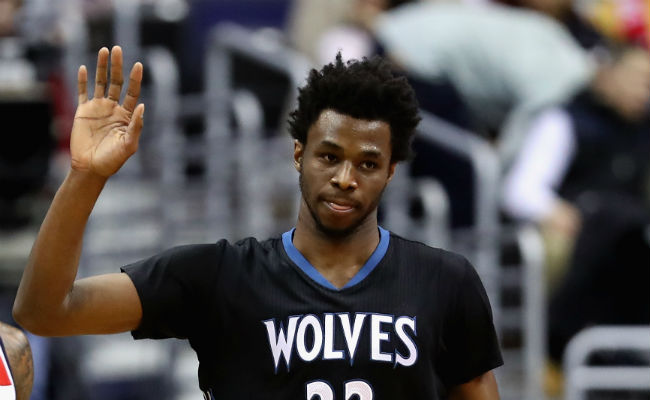 It sure sounds like Andrew Wiggins is going to stay in Minnesota for a long time. After Timberwolves owner Glen Taylor said that Wiggins is not on the table in a possible move to bring Kyrie Irving to the Land of 10,000 Lakes, the next step is for Minnesota to agree with a long-term deal with the former No. 1 overall pick.
But before anything happens with Wiggins, Jon Krawczynski of the Associated Press reports that Taylor wants to sit down for a 1-on-1 meeting with him. This is apparently pretty normal, but during the course of their chat, Taylor wants Wiggins to promise that he is going to commit to getting better at all aspects of the game.

Wiggins has improved his scoring output every year that he's been in the league, so there really won't be much concern that he'll need to get better at putting the ball in the basket as he enters his fourth professional season. However, Taylor is of the belief that Wiggins needs to round out his game some more if he's going to command a max deal.
Considering the team is making such a massive financial investment in Wiggins, this is a fair request. Over the course of his career, Wiggins' passing (2.1 assists per game) and rebounding (4.1 rebounds per game) have left a lot to be desired, while Five Thirty Eight named him the worst defensive player in the NBA at the end of this season.
Long story short, Wiggins has to improve a ton as a player. The good news is that he is only 22 and is so naturally talented that making a long-term investment in his ability to get better isn't a bad idea. Whether he does remains to be seen, but one thing is for sure: As of right now, it looks like Andrew Wiggins will stay in Minnesota for a long time.