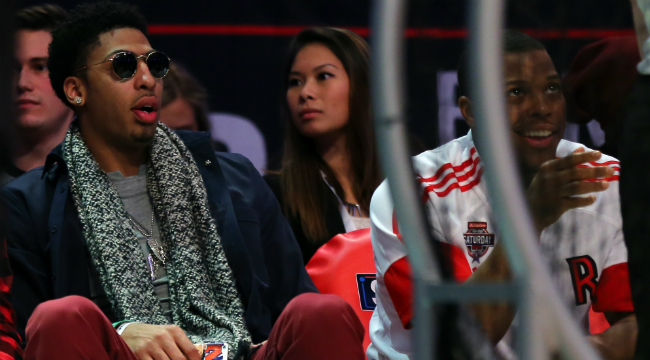 You don't need anyone to tell you that Anthony Davis is a superstar. He's one of the very best players in the NBA, and he's probably still years away from hitting his peak. It's a good time to be on his bandwagon. And yet, he hasn't ascended to the stratosphere – he's not a household name yet, like LeBron James or Kevin Durant (or even Chris Paul, thanks to that endless barrage of State Farm commercials). In fact, he's in a similar spot to KD from a few years ago: all the talent, but an unassuming personality that is endearingly not yet suited for stardom.
For evidence of this, look no further than what AD had to say when TMZ stuck a camera in his face at a youth camp he was organizing in the British territory of Anguilla in the Caribbean. They asked him about Magic Johnson potentially succeeding Donald Trump as host of Celebrity Apprentice (yawn), but then the conversation turned to Dancing with the Stars, Davis revealed that he was asked to compete on the show, but was like, "Nah." (Video might not be viewable on mobile, watch it here)
[protected-iframe id="32d6ad6d0c1e7e0e54f18f9b97f62fa7-60970621-82693135″ info="//cdnapisec.kaltura.com/p/591531/sp/59153100/embedIframeJs/uiconf_id/6740162/partner_id/591531?iframeembed=true&playerId=kaltura_player_1413478522&entry_id=0_h3uotv99″ width="664″ height="421″ frameborder="0″ style="width: 700; height: 394px;" webkitallowfullscreen="" mozallowfullscreen="" allowfullscreen=""]
He says that he can't dance and that he doesn't want to embarrass himself! How adorable is that?
Come on, AD, this is your star moment! The point of the show (as I understand it) is that they teach their celebrities how to dance! Surely an elite athlete like yourself, who has the body control to pull off lunacy like this, can learn some moves in no time. At least do it so we can all call it Dancing With The Brow and improve our lives dramatically by doing so.
(Via TMZ)