One fun aspect of being a team with heightened expectations is that opposing squads will, more often than not, get up for games against you. Every night matters a little bit more, every moment is ripe to be over-analyzed and extrapolated out with the hopes of drawing sweeping conclusions. The Los Angeles Lakers quickly got to this point after moseying about in the basketball wilderness for several years by adding LeBron James and Anthony Davis over the course of 12 months to become the NBA's marquee attraction.
Regardless of their struggles in recent years, no franchise relishes this spotlight more than the Lakers, and no player is better acquainted with that spotlight than James. As such, Los Angeles has gotten off to the best start of any team in the Western Conference. L.A. sits at 29-7, the best record out West by four games.
Hot starts aren't exclusive to the Lakers' record. If you watch the team, you'll notice that Los Angeles is quite good in first quarters — as of this writing, the team averages 29.3 points per game during the opening 12 minutes, which is tied for the best mark in the league, per NBA.com, and boast the third-best offensive rating in the league at the start of games. Attributing a team's success to one thing is, of course, never quite accurate, but a major reason why the Lakers are so good to start games is the play of Anthony Davis.
Few players are able to impose themselves in first quarters better than Davis. The big man leads the NBA in first quarter minutes per game (11.9) and is among the top-10 players in the league in scoring (8.8, third) and rebounding (3.2, 10th) in the frame. He's also third in the league in first quarter field goal attempts (6.4), making it evident that Los Angeles wants to make his impact felt on games early and often.
"When he gets an easy bucket or two early in the game I think it sets the tone for the rest of the night," Lakers coach Frank Vogel said of Davis' success early in games after the team's win over 123-113 win over the Pelicans. "We had a simple play to get him going early, and it worked and we ran it two or three times to have success with it. I think that sets the tone."
With teams coming out and giving the Lakers their best shot on a nightly basis, Davis is playing a major role in punching back early. He leads the team in first quarter usage rate, and when he's locked in, he's capable of giving them a head start that can be awfully hard for opposing squads to overcome. Two recent examples of this came in wins over Phoenix and New Orleans, games that saw the Lakers end the quarter up by double-digits (the former by 26 points, the latter by 12 points).
Against the Suns, Davis was dominant to open the game, going 6-of-7 from the field with 15 points and four rebounds. His only miss was a three from the top of the key, but otherwise, everything was working out for him. This sort of effort came two days later, too, as he nearly picked up a double-double and stuffed the stat sheet in the first quarter against the Pelicans with 12 points (5-for-7), seven rebounds, two steals, a block, and an assist. In both games, the Lakers were actually outscored over the final three quarters. In both games, Davis' work in the first made it so that did not matter.
"My team gave me great opportunities and put me in a great position to score the basketball," Davis said after the Pelicans win.
That sentiment was echoed by Kyle Kuzma, who told reporters, "We look for him just about every time down, and he makes good decisions with the basketball. Obviously he has a knack for scoring and getting random easy buckets that can spur us on early."
His ability to be productive early on also gives L.A. something invaluable: the opportunity to let James rest. James, as you likely know, has played more basketball than most humans who have suited up in the NBA. He's one of the best players ever at listening to his body off the floor so he can perform at a high level on it, and as a result, James is 12th in NBA/ABA history in minutes played.
This year, James is playing 35.1 minutes per game, which is funny, because that's 19th in the league (read: a lot!) and also the fewest he's ever averaged in a season. He still possesses the metronomic quality that has made it so he's able to dictate the tempo at which his team plays when he's on the floor, of course, but as he's getting older, the Lakers have needed to find ways to rest him and keep him fresh. Davis' success in the first quarter of games has presented that opportunity, and as such, James is playing the fewest first quarter minutes of his career. This lets James be fresher late in games, and funny enough, his 9.7 minutes a game in the fourth quarter are the most he's played in the frame since 2007-08 and are tied for the fourth-most in the league among guys who have appeared in at least 10 games.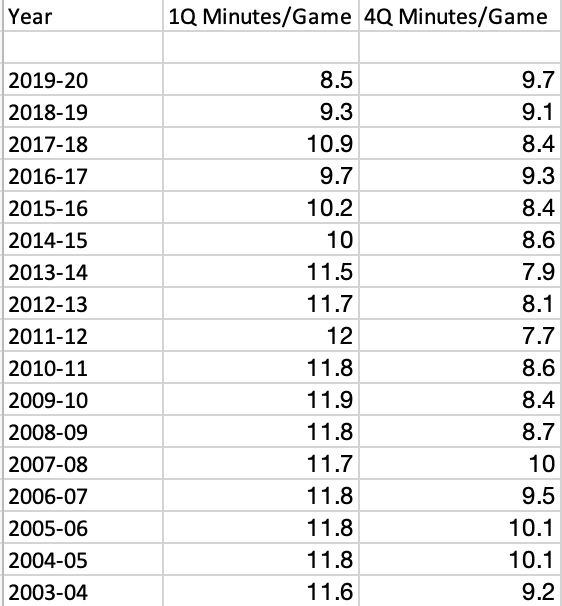 (Aside: Wanna guess who lead the Lakers in fourth quarter minutes and scoring? If you'd like a hint, it's LeBron James.)
LeBron's teams have never fared particularly well with him off the floor, but thanks to Davis the Lakers are able to weather the storm that is LeBron-less minutes better than most when Davis is out there. Per Cleaning The Glass, the Lakers are a -2.8 with Davis on the court and LeBron off of it, which isn't anything incredible, but given how terrible LeBron's recent teams have been without him, it's a major improvement. When they do share the floor, particularly to start and close games, they're utterly dominant, with those lineups ranking in the 96th percentile of the league with a +12.4 differential.
The line that people who aren't patient enough to watch a whole basketball game like to use is that basketball games don't matter until the last two minutes. That, obviously, is farcical. Everything, from start to finish, shapes the course of a game and the Lakers have found a formula that works. They start games with Davis imposing his will early on and allow James to save his best for last, taking advantage of exhausted opponents that have dealt with two of the league's most physical superstars for 48 minutes. It's worked out so far, and if this continues, Los Angeles will be awfully hard to beat once the postseason rolls around and they share the floor even more.