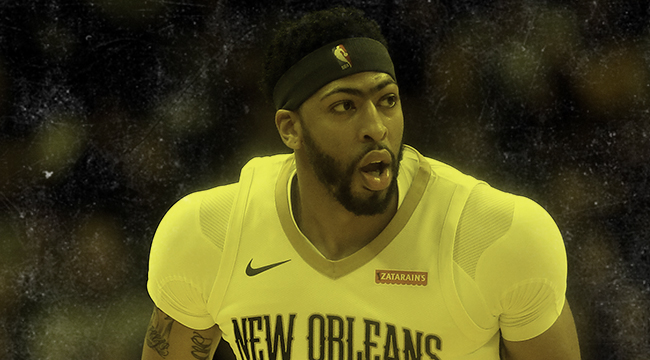 It's been quite the offseason for the New Orleans Pelicans. After falling in the Western Conference Semifinals to the Golden State Warriors, the team saw one half of its star frontcourt, DeMarcus Cousins, join the Dubs. Rajon Rondo also left town to join the Los Angeles Lakers, but shortly after that happened, the Pelicans bolstered their frontcourt by bringing Julius Randle over from L.A.
While all that happened, Anthony Davis is still in The Big Easy, where he's established himself as perhaps the most uniquely skilled player in the NBA. But still, Davis isn't taking anything for granted — the talented big man is working ahead of his seventh season in the NBA, and one year after going farther in the postseason than he's ever gone during his career, he's working to achieve even more.
To get to that point, though, Davis and the Pelicans will have to do what no other team has done in the last two years: Take down the Warriors, which now boast his former teammate and perhaps the best offensive center in the world when healthy. But Davis is ready, as he believes he knows what it takes to beat Golden State should their paths cross in the playoffs once more.
Davis spoke with Dime on behalf of Mobil 1 to discuss a number of subjects, including how to beat the Warriors, how the Pelicans approached games with himself and Cousins on the floor, becoming a leader, and much more.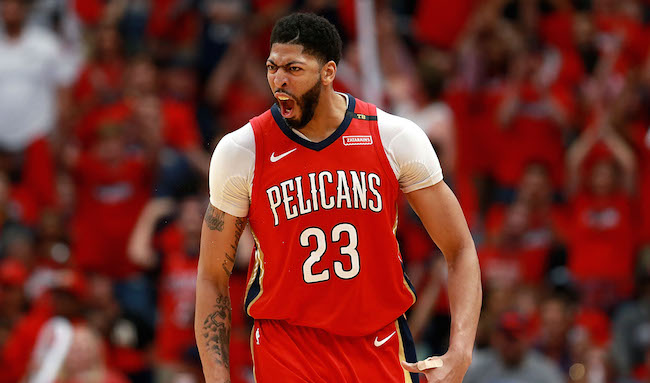 What's a normal offseason day like for Anthony Davis?
Just chill. I get up in the morning, go work out, come back home, get some treatment done on my body, relax, and enjoy this L.A. weather.
What are the things you've tried to focus on this offseason when you're on the court and going through workouts?
Trying to work on the three ball, ball handling more, working on my playmaking, passes out of double teams and and reading defenses, stuff like that. That's pretty much it. Of course, as I watch film and figure out other things I need to work on, then I'll focus on that as well. But right now, those are things I saw a lot when watching film and they're the main focuses right now.
Have those always been big focuses for you in the offseason or are those things that, as your career progresses, you've wanted to add to your game?
A little bit of both. Most of the time it's, as my career's progressed and I saw something I think I need to add to my game, I try to work on it, no matter what it is, especially with the way the game is evolving now, you have to change your game and adapt to the time and adapt to the game.
You're a player who has achieved a lot in your pretty young career, and I think most people can guess the answer to this but what are the things that still drive you and still motivate you when you get in the gym every day?
Just being able to do the thing that I love. I love the game of basketball, to be able to do it at a high level in the best league in the world motivates me. The fact that I want to win a championship motivates me. The fact that I wanna go deep into the playoffs motivates me. The fact that I have guys out there who doubt me motivates me. So it's a lot of motivation. The main reason is going out there, doing what I love.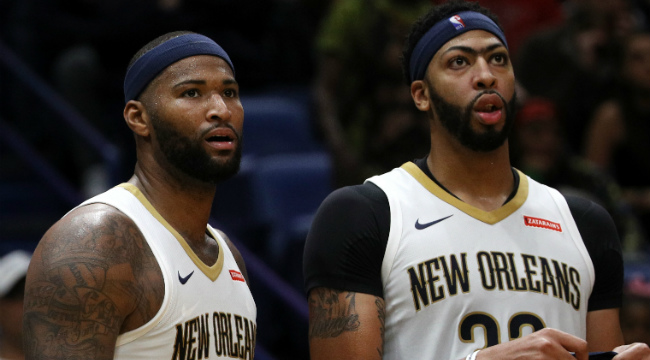 A second ago you mentioned how the league changes, how the league is evolving. The way the league is going, having two big guys on the floor at the same time shouldn't work, but you and DeMarcus Cousins were able to make it work. How were you guys able to make that dynamic work, especially against smaller teams?
Just making smaller teams adjust to us as the biggest team. Most people try to play small when they see a small lineup, but for us, it was making teams try to play big when they play us, make teams adjust to us. They can run around and do everything thing they want to do, but at the end, they have come guard both of us, and we tried to dominate them inside.
Was it one of those things where you guys felt like once it clicked and you were going out and playing basketball where other teams adjust to you, you guys thought you had something no team in the league could match?
For sure, we said it all the time, we had something special. No one else in the league has that. And then with the perimeter play we had as well, it was a unique thing and a unique opportunity and we had fun with it. We felt like we had something that other teams in the league did not.
Was there a game or a practice or anything like that where it just all came together and you realized this was special?
It was actually when we went down to Kentucky last summer, the entire team was playing pickup and going over stuff that we might like for the season, and that's when we knew that we had a special group.
Speaking of Kentucky, DeMarcus is out, Julius Randle is in, obviously they're different players but how do you think that two big man dynamic will work with Julius as the guy next to you now?
It's gonna work great — being able to push the ball, being able to rebound, defend. I always liked Julius' game and I think he'll help us out. He's able to push the ball up the floor, he can score, he can defend. It's gonna be real fun.


It sounded like you did some serious work to get him to New Orleans. What specifically did you do in the hour and a half or so between the Lakers renouncing him and the Pelicans coming to terms him?
Just expressed how he'll fit our team, how he'll fit into our playing style that we have, and told him that we wanted him here. And we were able to get it done, so now we have a great player, he wants to come, and we feel that we have a great team and added a great fit to our roster.
What does he have in his game that you think meshes so well with yours and vice versa?
He just plays hard, he plays extremely hard. That's what we like, guys who can play hard. He can score the ball, he can defend, he's physical, he's tough. All that stuff goes along with our team and what we're trying to do.
You're at a point in your career where I think people look at you and expect you to lead. You play next to someone who gets praised for their leadership in Jrue Holiday, what's it been like being his teammate for five years as he's gone through some ups and downs and what have you learned about being a leader next to him?
Jrue's a great guy, a great teammate. He speaks his mind, and what I've learned is that you can lead in different ways. You don't always need to be vocal — he's vocal when he needs to b,e but you don't have to be vocal all the time, you can lead by example, lead by your actions. I learned that from Jrue, he's not a big, vocal guy but he's still a leader on our team and he leads in ways that suit him: he comes to the gym early, he's in the weight room, he's on the floor, working out, getting better, and when it's time for him to speak out, he does it. So just watching him over the past four or five years has been beneficial for me to become a better leader as well.
Looking to next season, what do the New Orleans Pelicans have to do to win a championship next year?
Get to training camp, get to know each other, we're a young team, we're a team that lost players, brought in players, so we're a fairly new team. We gotta get acquainted to each other, go out there, and play hard. That's all it is, playing hard, playing for each other, playing together, and the rest will take care of itself.


All roads to winning a ring go through Golden State. You've had some pretty memorable postseason battles with them, what've you taken away from those on what your team and you specifically have to do to beat them?
Playing together. You can't get down when they make their runs. They're a great team, they're gonna make shots, that's why they're the defending champions. But we have to make sure that, especially last year, when they make runs, we have to continue to play. You can't hold your head, get upset, or try and come down and into their hands. They're playing fast, they want other teams to play fast and shoot bad shots and everything like that, because it feeds into their hands, and when you play like, you're giving them an advantage. So you have to follow your gameplan and play the way you played all year to get to that point, then you have a chance.
Was it something where last year when you played them in the postseason, when they'd go on those runs, it was something demoralizing and something you know you can't do if you play them going forward?
No, it was never demoralizing playing against those guys, they hit shots. You're doing all the right things, you're playing hard, you're playing the right way, then Steph Curry comes down and makes a shot only Steph can make. It deflates your team a little bit. You play great defense, you're playing hard, you're staying the game. But that's what I was talking about, those points where you can't get deflated or get down on yourself or be disappointed, you gotta continue to play. It's a long game, basketball is a game of runs, you gotta keep playing and make your run. If you're able to do that, then you can play any game and have a chance to win at the end.
You're here with Mobil 1, what do you have going on with them?
This is the second stop on the 10,000-mile pit stop with Mobil 1 Annual Protection, the 20K Road Trip. Basically just guaranteeing with Mobil 1 Annual Protection, you're able to go 20,000 miles before changing your oil. So doing that, this is the second stop on that 20,000 mile trip.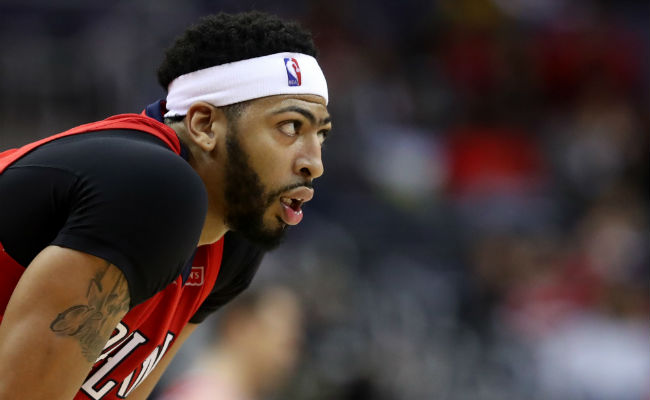 Are you a big car guy? I believe I saw on your IG that you have a tricked out Dodge Hellcat?
I am a big car guy. And yes, I do have a … I wouldn't say tricked out, there's not really much to it, it's a lot of colors, but yes, I am a big car guy.
Every NBA player has that one thing they're really into as an off the court hobby — cars, video games, fashion, etc. Are cars that thing for you or is that just one interest?
It's just one interest I have. I think that thing, for me, I love video games, I play video games a lot. Probably cars and video games, more so video games. I love puzzles, always have my mind working.
What's the one car that you want that you don't have right now?
I love all the cars I have, I feel like all the cars I've wanted, I was able to get. Of course you look at Lamborghinis and Bugattis and McLarens and stuff like that, Ferraris, but me being 6'10, I can't fit in any of them, I have a hard time getting out of them because they're so low to the ground. I kinda transitioned over from cars into trucks.
What's your favorite game right now?
Right now it's Madden, I can't wait for the new Madden to come out, I can't wait for the new Call of Duty to come out, Black Ops 4, and I've been playing 2k a little bit. But Madden and Call of Duty are my two favorite games.
As a Chicago guy, do you use the Bears in Madden or do you kind of just hop around?
No no, I would never play with the Bears, I'm a Packers guy. [laughs]