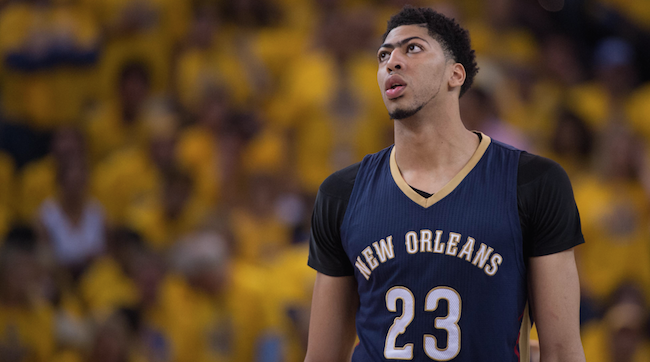 You're 22-years-old. You're 6'11 and rapidly approaching 260 pounds. You're already the best young player in basketball, and on the cusp of greatness that only a select few have ever reached. Oh, and ink is still drying on your contract extension, which happens to be most lucrative deal in NBA history.
What do you buy? Maybe a lavish entertainment system? Some custom clothing that will fit your burgeoning frame? Perhaps you commission a self-portrait forecasting your imminent dominance of the league? All of those options make sense, and have certainly been bought by players in a similar position.
But Anthony Davis, obviously, isn't most players. So what did he buy after signing a $145 million extension? As the New Orleans Pelicans superstar said at Monday night's NBA 2K16 launch event, he got a monkey.
Unfortunately, the image in your head of a 120-pound chimpanzee romping around Davis and his cohorts isn't quite accurate. There must be a "no large, potentially dangerous animals" clause in his new contract, because The Brow's monkey is actually a marmoset.
Davis always sticks out from the crowd, whether it's on the court or off of it. And with the purchase of a tiny monkey as his version of extravagance, the 2K16 cover boy shows that not even a laughably large contract will keep him from "being himself."
[Via Ric Bucher, via NBA 2K16]