Here's an Austin Rivers story you'd expect to hear: Whenever he plays Monopoly — something he estimates he does more than 60 times each summer with a group of people close to him in matches he says get "hostile pretty quickly" — he makes sure to pick the same piece every time.
Rivers fancies himself a shooter, so he picks the cannon.
You probably read that and thought, "Of course." This is the reputation that Rivers has built up over his basketball playing career, someone with a kind of cockiness and arrogance that stems from him perpetually wanting to have a green light because, well, he's Austin Rivers.
If you were to describe an NBA player you'd be inclined to believe had everything handed to him, you'd probably pick Rivers. His dad, Glenn "Doc" Rivers, was an NBA All-Star as a player and a champion as a coach, he was the No. 1 recruit in the country in high school, he went to Duke, and when his NBA career seemed to hit a low point, his dad gave him a job.
All of this has led to a perception about Rivers that he's had difficulty shaking. But throughout his life, that perception has fueled him, and above everything else, on and off the court, he wants to prove to everyone that this perception is wrong.
"I've done everything in my power to be the best player that I can be," Rivers says, "and I've worked my ass off and the people still somehow say reckless, crazy things sometimes. I wish people would get to know me and actually do their homework on me as a person. So if they want to judge my character and actually watch me play, then judge me. My job first and foremost is to help my team win."
Rivers goes on to add confidently, "But I will make people respect my game."
***

At his core, Rivers is someone who wants to carve out his own path. Doc raised Austin with the same mindset instilled in him during his childhood in Chicago: Nothing is owed to you, you have to work for everything, and take advantage of the opportunities placed in front of you.
Austin was on an expiring contract at the time he was acquired by the Clippers, calling his career in L.A. an experiment at first.
"My value was not high, and (Doc) knew he could get me for less than nothing," Rivers says. "He was like 'This is either gonna work out well, or if it doesn't,' I had an expiring contract, anyway."
Both Doc and Austin were happy enough with this arrangement that he got a second deal with the team, but Rivers is still aware of why people think he was re-signed by the Clippers.
"My stigma is really based on just me playing for my dad, knowing that if I'd went somewhere else, this shit would be done with," Rivers says. He insists that this doesn't bug him, saying that he knows deep down he's a hard worker who has put everything he has into making it in the NBA.
He sounds genuine, like this really is something that he's able to just shrug off. It's plausible because, after all, it's something he's been dealing with his entire life, something Austin's adopted brother, Adam Jones, can attest to.
"People was like, 'Oh, there's Doc's son, there's Doc's son,'" Jones says. "He's like, 'No, I'm Austin.' … He wants to be his own person and he's worked extremely hard to become his own person, and he's very confident in who he is, because of the hard work he put in."
Therion Joseph, Rivers' former AAU coach and a member of his inner circle, has a similar story. Rivers joined Joseph's AAU program shortly after his father became head coach of the Orlando Magic in 1999 and, obviously, being the kid with the NBA player dad meant there was often a familiar face on the sideline at a lot of his practices and games. And as Joseph tells it, Austin absolutely hated it when Doc would show up.
"He never liked when his dad came to give me advice, he couldn't stand it," Joseph said. "He wanted his dad to be his dad, he didn't want him to be coach. I see coach every day, I see coach break down plays, I see coach when I go to the game, coach when I'm watching film here. But he just wanted dad."
Joseph thinks this was an early attempt, in Rivers eyes, to craft his own identity. He didn't want Doc Rivers to be his coach, he wanted Glenn Rivers to be his dad, and he wanted to be Austin Rivers, a basketball player separate from the accomplishments and accolades of his father or anyone else.
***
Prior to joining the Clippers, Rivers had managed to find his own identity pretty well. Joseph raves about Rivers' competitive nature — he lost just two basketball games between third and ninth grade — and by the time he hit high school, there were high hopes for what Rivers would do before he made it to college and, eventually, the NBA.
Rivers chose to attend Winter Park High School — where, unlike another local school (Lake Highland), he was not promised a starting spot — and Joseph says he was the leader of the team by January of his freshman year. He went on to become a consensus top-3 recruit in the nation, and Rivals had him ranked as America's top recruit, over names like Anthony Davis and Bradley Beal.
"Obviously, he was like the stuff of legends, when you always heard about him, his mix tapes, his YouTube stuff," Duke associate head coach Jeff Capel recalls. "I remember seeing him play in the AAU Super Showcase down in Orlando. It was the first time I had seen him live and I saw him have about 45 points. When I watched, my first thought was, 'Wow, I see what the hype is all about.'"
Rivers of course went on to play at Duke under Capel and legendary head coach Mike Krzyzewski, where he was a first-team All-ACC selection in his only season at the school. But those close to Rivers recall that, despite his successes in Durham, he did struggle at times. Adam Jones recalls how difficult it was for Rivers' older, upperclassman teammates at Duke "to accept that a freshman was the best player on the team."
And Therion Joseph recalls Rivers having to adjust to the fact that he wasn't "the man" for the first time in his basketball-playing career, and how he had to figure out how to handle himself with coaches and teammates without "looking like a jerk," whether that meant being okay with not having all the plays run through him for the first time, or having to deal with a coach in Krzyzewski who was going to push him harder than he'd ever been pushed.
"It was the first time a coach really got onto him, Coach K, besides somebody like me, like family," Joseph says, adding that he advised Rivers to just be quiet and listen to what Krzyzewski had to teach him.
While at Duke, Capel became a bit of mentor to Rivers (the two still maintain a relationship, texting every few weeks and seeing one another when their schedules permit) and he recalls Rivers being wired differently than most college kids.
"He wasn't a guy that wanted to hang out a lot or go out or do the things that a college kid does," Capel says. "He wanted to be in the gym."
Not surprisingly, there was plenty of room for Austin to grow as a person, and he had to learn that he couldn't just be a basketball player.
"I'm going to be honest with you, he was a little selfish, during high school and his first year at Duke," Joseph recalls. "He just thought the world was all about Austin. It was Austin this, Austin that. He didn't see anything else. All he knew was basketball. He wasn't well-rounded."
"If you look at Duke, go back and look at Duke … you'll see he wasn't happy," Joseph continues. "He was just trying too hard, trying to be great."
***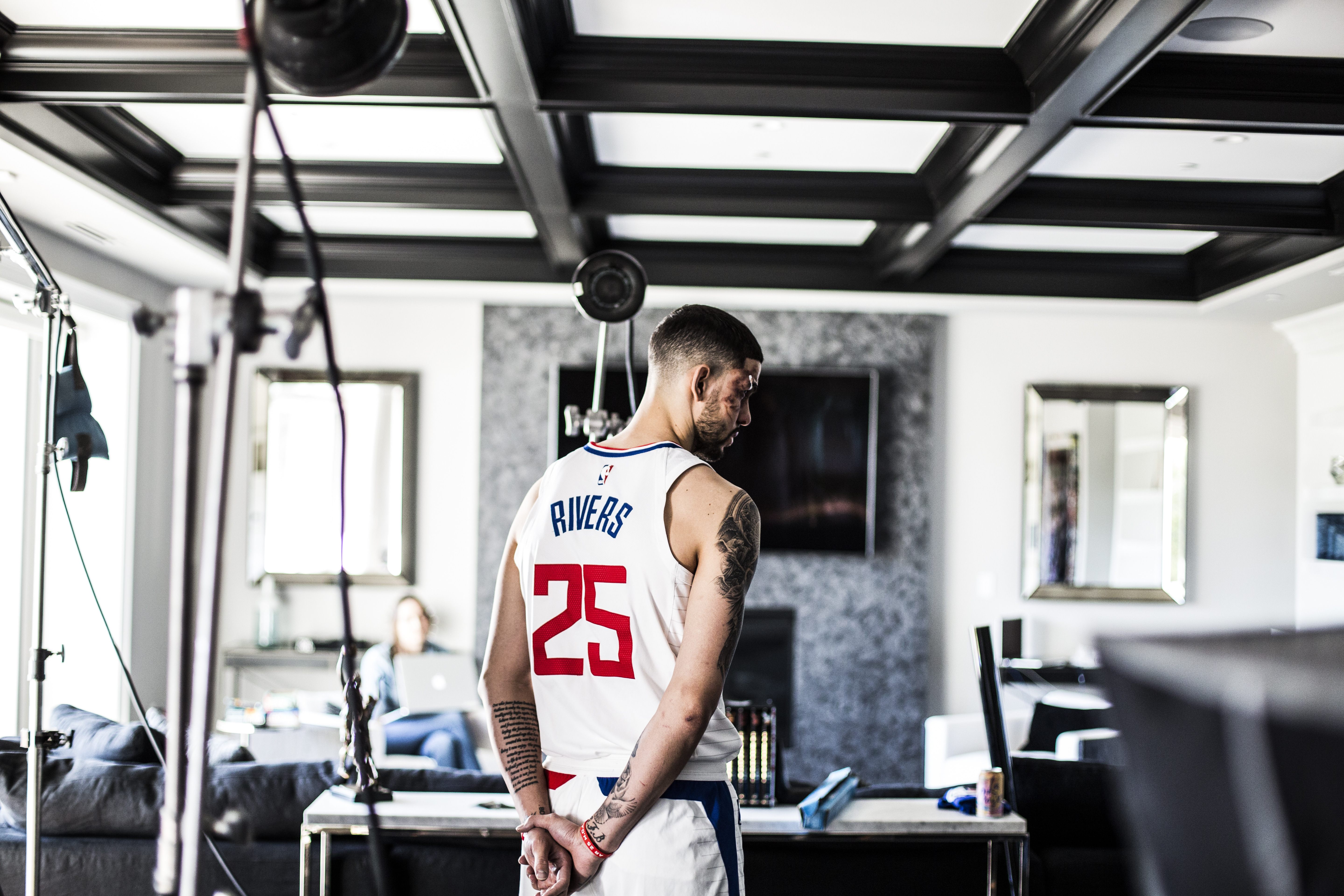 Rivers has worked to become more well-rounded, growing as a basketball player and as a person. On the court, he was expected to shoulder more of a load in Los Angeles following the departure of Chris Paul and, eventually, the season-ending injury to Patrick Beverley. He's responded by having a career year on a team that, despite a rocky start, is in the hunt for a playoff spot.
"Men lie, women lie, numbers don't," Rivers told us. "Numbers don't ever lie. It shows what I'm doing and that my team has been winning."
Despite missing some time due to injury, the 25-year-old Rivers is posting career highs in scoring (15.6 per game), assists (3.7 per game), and minutes (33.6 per game). Rivers was also having the best month of his career in December before going down with an injury, averaging 19.2 points and 3.9 assists in 31.3 minutes per game while connecting on 45.4 percent of his field goal attempts and 43.3 percent of his threes. His usage rate and PER (21 percent and 13, respectively) have never been higher, and at 38.4 percent from downtown, he's connecting on the best three-point shooting mark of his NBA tenure. On the other end of the floor, Rivers believes he's one of the best defensive guards in the NBA.
This for a team that, a few months ago, looked like it was in crisis. After trading Chris Paul, the Clippers came into this year with the expectation of riding a deeper team powered by its frontcourt duo of Blake Griffin and DeAndre Jordan to the postseason. But the squad got struck by the injury bug, and Griffin was shipped off to Detroit, while Jordan's future with the team is still in doubt. This means that Rivers has needed to be a leader on as Lob City has been dismantled. Thankfully, having spent significant time in his life around floor generals/team leaders like Paul, Sam Cassell, and his father, he's learned a thing or two. One particular phrase he remembers Paul using that resonated with him: Don't disappear.
"When you're in there playing guard, you can't disappear," Rivers says. "You can't get caught up in your emotions, because you're in charge of play calling, you're in charge of the tempo, you're in charge of the speed of the game."
Still, Rivers knows he has a lot of growing to do. "I'm humble enough to know I can get a shit-ton better," he says.
***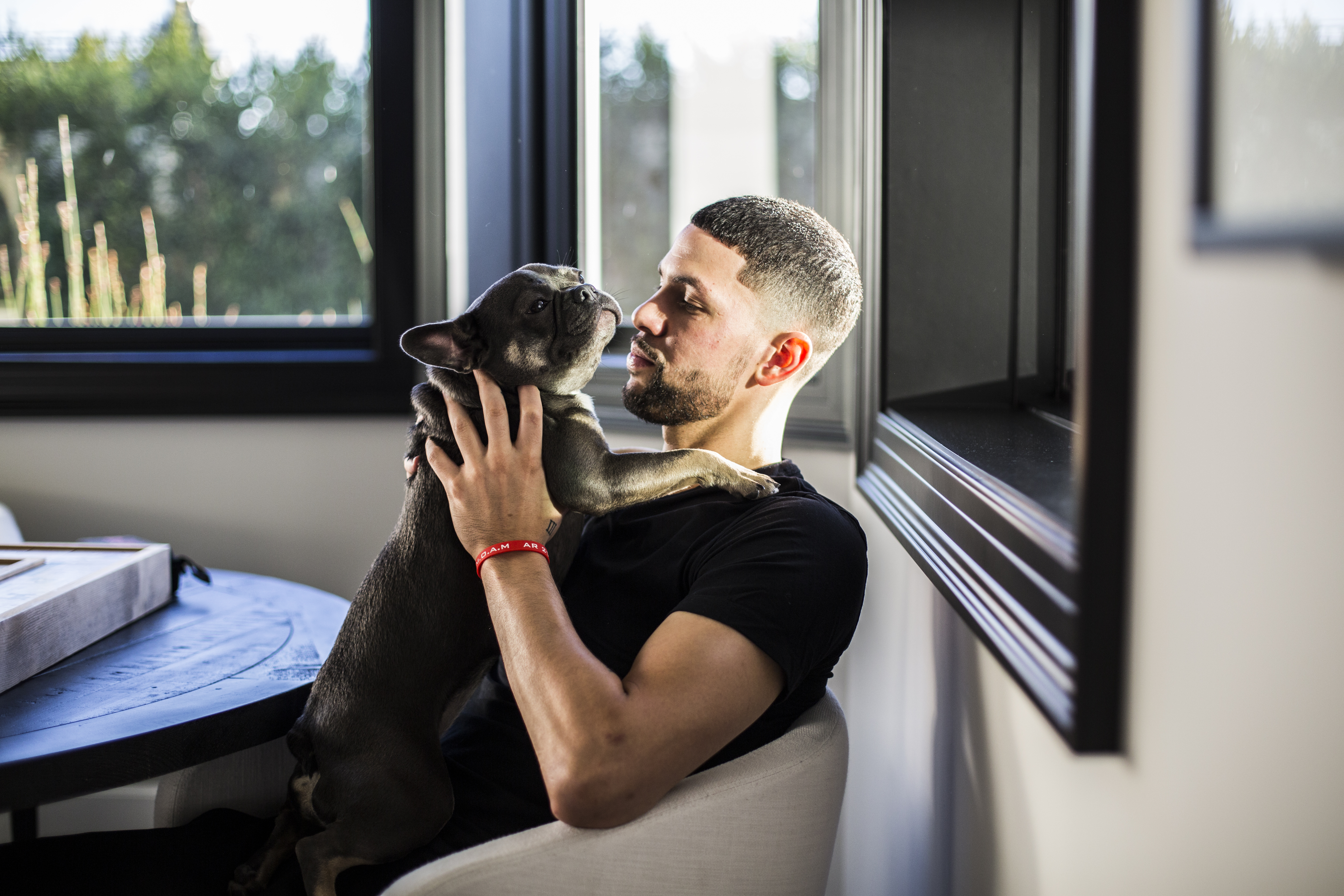 Off the court, Rivers has managed to establish a low-key life, keeping a tight circle of friends, and last Thanksgiving he proposed to his longtime girlfriend, Britt Hotard. The two have each known for a decade and Hotard is currently pregnant with the couple's first child (a boy).
Hotard has watched Rivers evolve over the last few years. When asked to share something revealing about the person she's come to know and love, Hotard reflects back on a time during his stint in New Orleans with the Hornets/Pelicans (who drafted him with the 10th pick of the first round in the 2012 draft). It was around the holidays, and the pair were sitting at home with some downtime, so they came up with an idea to do something constructive with that time; they got in their car and went to Costco, purchasing small items like soap, socks, bottled water, and snacks like pretzels and potato chips. After putting the items in little Ziploc bags with a note in each one, the two went out onto the streets of New Orleans and handed out mini-care packages to the city's homeless.
Hotard says that Rivers has consistently sought ways to quietly help people over the course of his life with small acts of kindness. Perhaps it's no surprise then that he started a foundation (The Austin Rivers Foundation) to help underprivileged children. It's something Hotard says Austin's wanted to do ever since entering the NBA.
"Growing up, I remember how important it was for me when, even though I had a house to live in, I had a bed to sleep in, I had all those things, I had friends who didn't have that, and I saw when they would come to my house how happy they were and how stress free they were because they didn't have to worry about those things," Rivers says. "You just get joy out of that, just helping people. I was like, 'When I grow up, or when I get older I want to be able to do those things for kids, too.'"
While it took some time to get off the ground, the foundation held its signature event for the second consecutive year in December. Titled "Rivers Delivers Holiday Cheer," Rivers was flanked by four Clippers teammates — Lou Williams, Danilo Gallinari, Milos Teodosic, and Jamil Wilson — at a Walmart in Torrance (CA). The foundation partnered with another organization in California to help 30 underprivileged children have a brighter holiday season, bringing them to a Walmart, and giving each of them money for a shopping spree.
The event resonated with Rivers, especially when dealing with a pair of sisters. The older sister, in an act of generosity, spent her entire stipend on her younger sibling, which inspired Rivers to buy the older sister a GoPro.
"You sit there and it's almost like a cross between being thankful and almost just, I don't even know the word to describe it," Rivers says. "It's just that you're like, man, even when someone's having a bad day they have no idea. You know what I mean? Like you have no idea what someone else is going through. And that's why even on bad days people should always be thankful."
***
Rivers' bad days certainly aren't as bad as they were early on in his career, but he still has them. He remains a lightning rod for criticism, but he takes solace in the fact that the work he puts in will manifest itself on the court. Take, for instance, on Dec. 22 of this season, when he posted a career-high 36 points on 11-for-25 shooting in a 10-point win over Houston. Twenty-four hours later, went for 38 points on 14-for-20 shooting in a three-point loss to Memphis.
As Jones says, that drive has always been there, calling Rivers "absolutely the hardest working person I know." He added, "There'd be times back in middle school, high school, he's in the gym at midnight, he's in the gym early, just getting shots up, working on his ball handling."
These kinds of stories pop up whenever you talk to just about anyone close to Rivers. He is, legitimately, someone who takes pride in working hard. "The kid is one of the hardest workers that I've ever been around," Jeff Capel told us.
Still, in the eyes of many, Austin Rivers was handed a golden ticket that only the son of an NBA player and coach could receive. And that perception of Rivers is unlikely to change as long as he's playing for his father. Rivers acknowledges this, saying he believes that if he played for another team, the banter around him wouldn't exist the way it currently does. So he keeps working. It's all he can do, really. Rivers says that he came into this season with a handful of goals, among them: becoming a better scorer, playmaker, and defender. This, he says, led to him expecting more out of himself and putting more work in off the floor.
Whether this leads to him helping the Clippers make the playoffs obviously remains to be seen, but no matter what happens with the team this season, Rivers knows what he is and how he got to where he's at right now. He's a person who is largely at peace with who he is, despite whatever criticism he may continue to face.
"If people are gonna continue to be rough," Rivers says, "if people don't want me to be confident in myself and believe that I'm a great player, then I'm sorry, you're just gonna continue to hate me. I'm never gonna stop believing in myself."
You can find The Cover, featuring Austin Rivers, below as well as our behind the scenes video from the shoot: