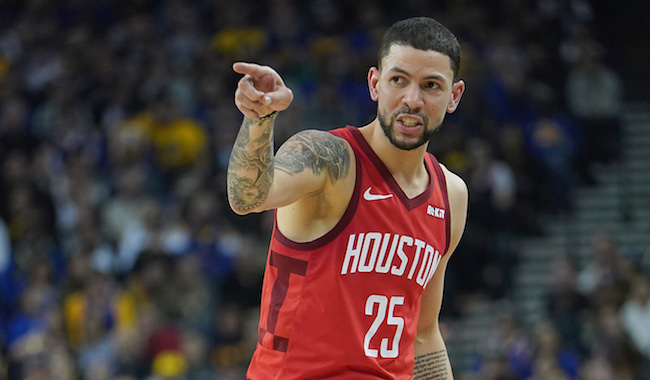 Two years in a row, the Houston Rockets looked to have the Golden State Warriors on the brink of elimination in the Western Conference Playoffs. And two years in a row, the Warriors have rebounded to end the Rockets season. In 2018, 27 straight missed three pointers in Game 6 of the WCF, while holding a 3-2 series lead, did the Rockets in. In 2019, the Rockets got cocky after Kevin Durant went down with a calf injury in the semi-finals.
Rockets guard Austin Rivers made an appearance on ESPN's First Take Friday, and was asked point blank by Stephen A. Smith how the Warriors were able to win two straight games without their superstar. With the series tied 2-2, Durant played 32 minutes in Game 5 before leaving the game with a calf injury, an injury from which he's yet to return. The Warriors went on to win that game without Durant, then won Game 6 without him, too, sending the Rockets home.

"I feel like we didn't make the proper adjustments, I'll be honest," Rivers said. "The consensus in the locker room is … it was 2-2, we came back in that Game 5, we were down like 17 at one point and then KD goes down. That first timeout after, everybody in the huddle was like, 'Yo, this is it, this is our chance, we have to take this.' But that's where you don't ever underestimate a championship team, they figure out ways to do things. They just kept playing. I think we expected Game 6 to be, 'Alright, we'll come out, kind of punch them in the mouth, they're gonna quit, fold, and they're gonna be like alright, we'll try to get Game 7.' We came around and messed around, and they were like, 'They're not taking this game.' And it went downhill from there."
It's sort of incredible to hear Rivers say that the entire team thought the Warriors, a team now playing in its fifth straight NBA Finals, would pack it in if they got down early and look ahead to Game 7. That's the mindset of a team hoping their opponent would allow them to win, rather than attacking the Warriors from the get-go and forcing the issue.
The Warriors can make even the mentally toughest teams break down, but for the Rockets to think Steph Curry and Klay Thompson would wave the white flag, that has to be a tough thing for Houston fans to swallow.