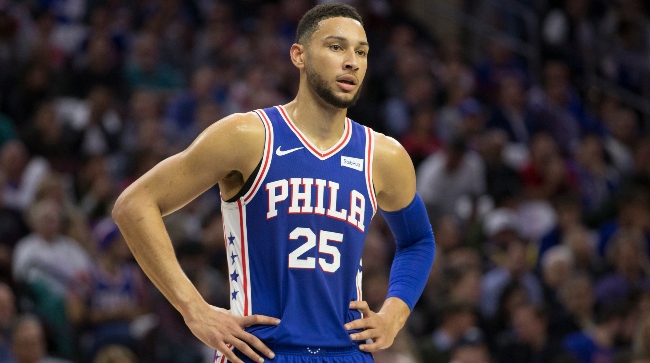 Ben Simmons and Donovan Mitchell squared off on Thursday night in Utah, and by the time the final horn sounded, Simmons and the Philadelphia 76ers picked up a convincing 114-97 win over the Jazz. Of course, since Simmons and Mitchell played against one another, it gave basketball fans — ourselves included — the opportunity to look back on their hotly-contested race for the 2017-18 Rookie of the Year award.
There's just one issue: Simmons doesn't think the race was all that hotly contested. Despite the fact that there was a ton of chatter surrounding the two, Simmons dismissed the notion that there was a race for the award, something he made abundantly clear after the game.
"It wasn't a f*cking race," Simmons said to Eric Walden of The Salt Lake Tribune. "You saw the votes, right? … Did you see the votes? So what's the question?"

In fairness to Simmons, well, he's right. While the narrative existed, largely surrounding whether or not Simmons should have been classified as a rookie or a player who more or less redshirted their first year, the voting wasn't close at all. Of the 101 votes that were cast, Simmons received 90 first-place votes to the 11 Mitchell received, so while some would argue that the parameters for the award should be changed, by the way it's determined now, last year was a blowout.
Still, Jazz fans aren't happy with how things went down, which led to Simmons hearing it from them throughout the night. He ended up going for 13 points, 14 rebounds, and 12 assists on the evening, then decided to give it right back to Jazz fans.
Simmons is a rather underrated trash talker, and saying that he was disappointed in what Jazz fans brought to the table this time around is a really good example of this. Unfortunately we won't get to see how folks in Utah would respond to this until next season — barring a stunning NBA Finals matchup between both teams — as the two teams are done playing against one another in 2018-19.