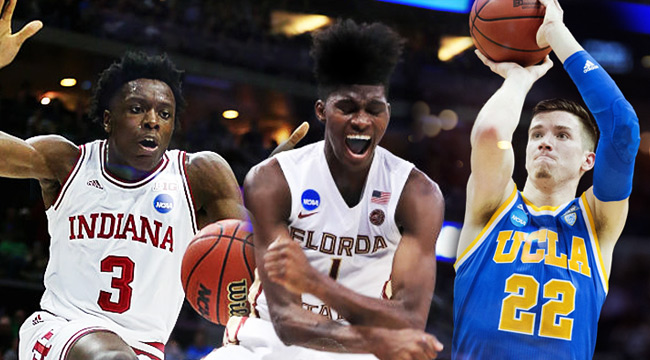 More than any other position, power forward is being phased out in the NBA. That isn't to say that many top-flight players aren't actually operating at the position but the old-school construction of a power forward isn't around in the same way that it used to be. That is the nature of an NBA that is moving to more four-out offensive systems that employ only one big man and, unless a player can protect the rim defensively or space the floor offensively, it is very tough to play that athlete alongside a "true" center on the floor.
With that in mind, it is somewhat difficult to break down power forwards in the 2017 NBA Draft.
The best player (by a wide margin) is a hybrid that might just be a center prospect if all goes according to plan and the No. 2 guy is certainly a hybrid forward that doesn't fit the traditional power forward mold. Those examples, among others, should speak to the overall point and, frankly, this list should be taken in conjunction with the breakdown of the top centers in this class.
Putting together a position-by-position list is perilous, but we'll do our best. With that, here are the best power forwards available, beginning with a list of honorable mentions.
Honorable Mentions (In Alphabetical Order)
Jordan Bell, Oregon – I'm on record as believing Bell is the best defensive player in this draft, at least for now. His offensive profile is nothing terribly special but Bell can serve as both a rim protector and as a player that can effectively switch at the NBA level. There is a role for that, even with limited potential on the other side of the ball.
Tyler Lydon, Syracuse – Is Lydon in shape? He had the worst body fat percentage (13.6 percent) at the NBA Draft combine and that, combined with his size (6'10 with a 7'0 wingspan) take him out of the "wing" running. He's certainly a stretch four prospect and with his shooting and athletic burst, you can see why teams would like him. Can he guard in space? We'll see.
Johnathan Motley, Baylor – It helps to have a 7'4 wingspan when there are questions about your pure size. Motley is a tremendous rebounder and he profiles as a versatile defender. The hiccup comes when discussing offensive versatility, where the jump shot isn't exactly a known quantity and he might have to play center in the NBA.
Ivan Rabb, California – Scouts are (very) split on Rabb, outside of the fact that everyone agrees he should have declared last summer. The 6'10 big man cost himself some money in that regard, though Rabb's "safety" as a prospect could help him land at the end of the first round.
Caleb Swanigan, Purdue – The 20-year-old averaged 18.5 points and 12.5 rebounds per game at Purdue and a lot of people are love with him as a result. Offensively, Swanigan is a potential terror but I can't see beyond his defensive issues. In short, I have no idea who he guards at the NBA level and that makes him fit snugly as an offense-first bench player.
5) Isaiah Hartenstein, Lithuania
Scouts know the least about Hartenstein of any player on this list and that comes with the territory for a "project" International player. He is quite skilled in terms of shooting and passing for a 6'11 big man and Hartenstein also isn't shy in the way that might follow the European stereotype. If anything, he is probably too aggressive as a scoring threat at times and that isn't necessarily a bad thing.
Can he defend at a high level? That is the question. He might be a center on that end of the floor and Hartenstein hasn't displayed the type of rim protection or ability to close possessions as a rebounder that you might want. He's the best draft-and-stash big man available, though, and that has to help his stock.
4) D.J. Wilson, Michigan
At 6'11 with a 7'3 wingspan, Wilson is yet another player that might be a center long-term. The problem is that, at least right now, he doesn't play like one. Wilson's package of skills is tantalizing in that he can protect the rim while being able to defend adequately on the perimeter and space the floor offensively. That is something of a holy grail among young big men and a team could fall in love with him as a result.
There is bust potential, though, as Wilson doesn't play with a ton of force on either end and he was never an offensive focal point at Michigan despite being a three-year college player. In addition, there are rebounding questions and, in truth, there is a (very) wide range of outcomes for Wilson.
3) T.J. Leaf, UCLA
As noted in the intro, most of these players could, or at least will be asked to, play another position in the NBA. That isn't the case for Leaf. He is absolutely a power forward based on his frame (6'10, 6'11 wingspan) and skill set. He's an excellent (and underrated) athlete and that can really space the floor (46.6 percent from three as a freshman) and Leaf's offensive profile is wildly intriguing. The 20-year-old worked flawlessly alongside UCLA's cavalcade of backcourt players, headlined by Lonzo Ball, and his versatility will be interesting in the NBA.
Defensively, though, the questions are real. Leaf isn't a rim protector and he isn't quick enough to deal with small forwards masquerading as power forwards in small-ball lineups. That defensive uncertainty moves him down on my board but someone will almost certainly take Leaf in the top 20.
2) OG Anunoby, Indiana
Anunoby is extremely difficult to place positionally. The former Indiana standout stands at only 6'8, but Anunoby has a 7'2 wingspan that allows him to play big. In truth, Anunoby might have the highest defensive upside of any prospect in this class and his ability to defend 2 through 4 will be tantalizing to NBA teams. He is an absolute freak athlete and that matters. With that said, his offensive profile is … not ideal.
On the bright side, his jumper does not appear to be broken and more reps (with high-end coaching) should help there. On the flip side, Anunoby doesn't create well for himself or others and that is part of the reason he lands in the power forward breakdown. He's a position-less player defensively but, as an offensive player, he might have to play the 4 and be hidden in some ways.
His stock depends greatly on how teams value a pure, lock-down defender in Anunoby's range.
1) Jonathan Isaac, Florida State
I'm all in on Jonathan Isaac. While Anunoby's pure defensive upside might be (slightly) higher, Isaac is a better defender right now and he's basically a sure thing on that end. At 6'11, the former Florida Star can switch effectively while also protecting the rim and that is a package that everyone loves. Throw in the fact that he's capable of floor spacing (with a pretty stroke) and finishing offensively and you can see the full package. Isaac is also a tremendous athlete that already knows what he's doing on the floor.
If there is a question, it comes in his passing and overall aggressiveness, though the latter could be written off due to a college team that included some ball-dominant entities. For me, Isaac is easily a top-five overall player in this class and there is a chasm between him and everyone else that qualifies as a power forward.