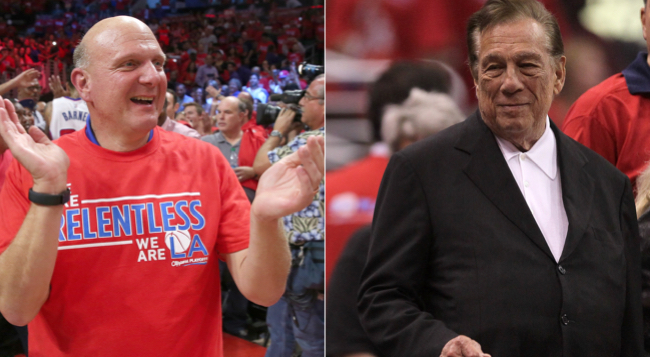 The Los Angeles Clippers are arguably the least accomplished franchise in the NBA. They've never hoisted a Larry O'Brien Trophy, have won just four total playoff series, and have never advanced to the Western Conference Finals. Even more damning is that Los Angeles was owned by one of the most despicable men in all of professional sports until 2014.
None of that is up for debate. But what also needs no further scrutiny is that the Clippers have enjoyed success for the last three seasons the likes of which they'd never seen, and will at least sustain their upward trajectory for the foreseeable future barring a catastrophic injury or unlikely trade.
Well, at least we thought that assessment was foolproof. According to Bill Simmons, though, Los Angeles' rise to organizational respectability isn't quite what it seems on the surface.
The overarching point of Simmons' twitter rant could be mostly accurate. We're not privy to the access a media member of his immense stature is granted, and aren't a Clippers season ticket-holder, either. Perhaps the former ESPN personality really has seen and heard things that cast major doubt on Los Angeles' behind-the-scenes dealings.
But if Simmons isn't going to choose his words far more carefully, he should be the one who "jeopardizes his long-term access/connections" to report on this supposedly sweeping ineptitude. What does he really have to lose other than seemingly chummy relationships with Chris Paul and Blake Griffin?
And furthermore, directly comparing Steve Ballmer's reign to Donald Sterling's is simply irresponsible. It doesn't matter how many poor decisions Doc Rivers has made as president of basketball operations, nor the extent of Ballmer's possible mishandling of non-basketball related happenings. Unless the former Microsoft billionaire is a secret slumlord or overt racist, his name shouldn't be dragged through the mud alongside Sterling's.
Simmons could be right, and he could also be exaggerating. Until some bold journalist goes on the record confirming these incendiary rumors, however, we'll let the Clippers' most recent public track record for itself.
[Via Bill Simmons] [H/T CNET]