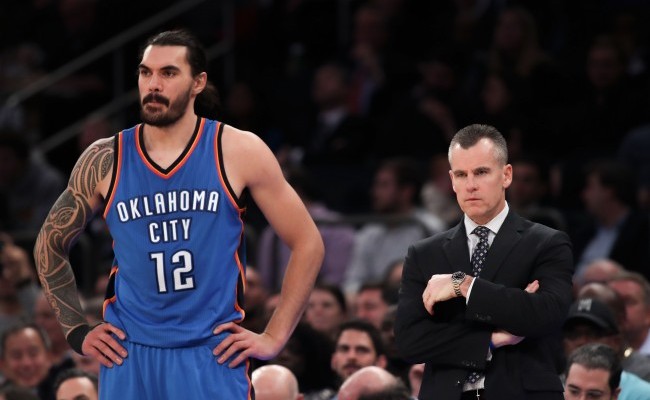 If you're familiar with the NBA and their relationship with the referees, you already know that NBA players never believe they committed a foul ever. Jockeying for foul calls through the media and during the games has become a spectator sport in itself.
For the Oklahoma City Thunder, they're facing an uphill climb after Saturday night's loss to the Utah Jazz, going down 2-1 in their 1st round matchup. What makes it worse is that starting center Steven Adams is only averaging 28 minutes per game in the series, which is down from his season average of 32.
During Sunday afternoon shootaround, Billy Donovan spoke on Adams' minutes reduction. The Thunder head coach put a microscope on the foul trouble Adams has been in for the entire series. While Donovan might not have blame the refs outright, there was a clear focus on what Donovan saw as inconsistent whistles.
"This whole year, there's never been two games in a row that Steven Adams has been in foul trouble," Donovan said. "That's never happened. Obviously, it's a physical game. The officials have got a hard job in terms of trying to draw a line of what's excessive and what's not. And he's been, to be quite honest, on a difficult end the last two games with some of those fouls."
Another thing to factor into the lack of minutes for Adams might be the fact that the Thunder center is likely dealing with a few undisclosed injuries, and it could be hampering him on both ends of the floor, which hurts the Thunder as they have no true center as a backup, with 6'8 Jerami Grant often filling in at that position.
If Donovan's criticism works, players could see a differently officiated affair in Game 4. However, if it doesn't work, nothing will change, and Donovan might find himself $15,000 dollars poorer.