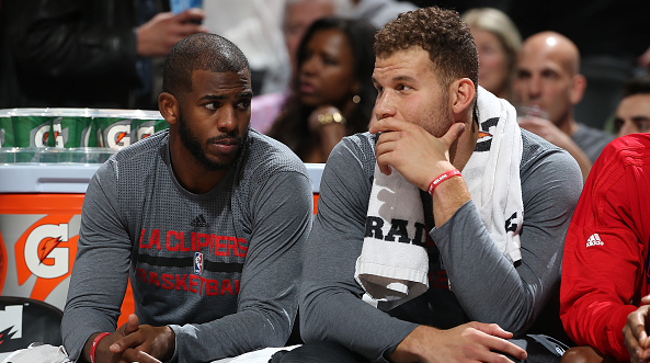 Chris Paul's exit from the Clippers in free agency this summer was fraught with intrigue. Not only were there rumors that his relationship with Doc Rivers had soured, allegedly in part because of the dynamics involving Austin Rivers and reports that the coach's son was the sticking point in a potential Carmelo Anthony trade that never came to fruition; there was also the widely-held perception that Paul's teammates had grown-increasingly frustrated with his tyrannical disposition.
Rivers, for his part, tried to dispel the notion that those relationships had deteriorated beyond repair and even reached out to Paul personally in effort to set the record straight. Now, Blake Griffin has joined the chorus to assure the public that there's no bad blood between him and his former superstar point guard. Via Pro Basketball Talk:
"No hard feelings," said Griffin, a five-time All-Star. "I think we're all professional enough to know and we've all been in the situation now to know sometimes you have to do what's right and what's best for yourself and your family. I've never had hard feelings with any of my teammates who decided to leave or felt like it was best to leave. I wouldn't start now."
After Paul signed with Rockets, the Clippers were staring down the barrel of a full-fledged rebuild if Griffin would've opted to sign elsewhere. Instead, he re-signed for a maximum five-year deal worth about $175 million and thus assumed his status as the franchise cornerstone going forward. But Griffin went one step further on Wednesday and clarified that he intends to the remain in Los Angeles for the rest of his career.
"I want to say how excited I am to be back. This has been my home since I was drafted. A lot went into this decision," Griffin said Wednesday. "In the end, I realized this was a no-brainer for me. This is the place where I want to start and finish my career. This next chapter and next season for the Clippers and myself, I've never been more excited about an opportunity."
Prior to his signing, there were plenty of questions about whether giving him a long-term max deal was wise, given in his injury history, but the Clippers decided to go ahead and hedge their bets. Still, the question remains not only as to whether he can stay healthy enough to get back to that level of play that made him an MVP candidate in the past; but whether he can truly lead the Clippers back into championship contention.