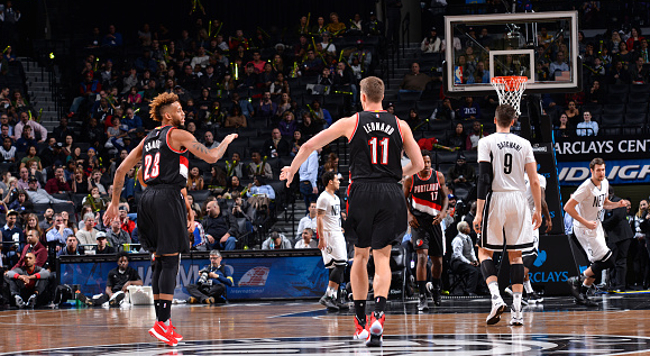 The Portland Trail Blazers were one of the biggest surprises of the 2015-2016 season. A team that most experts picked to win about 25 games exceeded all expectations, securing a fifth seed in Western Conference playoffs and making an unlikely second-round appearance where they proceeded to give the 73-win Warriors one of the more competitive five-game series in recent memory.
Going into free agency this summer, there was a great deal of debate as to what their strategy should be. They were clearly still one or two significant pieces away from truly contending, but there was considerable reluctance to sacrifice the core group that brought so much success last season.
Some of that was decided for them. They struck out on all the big-name free agents they had pegged (Dwight Howard, Hassan Whiteside, Chandler Parsons), but managed to pick up a pair of players (Evan Turner and Festus Ezeli) who they hope will be key contributors next season.
When it was announced last week that the Brooklyn Nets had extended Allen Crabbe a four-year, $75 million offer sheet, it looked like they would let him walk. But according to a new report, they've decided to match that offer instead.
And that's not all they did. They also announced on Sunday that they signed Meyers Leonard to a long-term deal worth just over $10 million per year, again via Woj of The Vertical:
Leonard, a restricted free agent, has built his value as a stretch power forward with an ability to spread the floor and deliver a presence on the defensive boards.

Leonard is part of a core expected to compete for 50 victories in the Western Conference this season.
The 7'0 forward was expecting to bring in a bit more after turning down a contract extension last summer following something of a breakout campaign in 2015 when he evolved into just the type of stretch-four the league is trending toward. But a shoulder injury caused him to miss the last 20 games of the season, including the playoffs, no doubt affecting his earning potential.
After letting Gerald Henderson go, the organization still has a decision to make on Maurice Harkless, who worked his way into the starting lineup late last season and became a key factor in the Blazers' feelgood narrative. They have about $10 million left in available space to re-sign Harkless, but C.J. McCollum's looming extension could complicate matters as the team would presumably like to sew up their reigning Most Improved Player for the foreseeable future.