PORTLAND — It's almost as if they have something to prove. Almost as if — despite their protestations — they've absorbed all the noise about their dynasty barreling toward its ignominious end, whether that's here in these playoffs against one of the league's precocious upstarts, or this summer when brittle egos and/or the siren song of wealth and personal vindication threaten to undermine the juggernaut they've built over the last five seasons.
Draymond Green has certainly heard it. It's been a thorn in his side even before his high-profile incident with Kevin Durant at the start of the season. You can bet Steph Curry has, too. Publicly, they claim to tune it all out. But the volume got turned up to 11 in the second round against Houston when Durant went down with a calf strain and suddenly the pundits were trumpeting a premature end to the defending champs' ignoble reign over the NBA.
Instead, the Warriors — instantly and effortlessly — reverted back to the 2016 Decepticon version of themselves and are leaving a trail of broken dreams in their wake. That's started with Steph, whose reputation has crumpled under the gravity of Durant's deteriorating orbit but has been steadily regaining form in his absence.
He's now scored 30 or more points in the last four games and is looking more and more like the two-time MVP who took the NBA by storm and forever altered the way we play and think about basketball. It shouldn't come as a surprise. With their Game 3 win on Saturday to take a historically-insurmountable 3-0 series lead over the Blazers in the West Finals, they are now 30-1 in games that Steph has played without Durant the last three seasons, including 6-0 in the postseason. Since Durant went down, Curry is averaging 35.5 points, 6.3 rebounds, 5.5 assists, while shooting 41 percent from three.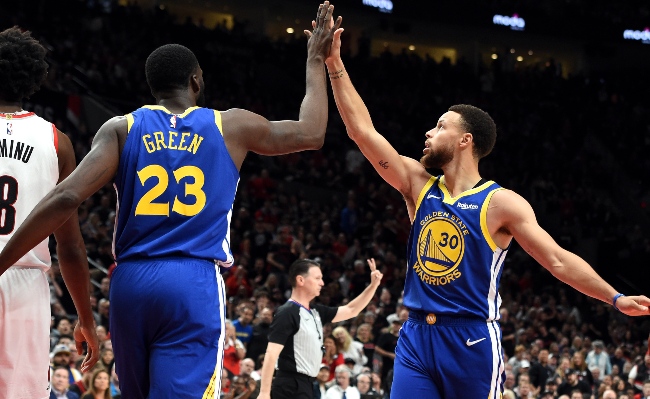 As incredible as he's been, this version of the Warriors was always a many-headed monster, and Golden State wouldn't have been able to pull off a second-straight double-digit comeback victory had it not been for Green, their do-it-all forward who left his stamp all over Game 3 with 20 points, 13 rebounds, and 12 assists to stun the Blazers on their home floor and put his team one win away from a fifth-straight Finals appearance.
Green's play-making had long been a catalyst for so much of the Warriors' onslaught prior to Durant's arrival, and after the game, Steve Kerr was still in awe of how Green has been able to recapture some of that verve that once earned him both a Defensive Player of the Year award and the designation as one of the NBA's most unique and versatile talents.
"I don't even know what to say about Draymond," Kerr said. "He was like a wrecking-ball out there. He was just destroying everything in his path."
After that initial praise, Kerr offered a bit more nuanced of a response about how he's been able to slip comfortably back into the role that has defined his time with the Warriors.
"I think the biggest thing is he has the ball in his hands a lot more," Kerr said. "[Kevin Durant] goes down, and all the sudden that changes the responsibility of a few different players. It provides more opportunities for the bench, but it puts the ball in Draymond's hands a lot more."
It's been repeated ad nauseam just how much more likable and entertaining this version of Golden State is, and it's easy to forget that they were once the darlings of the NBA, with an organizational model that built their core the "right" way — through the draft and player development and savvy management — and how their frenetic, free-wheeling style was once lauded by critics and mimicked by just about everyone around the league.
To peg anyone else as the favorites to win the title this year is looking more and more foolish, even as Giannis and the Bucks continue to steamroll their way through the East. For Steph, this stretch without Durant is also a chance to shed the troubling perception of him as someone who doesn't show up in the playoffs. He's still never won a Finals MVP, and although it's too early to count Durant out for rest of the playoffs, he's doing his best to rewrite that narrative, even as he downplays the various threads that are inextricably linked to this current postseason run.
"We've been in this situation before, chasing a Finals appearance," Curry said. "It's kind of hard to separate all the different narratives. It's just about winning and doing whatever it takes to win. So we're gonna keep that same mentality no matter what's thrown at us. Again, we're one win away from a fifth straight Finals. A lot goes into that, and you can spend all day talking about all the different story lines. You just gotta figure it out."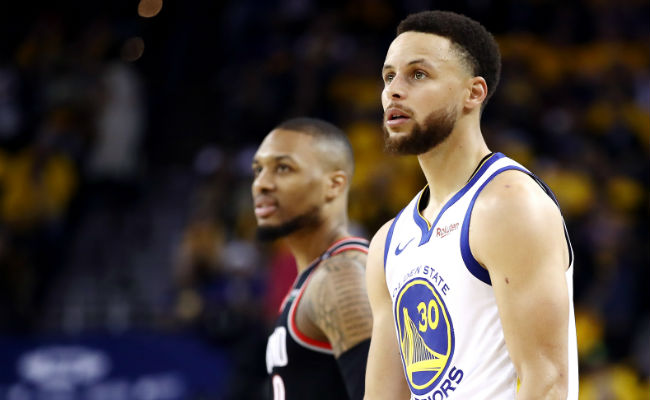 To be certain, the Blazers have helped grease the wheels on their own demise. Damian Lillard and C.J. McCollum have both been unable to figure out how to offset the blitzing defense that has all but stripped them of their offensive weaponry, though in fairness to Lillard, he's reportedly been battling a painful rib injury that he suffered in Game 2 that would limit just about anyone's impact.
Still, the credit goes to the Warriors. It's isn't just the blistering shot-making — or often, the mere threat of it — that causes opposing defenses to collapse into chaos. It's also their swarming, merciless attack on the other end that kick-starts their signature third-quarter runs, the ones that erase double-digit deficits or make leads balloon from five points to 20 points, flattening and demoralizing their opponents in the process.
Those runs aren't an artifact of a bygone era. They're a big part of why the Warriors have been able to put the Blazers on the ropes. They're also a bleak reminder that no lead is ever safe with them and that, at any moment, they're capable of stunning, illogical feats of hoops wizardry that are almost too preposterous to be believed.
Despite all that, the Warriors will likely never be beloved again outside of the Bay Area the way they once were. Fans have grown weary of the drama and internal strife and the way they've made a mockery of the league's competitive balance. Their dominance has become predictable and prosaic. No amount of nostalgia for the pre-Durant Warriors can counter-balance that.
Even if they can never fully reclaim the magic of that 73-9 version of themselves, if these quote-unquote short-handed Warriors manage to pull off a three-peat without their presumptive best player and do it in a way that's sharply reminiscent of a style that once endeared them to the basketball world, it'll be at least a little easier to swallow.