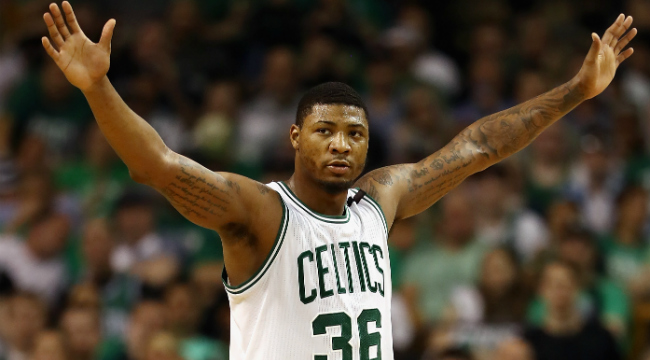 Marcus Smart has carved out a role as the toughest dude on the Boston Celtics' roster. Few NBA players enjoy hounding opponents for 48 minutes as much as Smart does, and while his jump shot still has a way to go, he's a capable offensive player who was third on the team in assists per game last year.
He still has room to develop, especially on the offensive end of the floor, but Boston wants to keep him around for as long as it can, while Smart seems to enjoy being in Beantown. That's why the two sides are reportedly talking about a contract extension for the fourth-year man out of Oklahoma State.
The Celtics have until Monday to get a job done, as that's the deadline for 2014 first-round draft picks to get extensions. If they do not, they'll become restricted free agents next summer, which isn't necessarily a bad thing for the Celtics if they don't have a problem paying Smart a ton of money.

But at the very least, Smart seems like he really wants to get something done with the team upon which he's the most tenured veteran. Speaking to Chris Forsberg of ESPN last week, Smart said that while he hasn't gotten a formal offer, he wants to stick around.
"I would love to be here long term. I hope I'm here long term," Smart told ESPN. "I love the organization, I love the fans, I love everything the Celtics are about."