Bradley Beal is not who you think he is. It's time to recalibrate your perceptions of his scoring prowess.
Once a secondary cog behind John Wall, thriving as an off-ball shooter during his seminal NBA years, Wall's string of injuries, decline and eventual D.C. departure laid the groundwork for Beal to evolve from understudy to star and long-range gunner to downhill adventurer. That opportunity has produced landmark campaigns for him, coalescing with this season in which he's averaging a league-best 32.9 points per game on 59.7 percent true shooting and serving as one of the game's top dribble-drive creators.
While his rise isn't entirely surprising, the manner in which it's occurred represents a stark shift in play style from his early days. Across his first five seasons, Beal emerged as a premier off-ball shooter, netting 39.9 percent of his 1,661 threes on a three-point rate of .345. Every year, his three-point rate was at least three points higher than the NBA average and his three-point percentage was at least 2.7 points higher. He took and made triples at a clips that stood notably above his peers before the long-ball revolution really exploded.
Over the past four seasons, which have featured a trio of All-Star appearances, he's slowly rebranded himself to become an elite driver and finisher, distancing himself from the three-point aptitude of yesteryear. The paint, not beyond the arc, is now the bedrock of his scoring. He's shooting a career-worst 33.5 percent from deep (3.3 points below league average) on a career-low .289 3-point rate (10.6 points below), while logging the fourth-most field goal attempts per game on drives of any player. The only ones ahead of him are Luka Doncic, Shai Gilgeous-Alexander and De'Aaron Fox — all guys whose scoring ethos are commonly and justifiably associated with paint proficiency.
Beal remains highly effective in spot-up situations, knocking down 39.6 percent of his catch-and-shoot threes this season. Yet increased on-ball requirements are necessitating greater off-the-dribble three-point volume and lesser stationary chances, the former of which he is struggling mightily with and is cratering his overall efficiency. Among 53 players with 60-plus pull-up three attempts, he ranks 51st at 28.1 percent, just ahead of Anthony Edwards and John Wall. Dating back to 2017-18, he's converted 31.9 percent of his 780 pull-up threes, a span in which he's slipped to 35.4 percent behind the arc.
However, three of Beal's four gaudiest points per 100 possession showings, as well as three of his four best relative true shooting percentage years* are tucked into these seasons. Those upticks, and his development into an elite scorer, stem from his budding expertise on the interior.
[*Relative true shooting percentage is how far above or below the NBA average someone's true shooting is to best account for
fluctuations in league-wide offensive efficiency.*]
Across his first four seasons, Beal never eclipsed more than 4.4 shots at the rim per 75 possessions, ranging between the 32nd and 50th percentile in frequency, according to DunksAndThrees.com. Since then, he's steadily climbed from 5.0 (61st percentile, 2016-17) to 7.1 (86th percentile, 2020-21). Not only is he getting to the rim at an incredible clip, but he's become an exceptional finisher once he gets there, shooting 67.4 percent at the rim (76th percentile, per Cleaning The Glass) after shooting 65 percent (72nd percentile) last year. Between 2013-14 (the first year NBA.com has data on drives) and 2018-19, 22.7 percent of his points resulted from drives. During the last two seasons, 37.3 percent of his points resulted from drives.
Beal's increased success relies on a few traits he's built up in recent years: Slippery and dexterous handles flummox perimeter defenders, bulldozer strength sheds oncoming helpers, and his innate balance and contortion are suitable backup options when brute force isn't applicable. Most of all, though, Beal covers ground like few, if any, guards around the Association.
He can slither to the rim after picking up his dribble from way out, arriving at his destination with a rare blend of vigor, body control and touch. Elongating his stride to slice deeper inside, often a trade-off for power because it's harder to load up and explode off the back leg when the muscles are stretched apart, does not prevent him from fierce finishes.
Replay those baskets. Observe the spots where Beal kills his dribble and where he ends up shooting from. The locations aren't in the same zip code on most of the scores. When eating up space, he does not sacrifice strength or speed. They all work in tandem.
Drives are his runway to vault to the rim, inhabiting and navigating angles or paths defenders cannot conceive. The paint is walled off and then, boom, suddenly Beal conjures a way inside with his forceful leaping. He terrorizes down the lane, protects the ball from any swirling limbs and finishes. His legs spring him from vertical to horizontal movement and he whizzes past opponents unprepared to rotate in a timely fashion.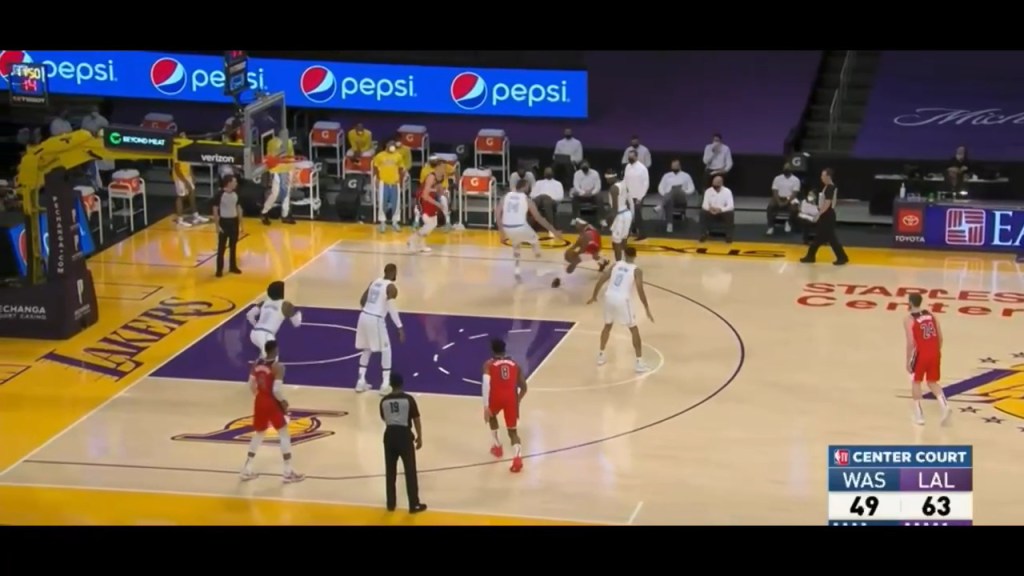 His strength wields utility, too. Undersized or late-arriving rim protectors are easily discarded. They are merely window-dressing, akin to a traffic light at a desolate intersection: treated as a suggested hurdle rather than any sort of genuine preventative measure.
Some adept drivers mitigate their efficiency by avoiding contact unnecessarily and spiking the difficulty of shots around the rim. Beal relishes these chances to plow forward and initiate physicality. Embracing such moments and turning up the dial as a driver has led to significantly higher free-throw rates for him over the past two seasons, going from .279 (67th percentile, according to DunksAndThrees) in 2018-19 to .351 (82nd percentile) in 2019-20 and .352 (85th percentile) in 2020-21. Before 2018-19, his career free-throw rate was even lower at .223. Driving more provides a platform for his athletic tools to both generate clean finishes and accrue easy scoring possessions at the line.
Loping strides are not a prerequisite for his finishing acumen, and that's part of why he's one of the league's great slashers. He can shorten his stride length to elevate, extend off of choppy rhythm or steps and maneuver around defenders. It's not as though a vacant driving lane and room to sprawl out is his only means of explosive leaping. He's diverse in getup and improvisational in below-the-rim buckets, always readying for contortion if the defensive layout warrants that.
The finish around DeMarcus Cousins should catch your eye; slowly rewatch it if needed. Look how abbreviated his final few steps are and how seamlessly he still transitions from horizontal to vertical motion for the nifty reverse. That stylistic and athletic versatility is subtle and easy to gloss over, but it's a portion of his potency when attacking the cup.
He'll jump off two feet in space, in a crowd or off-balance. He'll launch off either foot individually amid the same circumstances. He invents avenues to the rim that befuddle defenses, approaching spots quicker than defenders consider them an option.
Perhaps, they, too, are still adjusting their previously established notions of who the NBA's leading scorer is. He is not a shooter. He is a scorer, one whose primary skills are foremost driving and finishing. They're fueled by varying, explosive, space-mauling ground coverage, rendering him a better, vastly different player than the one who first announced himself to the league nearly a decade ago.
[Ed. Note: All 2020-21 stats are current as of 3/9 and do not include his most recent game against Memphis.]