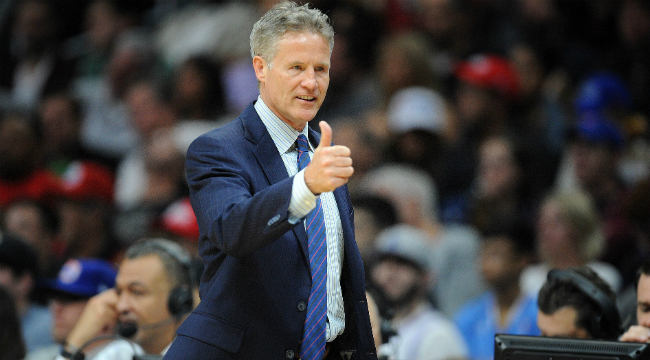 Sixers coach Brett Brown has his own unique way of doing things. In December, we learned about the internal language he's developed to communicate with his team about various strategies and other aspects of the game, and it was delightfully idiosyncratic, to say the least.
In general, his preferred method of interacting with his players isn't what you might see inside other NBA locker rooms. For instance, Brown isn't known as a ra-ra type of coach who delivers the type of melodramatic speeches that are normally the purview of inspirational sports movies and owe more to Hollywood than reality.
But he can certainly budge a crowd when the circumstances call for it, and that's precisely what he did at halftime of Game 2 against the Nets with his team up one and facing the very real prospect of falling into a 2-0 series deficit. The results speak for themselves, as Philly went on to even the series with a decisive 145-123 win.
Still, don't expect Brown to make a habit of it. He's content to pick his spots, as he told Dave McMenamin of ESPN:
"I mean I think it's one of the great myths of coaching, to think that's what coaches do," Brown said after Sixers practice on Wednesday. "You got about so many bullets a year. And people that have been around NBA basketball understand that. Simply, it's true.

"So you pick and you choose your moments. And it wasn't anything, in my view, that dramatic. It was just highlighting truth. And there's a game plan defensively that we talked about and we weren't getting it done and that's the bottom line. But to think that's how you do it every game would be really naïve."
Those are wise words from Brown. This new generation of players doesn't seem to respond particularly well to consistently abrasive and overbearing personalities. Yet at the same time, they respect authority figures who aren't afraid to speak their mind. They key is keeping an even keel so that they don't simply start to tune you out.
By most accounts, Sixers players seem to hold Brown in fairly high esteem, as evidenced by Ben Simmons' positive reaction to Brown's halftime speech, as well as an unfiltered and uncensored meeting with Jimmy Butler earlier this season that ended up being productive.
Philly will look to steal Game 3 on Thursday when the series shifts to Brooklyn.