Work, dedication and earning one's place are principles that seem to be the base that keeps Brice Johnson standing taller than his 6'11 frame. The UNC standout is the quiet, unassuming type whose demeanor has presented a complex duality. Johnson burns with passion on the court, but he isn't outwardly emotional off the floor.
His Tar Heels lost in the national championship game in heartbreaking fashion, and for most young elite athletes that's the most devastating thing they can face. But Johnson knows true loss. His mother passed away when he was just 13 years old and he's never forgotten her. While basketball is an important outlet, the people and connections around him are what matter most.
Johnson's experiences have matured beyond his current years, but he still has a young man's interest in things like Grand Theft Auto and Call of Duty. He'll listen to anything from Chance the Rapper to Nick Jonas but prefers spending time with his girlfriend watching a movie as opposed to clubbing and being on the scene. Johnson will turn 22 days after the NBA Draft, and he's ready for the next phase of his life as his eyes stay fixated on improvement and the future.
Johnson took some time to speak with Dime Magazine as he prepares for the draft, and he had the chance to show off his maturity and personality, discussing everything from not starting as a freshman in high school to his love of blocking shots.
Dime: How has staying at UNC all four years helped your maturity and development?
Brice Johnson: It just helped being there over the last four years getting my body adjusted to the game — getting my body a little stronger from high school. I was able to stay and learn a couple of tricks here and there on how to score the ball, rebound on the defensive end and block shots. It just helped my overall game evolve in the long run when it comes to going to the NBA.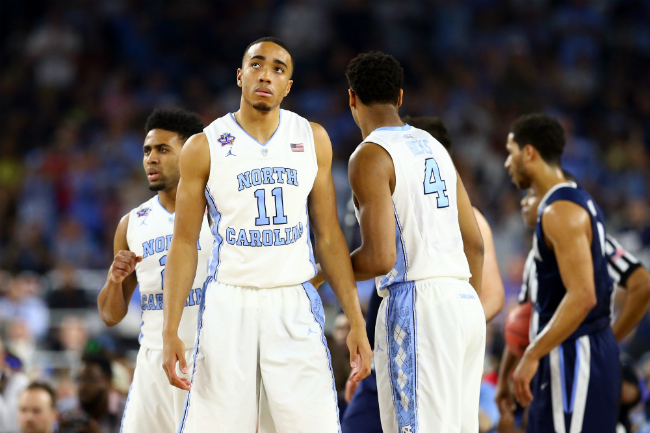 What did attending UNC do for you off the court that you will remember the most?
Just being able to network with different individuals outside of basketball. Some of my advisors in school who helped me build a resume and learning how to make new friends and connections. Looking towards the future with people who, if they have a job someday and it's something you might want, maybe you can call them up.
What did you major in?
Sports Administration. I want to be in the front office of an NBA or NFL team someday.
Some analysts feel like big schools such as UNC stunt the statistics of talented players due to the program depth? Do you in anyway feel like that is true?