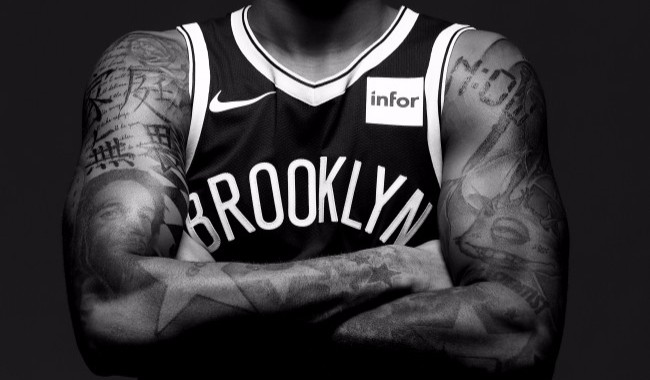 You don't need me to tell you this, but the East is not very good. The Celtics, Wiz, and Cavs, sure, they're alright. Everyone else? Eugh boy.
The Raptors, Bucks, and Heat are probably good, but they're living in fear of age, depth, and the effect that printing Dion Waiters' face on the money might have on your economy, respectively. The Hornets are so thirsty for some tangible victories that they've opted to let old, depressive state Dwight Howard onto their team. The Pistons just keep falling into piles of pudding in the hopes that Andre Drummond will play defense even once. Philly looks poised to emerge from the Hinkie-swamp but their short-term hopes are almost entirely built on shifting, unknowable sands. Meanwhile, the Knicks, Pacers, and Magic are all just regular, run of the mill bad.
This is all to say: the East is wide open. If you have some beef and a dream, the playoffs could bless you in this beautiful, insanely garbage year in the East. And so, we arrive at the Brooklyn Nets.


In the wake of their ill-fated attempt to trade their way to title contention at the tail end of Kevin Garnett's career, the Brooklyn Nets have spent the last two years with suboptimal squads and no draft picks, wading around, fielding weird squads, just kind of waiting to leave NBA purgatory, winning 21 and 20 games, not doing much.
This is the last year of that purgatory, and this is probably the… oddest squad they've managed to put together, yet. Jeremy Lin, D'Angelo Russell, Allen Crabbe, DeMare Carroll, Timofey Mozgov, Rondae Hollis-Jefferson, Trevor Booker. A bunch of has-beens and never-weres, playing in a chilly NBA outpost, with snot running out of their noses, shivering, coughing, supposedly playing out the string. It's depressing if you don't think about it too much.
But, fortunately for you, the reader, I have thought about it too much. Where some people see a collection of nobodies killing time, I see a truly inspiring season in the making, a bunch of dudes rejected from the NBA body politic, playing for a team that only just barely exists, coming together and making themselves into a headache for everyone who comes into their arena.
Take D'Angelo Russell, for instance.


Personally held at bay by Kobe's egomaniacal last run, sidelined for weird reasons, washed out of the Lakers, replaced wholesale by Lonzo Ball, rejected by no less an authority than his position than Magic Johnson himself. But Russell's still so, so young, and he's finally on a team where he will get to actually play.
Or Allen Crabbe, a skilled shooter who was so bored running and spotting up over and over on the guard-heavy Blazers that he just kind of slowly checked out, finally getting an opportunity to have the ball sometimes. Demare Carroll, sidelined by injuries for the last two years, a stellar defender and a competitor, bleeding and dying to re-enter the ring. Timofey Mozgov, who has somehow been a bad signing, a good signing, and an outmoded signing in the span of like five years, shouldering the whole of mediocre big man history on his shoulder, playing not only for himself, but for a legion of somewhat questionable fringe big men, looking to reestablish their relevance in an NBA that is turning away from them.
And Jeremy Lin, signed in an act of naked opportunism by the other New York team, more famous than like 90 percent of NBA All-Stars, looking as he always has to show everyone that he can make the damn butter out there.
Are they perfect? No. Certainly not. But who on this weird squad, isn't playing to prove something to lift themselves above their prescribed station, to fight back against a universe that has cast them aside. It brings a tear to the eye of any person who has any belief in the power of the human spirit to exceed the limits of body and soul and heave themselves onto the boat deck of victory.
And the best part about it? The Nets Organization honestly doesn't care one way or another. Be good, be bad, whatever. They're just sitting on a three-hour bus ride, waiting to arrive at the 2019 draft. The players on the team, the coaching staff, whomever, no one is going to lose their minds and do something strange if they end up hauling themselves over the carcass of, like, the Hornets. They'll chalk it up to a good year, sell the heck out of it, trade away whomever for decent assets when the time comes, and set up the scaffolding for the future of the team next year.
Or, they could be bad, and the Nets will just kind of go, "Oh, okay, that's fine," wait out the year, and do basically the same thing anyway.
This is how every bad team should be. The NBA Draft, and the incentives and protections that the billionaires who own NBA teams have set up for themselves are truly, deeply perverse and bizarre, designed only to keep middling organizations in cow towns afloat so they can give good run to league powerhouses who wield their obscene advantages at their fake opponents for the delight of anyone who is willing to pay for tickets with actual gold doubloons.
And so, every year, we get teams like the Magic, the Pacers, the Sixers, and even now in these troubling times, godforsaken Lakers teams who not only don't give a sh*t about winning or losing. They export everything and everyone who could possibly make them win on accident so they can scope out a draft position that will haul them out of the wreckage of The Golden State Moby Dicks turning their terrible doomed ships into twigs every year. No one wants this. And it is changing a little; the league rejiggered the rules a little to dis-incentivize the big tank starting in the next draft.
But this year, in and of itself, will be a true horrorshow, with every scumsucking squad looking to do everything they can to get the last bite of the big, beautiful tank apple. Every team, that is, except for the Nets, who managed to trade themselves out of this nightmare almost on accident. And so, while management tells everyone else to accept their fates, the Nets, in the truest sense of the word, will have nothing to lose and everything to gain, all year long. You can't help but smile just thinking about it.