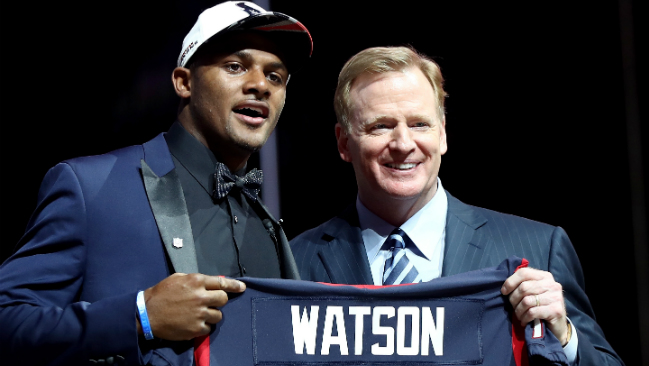 Minutes after Deshaun Watson led Clemson to a national title game upset over Alabama, a Cleveland-based reporter predicted that the Browns would find a way to not take him in the draft.
ESPN's Brian Windhorst doesn't cover football, but he worked in Ohio long enough covering LeBron James to get very familiar with just how the Browns work. Or, you know, fail to work.
So when Watson put himself atop the pile of draft prospects and the Browns holding multiple top-15 picks, Windhorst sent out a late-night tweet correctly predicted what happened in the first round of the NFL Draft on Thursday night.

The Browns took Myles Garret first overall on Thursday, then saw teams trade up to get three quarterbacks in the first round. The Bears stunned everyone by trading up one spot to get UNC quarterback Mitch Trubisky second overall. Later, Pat Mahomes went to Kansas City 10th overall thanks to a trade with the Buffalo Bills.
Oh, then the Browns traded down from 12 and let the Houston Texans draft Deshaun Watson. Suffice to say, Windhorst remembered his tweet.
There were some really great responses to this tweet once people remembered it, especially after Windhorst himself pointed it out. The first response, of course, is to be impressed.
Even some of the tweets back from January 10 are pretty great given what happened on Thursday night.
There's no telling which quarterback will work out or if the Browns will be better off in the long run. The draft is weird, and sometimes what seems like exactly the wrong move to most turns out to be the best possible choice. But right now, knowing what we know about the Browns, it's probably not good if someone can predict exactly what they will do.
There's a good chance that prediction was based on the past, which hasn't been very kind to the Browns.