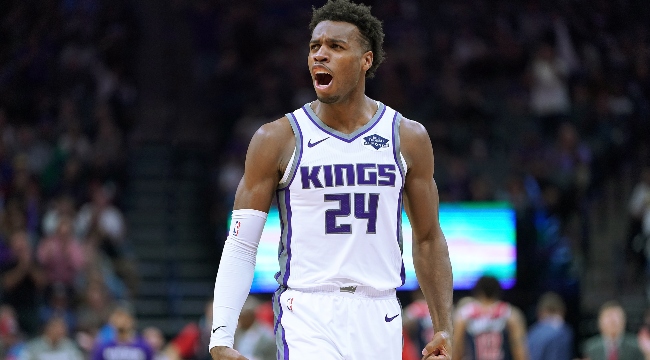 The Kings and Warriors kicked off the second half of the NBA season in a big way on Thursday night. It was a contest that pitted the scrappy upstarts against the league juggernaut, with the underdog Kings very nearly stealing a victory from the champs on their home floor. But alas, the Warriors were able to eke out a 125-123 victory behind 36 points from Steph Curry and 28 points and seven blocks from Kevin Durant.
Despite those dominate performances from Golden State's superstar duo, Sacramento had a chance to win it with time winding down in regulation. Late in the fourth, with the Kings trailing by six, Buddy Hield came down and hit a huge three-pointer from near the logo to make it a three-point game.
Kings coach Dave Joerger, however, didn't seem too pleased with Hield for his shot selection, and the two continued their disagreement while Curry took free throws on the other end.
Then, on the final play of the game, Hield took the inbounds pass and found himself wide open at the same spot from earlier where he knocked down a clutch three to keep the game close, but instead of taking what might've been the game-winning shot, Hield hesitated, drove to the basket, and hoisted up a contested turnaround jumper, which clanked off the rim and sealed the loss.
Afterward, Hield admitted that he probably should've taken the open three-pointer when he had the chance.
It's easy here to point the finger at Joerger for making him second-guess himself, after he appeared to chastise Hield following his earlier long three-point attempt. Though Hield wasn't willing to blame his coach, Damian Lillard expressed on Twitter that his back-and-forth with Joerger might have played a role.
To be fair, Hield was just 2-for-8 from downtown on the night, so it's not as if he had been lighting up, and Joerger might very well have called something different on both plays. But regardless, Hield is one of the best shooters in the league, and he's absolutely right that he should've taken that three when he had the chance.