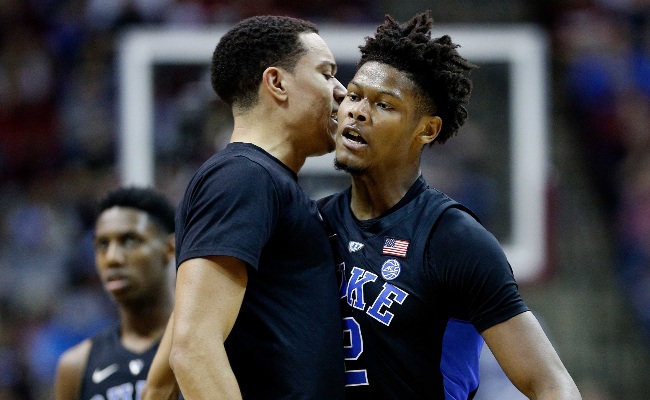 The Duke Blue Devils went on the road on Saturday afternoon, taking on a feisty Florida State squad in Tallahassee. The Blue Devils ended up coming out on top in an absolutely wonderful basketball game, but it hardly came easy, as Duke picked up the victory in thrilling fashion with their best player on the sideline.
Zion Williamson got poked in the eye during the first half of action. After an 11-point, 8-rebound first half, Williamson was sidelined for the remainder of the game.

In his place, Duke's other two superstar recruits came up huge. R.J. Barrett, who has gotten buckets all season, just missed his season-high in scoring, going for 32 points on 10-for-19 in hostile territory. But the hero of the day was Cam Reddish, who despite being revered for his scoring prowedd has struggled to get into a rhythm since getting to Durham.
Reddish was fantastic, though, scoring 23 points on 9-for-15 shooting with three rebounds, three assists, a steal, and a block. The biggest of his three points came at the end of the game. Barrett missed a free throw, and in the ensuing morass to get the loose ball, a Florida State player threw the ball off of his teammate. The Blue Devils got the chance to run a play with 2.8 seconds remaining, which led to this.

The Seminole defense, anticipating that Duke would either try to score at the rim or get the ball to Barrett in the corner, completely lost Reddish. From there, all he had to do was set his feet and pull up, and Reddish became the hero on the afternoon.
Florida State got one more chance after some time was added back onto the clock, but it ultimately was all for naught. It's an impressive win for the No. 1 team in the country, which returns to Cameron Indoor Stadium for its next two games — a matchup with Syracuse on Monday, followed by a showdown with fourth-ranked Virginia next Saturday. There's no word on whether Williamson will be able to go, but if Barrett can keep getting buckets and Reddish is able to hit shots like he did against the 'Noles, Duke should be fine.